Personally hand signed by President Jimmy Carter

, the Nobel Peace Prize Winner, on a special title page.

From the Library of the Presidents collection by Easton Press. This is the original 1982 publication by Easton Press per the copyright page. Includes the original pamphlet to accompany this volume. A special introduction by Edmund S. Muskie former United States Senator and Secretary of States during the Carter Administration.

A wonderful signed limited heirloom edition to showcase in your presidential library.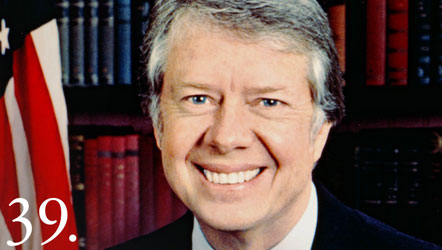 In 2002, President Carter received the Nobel Peace Prize for his work "to find peaceful solutions to international conflicts, to advance democracy and human rights, and to promote economic and social development" through The Carter Center. He was the third U.S. President, after Theodore Roosevelt and Woodrow Wilson, to be awarded the Prize. Carter shares with Martin Luther King, Jr., the distinction of being the only native Georgians to be so honored.
Easton Press, Norwalk, CT. 1982. Jimmy Carter "Keeping Faith: Memoirs of a President" Signed Limited Edition. Full genuine leather. A handsome grey leather Collector's Edition signed by Jimmy Carter, former President of the U.S. Subtitled "Memoirs of a President" with separate pamphlet of introduction by former Senator Edmund S. Muskie.
"Keeping Faith: Memoirs of a President" is President Carter's impressions of his life in the White House, published two years after he lost the 1980 election. He was one of the most active ex-Presidents in history and went on to win the Nobel Peace Prize. This is the top line full leather edition of the book, published by Easton Press and personally hand signed by President Carter.
This book gives a very thorough and honest review of the major policy issues confronting President Carter in the late 1970s. If you think his presidency was a failure, you should at least take time to read about why he acted the way he did. He explains the seemingly endless energy debate in great detail and also what led him to give his infamous "crisis of confidence" speech. He gives a practically minute-by-minute account of the hostage crisis and how he worked (successfully) to win their release without nuclear weaponry or massive bloodshed.
Features
Includes all the classic Easton Press qualities:
* Premium Leather
* Silk Moire Endleaves
* Distinctive Cover Design
* Hubbed Spine, Accented in Real 22KT Gold
* Satin Ribbon Page Marker
* Gilded Page Edges
* Long-lasting, High Quality Acid-neutral Paper
* Smyth-sewn Pages for Strength and Durability
* Beautiful Illustrations
VERY FINE GUARANTEED
Very Fine without any flaws. The condition is of the highest quality. No bumped corners. Photos of actual volume.
Publisher:

Easton Press

Edition:

Easton Press

Binding:

Full genuine leather

Illustrator:

Signed Limited Edition

Dimensions:

9" x 6" x 1.5"