This special leather bound first edition has been personally signed by the Hugo and Nebula award winner Joe Haldeman.
Easton Press. Norwalk, CT. 2005. SIGNED BY AUTHOR. Signed First Edition - Limited Collector's Edition. A great unique gift for yourself or for a loved one. A luxurious leather bound masterpiece from the Signed First Edition of Science Fiction collection by Easton Press. Beautifully illustrated and bound in full genuine leather. A rare signed first edition for the discerning collector. Limited to only 900 signed and numbered copies. This is Number 438. Includes original Collector's Notes card.
The twentieth century lies hundreds of years in humanity's past. But the near-immortal citizens of the future yearn for the good old days, when people's bodies were susceptible to death through disease and old age. Now, they immerse themselves in virtual reality time machines to explore the life-to-death arc that defined existence so long ago. Jacob Brewer is a virtual reality engineer, overseeing the time machine's operation aboard the starship Aspera. But on the thousand-year voyage to Beta Hydrii, the eight-hundred member crew gets more reality than they expect when people entering the machine start to die.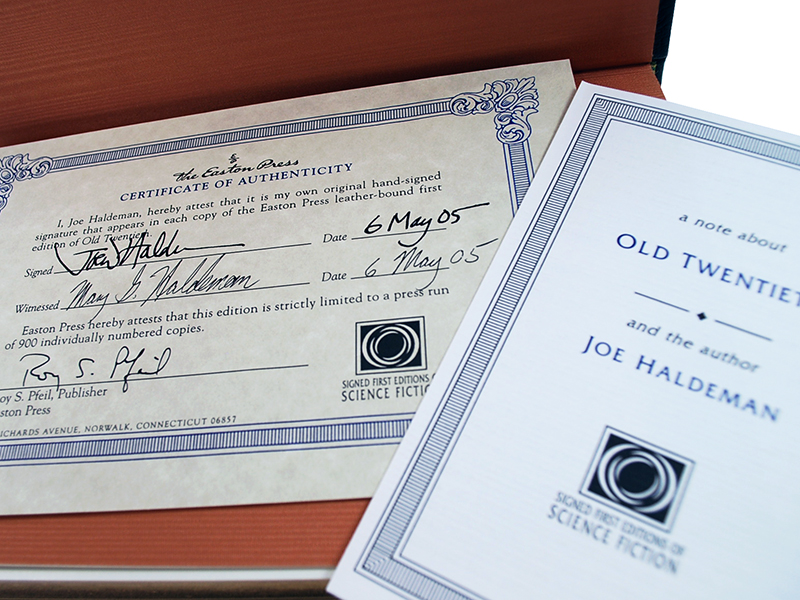 About the author
Features
Includes all the classic Easton Press qualities:

* Premium Leather
* Silk Moire Endleaves
* Distinctive Cover Design
* Hubbed Spine, Accented in Real 22KT Gold
* Satin Ribbon Page Marker
* Gilded Page Edges
* Long-lasting, High Quality Acid-neutral Paper
* Smyth-sewn Pages for Strength and Durability
* Beautiful Illustrations


About The Author
Joe William Haldeman (born June 9, 1943) is an American science fiction author. He is best known for his 1974 novel The Forever War. That novel, and other of his works including The Hemingway Hoax (1991) and Forever Peace (1997), have won major science fiction awards including the Hugo Award and Nebula Award.
VERY FINE GUARANTEED. A wonderful bright clean copy free of any markings, writings, or stamps. Sharp corners that are not bumped. Tight and square spine. Unread book. No attached bookplates or indication of any removed.
Book Grading Definitions
Publisher:

Easton Press

Edition:

Signed First Edition #438 of 900

Binding:

Leather Bound (Full genuine leather)

Illustrator:

Navy Reign

Dimensions:

6.25" x 9.25" x 1.25"

Signature Authenticity:

Lifetime Guarantee of Signature Authenticity. Personally signed by the author directly onto the special title page of the book. The autograph is not a facsimile, stamp, or auto-pen.