Personally hand signed by James Edwin Gunn
Easton Press. Norwalk, CT. 2001. James Edwin Gunn "The Millennium Blues" Signed First Edition. First Edition, First Printing with a full number line on the copyright page as required. Personally signed by James Edwin Gunn directly onto the special title page. This is number 719 of only 1,075 produced.
Signed First Edition Book is in pristine unread condition. Bound in blue leather with gilt design, silk end-papers and silk bookmark ribbon. A letter of authenticity from Easton Press is laid in. Luxuriously bound in full genuine leather. Very Fine without any flaws.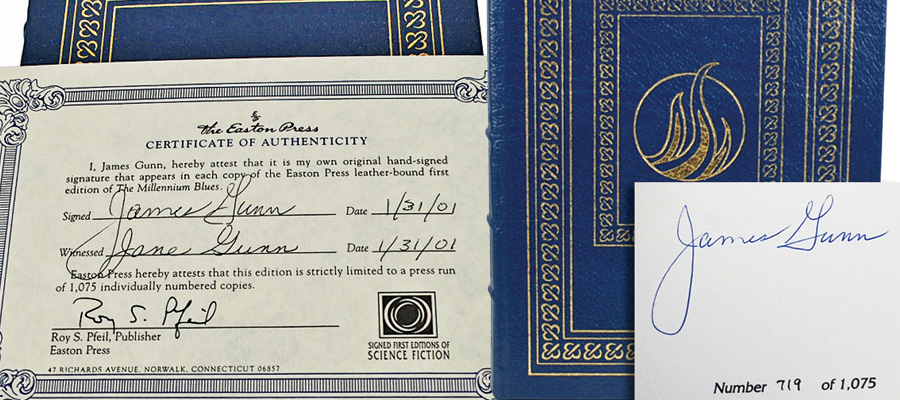 About The Millennium Blues
Wow, the millennium is off to a great start, the notorious Y2K bug was no problem, and the world didn't end; time to take a break and relax.... Well, not exactly. The millennium didn't really get underway until January 1, 2001. You thought you were safe? Think again! Something much, MUCH, MUCH worse is ahead. The new millennium will bring nothing but disaster and destruction. As six unique people rush feverishly to resolve catastrophes both personal and otherwise, they cannot ignore the loudly ticking clock that will bring...THE END OF THE WORLD. And this time its no psychic premonition; it's more real than you've ever dreamed.
Features
Includes all the classic Easton Press qualities:

* Premium Leather
* Silk Moire Endleaves
* Distinctive Cover Design
* Hubbed Spine, Accented in Real 22KT Gold
* Satin Ribbon Page Marker
* Gilded Page Edges
* Long-lasting, High Quality Acid-neutral Paper
* Smyth-sewn Pages for Strength and Durability
* Beautiful Illustrations


About The Author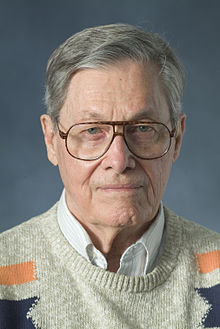 James Edwin Gunn (born July 12, 1923) is an American science fiction writer, editor, scholar, and anthologist. His work as an editor of anthologies includes the six-volume Road to Science Fiction series. He won the Hugo Award for "Best Related Work" in 1983 and he has won or been nominated for several other awards for his non-fiction works in the field of science fiction studies. The Science Fiction and Fantasy Writers of America made him its 24th Grand Master in 2007 and he was inducted by the Science Fiction and Fantasy Hall of Fame in 2015. Gunn is a professor emeritus of English, and the founding director of the Center for the Study of Science Fiction, both at the University of Kansas.
VERY FINE GUARANTEED
A wonderful bright clean copy free of any markings, writings, or stamps. Sharp corners that are not bumped. Tight and square spine. Unread book. No attached bookplates or indication of any removed.
Publisher:

Easton Press

Edition:

Signed First Edition, First Printing

Binding:

Leather Bound (Full genuine leather)

Illustrator:

Vincent Di Fate

Dimensions:

9.5" x 6.5" x 1"

Signature Authenticity:

Lifetime Guarantee of Signature Authenticity. Personally signed by James Edwin Gunn directly onto a special limitation page of the book. The autograph in the book is not a facsimile, stamp, or auto-pen.