Each volume has been personally signed by the former Prime Minister of England, Lady Margaret Thatcher directly into the book.
Easton Press , Norwalk CT. Margaret Thatcher. A matching 4-volume collection, each one a signed limited edition. Full genuine leather. The Collected Speeches is a signed limited edition, number 211 of only 2,000 with original COA as issued by the publisher. Two volumes are still sealed and As New. The third volume is again in Very Fine condition without any flaws. The fourth volume has a small area in one corner with the gilt loss. A beautiful leather bound collection that would make an elegant addition to your political library.
Included in this shipment:
THE PATH TO POWER - Signed Limited edition of 3,000 [Sealed]
THE DOWNING STREET YEARS - Signed Limited edition. [NF+]
THE COLLECTED SPEECHES - Signed Limited edition. No. 211 of 2,000 with COA [Very Fine]
STATECRAFT - Signed Limited edition [Sealed]
About the author
Margaret Hilda Thatcher, Baroness Thatcher, served as Prime Minister of the United Kingdom from 1979 to 1990 and Leader of the Conservative Party from 1975 to 1990. She is the only woman to have held either post.
Born in Grantham in Lincolnshire, United Kingdom, she went to school at Kesteven and Grantham Girls' School in Grantham, where she was head girl in 1942-43. She read chemistry at Somerville College, Oxford and later trained as a barrister. She won a seat in the 1959 general election, becoming the MP for Finchley as a Conservative. When Edward Heath formed a government in 1970, he appointed Thatcher Secretary of State for Education and Science. Four years later, she backed Keith Joseph in his bid to become Conservative Party leader but he was forced to drop out of the election. In 1975 Thatcher entered the contest herself and became leader of the Conservative Party. At the 1979 general election she became Britain's first female Prime Minister.
One of the first women leaders of a World Power in modern times. Margaret Thatcher did it while it was even more of a good ol' boys club than it is now, and as a conservative. Dubbed the "Iron Lady", few UK Prime Ministers are as beloved... and hated as Margaret Thatcher. A ground breaker long before Angela Merkle. A partner to Ronald Reagan in thwarting the Soviet Union, defeating communism and moving the world toward nuclear detente. She also came to be hated by some, and ultimately ousted from power. The breaking of worker's unions, and the Falklands War, brought her great animosity from some quarters. Love from others. A deep recession also challenged her popularity. I recall the day of her funeral there was actually graffiti on walls that read "wrest in hell Maggie!" Like Ronald Reagan, she also survived an assassination attempt (IRA). Regardless of one's politics, she is an icon of world leadership and the longest serving UK PM of the 20th Century. These volumes have special detail right on the spine hubs that Easton Press only did on a few volumes over their history.
Includes the following 4 volumes, each one has been personally signed by Margaret Thatcher.
Copyright 1995 - THE PATH TO POWER - Signed Limited edition.
In a prequel to The Downing Street Years, Thatcher describes her childhood, Oxford education, early entry into politics, and rise to power in Parliament, sharing insights into the influences that shaped her life and political career.

In her international bestseller, The Downing Street Years, Margaret Thatcher provided an acclaimed account of her years as Prime Minister. This second volume reflects on the early years of her life and how they influenced her political career.
Previously, the retired British prime minister wrote--and wrote pugnaciously--about her long tenure in the premiership in The Downing Street Years (1993). Now Thatcher fills in, chronologically speaking, by writing about her life prior to becoming prime minister and after she left office and does so, perhaps, even more self-righteously. Born "over the shop" (her father's grocery, that is) in 1925 in Grantham, England, Thatcher was raised in a household "practical, serious and intensely religious." Those qualities became her qualities, and by the time she got to Oxford, she recognized politics as her calling. She threw her hat into the ring early, running for Parliament when only in her twenties. By nature conservative, she was by enlistment a Conservative. The path by which she became head of that party and then prime minister is traced in typical Thatcher fashion: her narrative is opinionated, self-assured, and, as the reader has to admit, well reasoned. Expect the same heavy demand by serious readers of politics and history as the first volume garnered.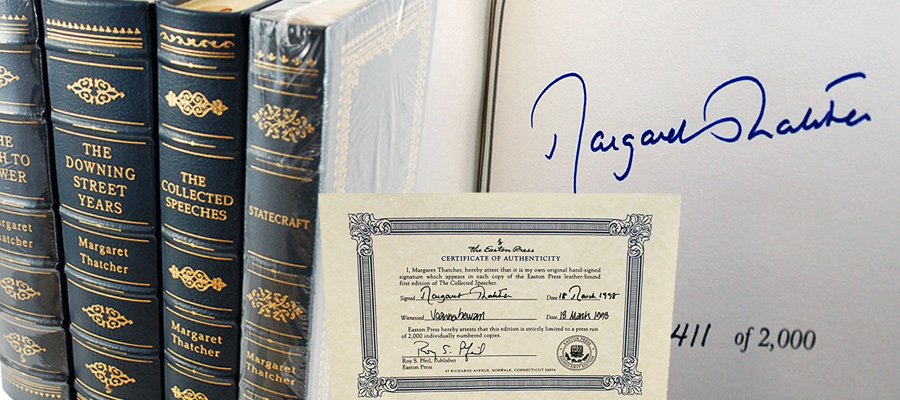 Copyright 1993 - THE DOWNING STREET YEARS - Signed Limited edition.
The first volume of memoirs by Margaret Thatcher frankly recalls the former British prime minister's dealings with U.S. presidents, the Falkland War, and her election victories in 1983 and 1987
Copyright 1998 - THE COLLECTED SPEECHES - Signed Limited edition. No. 211 of 2,000 with COA
By the time she stepped down in 1990, Margaret Thatcher had become one of her generation's outstanding political leaders, and perhaps the most powerful woman in the world. Possessing an iron will, she matched words with action in confronting the crises of the day in economic affairs, in the Falklands War, in Northern Ireland, in the great twilight struggle of the Cold War and finally in Europe. Under her leadership, Britain broke out of its decline and self-doubt to emerge once more as a major player on the international stage.
Margaret Thatcher put intense effort into her major speeches. As a result, they are uniquely revealing of how she developed that clear vision which would transform Britain and help shape international politics in the late 20th century. They begin with the speeches she made as part of her campaign to mold the ideas of the Conservative Party in Opposition. They continue with the famous addresses in which she expressed her convictions as prime minister and include recent lectures in which she gives her current, and controversial, thoughts about the world today.
This book of speeches is an essential companion volume to the two books of Margaret Thatcher's memoirs, as well as a masterly study of one of the great political figures of our time.
Copyright 2002 - STATECRAFT - Signed Limited edition [Sealed]
In Statecraft, Margaret Thatcher, a unique world figure, discusses global military, political, and economic challenges of the twenty0first century. The former British Prime Minister brings her unrivaled political experience to comment on the threats that democracy faces at the dawn of the new millennium and the role Western powers should play in the world's hotspots, especially in the aftermath of September 11, 2001.
Reflecting on the lessons of the Cold War, she outlines the foundation of U.S. dominance and its mission as the only global superpower. Thatcher offers wise observations about the dangers posed by Balkan instability, rogue states, Islamic extremism, and international terrorism -- and suggests strategies to counter them. She also examines current trends in Russia, China, India, the Far East, Europe and Great Britain, and offers guidance for the future. Noting how every contemporary problem evokes demands for a global solution, Thatcher also warns of over-reliance on international institutions at the expense of nation states.
Statecraft is an incisive treatise on power in the age of globalism, written by a legendary world statesperson with a matchless combination of principles, experience and shrewdness.
Features
Includes all the classic Easton Press qualities:
* Premium Leather
* Silk Moire Endleaves
* Distinctive Cover Design
* Hubbed Spine, Accented in Real 22KT Gold
* Satin Ribbon Page Marker
* Gilded Page Edges
* Long-lasting, High Quality Acid-neutral Paper
* Smyth-sewn Pages for Strength and Durability
* Beautiful Illustrations
Signature Authenticity
Lifetime Guarantee of Signature Authenticity.
Each volume has been personally signed by Margaret Thatcher directly onto the special limitation page. The autographs are not facsimiles, stamps, or auto-pens.
learn more
Three of the volumes are in Very Fine condition without any flaws, two sealed in the shrink-wrap. There are no markings, writings, or stampings. No attached bookplates or indication of any removed. Each one is a well cared for book, protected from any potential damage. Includes extra unattached bookplate for your own personalization. Unread books with square and tight spines. Sharp corners that are not bumped. Each one is a wonderful bright clean copy. The Downing Street Years has one corner with some minor gilt loss as shown.

Publisher:

Easton Press

Edition:

Signed Limited Edition

Binding:

Full genuine leather

Illustrator:

N/A

Dimensions:

9.0" x 6.0" x 2.0"

Signature Authenticity:

Lifetime Guarantee of Signature Authenticity. Each volume has been personally signed by Margaret Thatcher directly onto the special limitation page. The autographs are not facsimiles, stamps, or auto-pens.