Personally signed by America's favorite poet, Maya Angelou.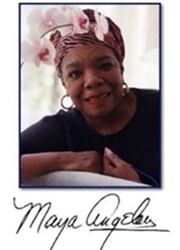 A wonderful collectible for your library that will also make the perfect gift. COA from Easton Press guarantees signature authenticity. Norwalk, Connecticut: Easton Press, 2005. Full Leather. No Jacket as issued. Limited Signed First Edition (see photo illustrations above). (8vo) Hard cover.
All of Maya Angelou's published poems are collected in this handsome Collector Edition, including "On the Pulse of Morning" which was read by her at the first inauguration of President Clinton.
Includes all the classic Easton Press trimmings:
* Premium Leather
* Silk Moire Endleaves
* Distinctive Cover Design
* Hubbed Spine, Accented in Real 22KT Gold
* Satin Ribbon Page Marker
* Gilded Page Edges
* Long-lasting, High Quality Acid-neutral Paper
* Smyth-sewn Pages for Strength and Durability
* Beautiful Illustrations
Additional Book Information
Maya Angelou, born April 4, 1928 as Marguerite Johnson in St. Louis, was raised in the perilously dangerous times of segregated Arkansas. Dr. Angelous is globally respected and admired for her poetry, role as a historian, loved author, impeccable actress, playwright, African American civil-rights activist, producer and director. Her lectures throughout the USA and in foreign countries are spellbinding. I heard her once in a ceremony to remember ERic Butterworth in New York City and will never forget her resonating voice and the profound simplicity of the intricate human images she manifested by way of a poem whose linguistic rhythm was key in contributing to a sense of vitality and initiative and progress that rises and is never apathetic. In 1981, she became a Reynolds professor of American Studies at Wake Forest University in North Carolina. She has authored and published a total of ten best selling books and many magazine articles earning her coveted Pulitzer Prize and National Book Award nominations. President William Jefferson Clinton asked her to write and deliver a poem at his January 1993 presidential inauguration.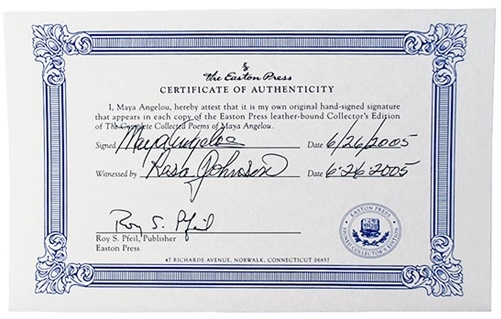 Dr. Angelou, who speaks fluent French, Spanish, Italian and West African Fanti, began her career in dramatic arts and dance. She espoused a South African freedom fighter and lived in the Egyptian capital city of Cairo where she edited the Arab Observer, the sole English-language news weekly in the Middle East. In Ghana, she was feature editor of The African Review and was a professor at the University of Ghana. In the turbulent 1960's, Dr. Martin Luther King, Jr. asked Ms. Angelou to become the northern coordinator of the Southern Christian Leadership Conference.
Maya Angelou was among the first African-American women to achieve high spots in the bestsellers lists this respective book that is SIGNED for your consideration namely "I Know Why the Caged Bird Sings," This book is a riveting acount of her childhood and is indeed a seminal American literary feat. In addition, it is a boundless story of inspriation and the power of resilience with dignity. Although the story is intimately individualistic, the theme is collective and inclusive being the love and universality of all lives. Angelou has frequently stated that we have a moral obligation to love. What a conept in a world that seems to be very focused on destruction. Indeed, she usually signs with the powerul word PEACE. She spoke of her early passion for the writings of William Shakespeare, and offered her audience excerpts from the poems of several prominent African-Americans authors, including James Weldon Johnson and Paul Lawrence Dunbar.
In 1975 the Ladies Home Journal Woman of the Year Award in communications was bestowed upon her. She also received a great many honorary degrees and was appointed by President Jimmy Carter to the National Commission on the Observance of International Woman's Year. President Gerald Ford appointed her to the American Revolutionary Bicentennial Advisory Council. She is on the board of the national American Film Institute and is one of the few female members of the Movie Director's Guild.
Very Fine Guaranteed [Sealed]. Mint condition without any flaws. The condition is of the highest quality. Sharp corners and gilded page edges that are not marked. A unread signed limited edition with sharp corners. No marks inside the book, and no attached bookplates or indication of any removed. A wonderful bright clean copy. You will receive a sealed book. All other photos are from another copy and are shown for display purposes only.
Publisher:

Easton Press

Edition:

Signed First Edition

Binding:

Full genuine leather

Illustrator:

N/A

Dimensions:

9.5" x 6" x 1.5"