Personally signed by Walter Lord on the special limitation page.
Easton Press, Norwalk, CT. 1998. Walter Lord "A Night to Remember". Full Genuine Leather with Certificate of Authenticity No Jacket as issued. This volume has been personally hand signed on a special limitation page by Walter Lord. Signed Limited First Edition #1,065 of only 3,000 produced. As new without any flaws. This leather bound collector's edition is luxuriously bound in full genuine leather with 22kt gold accents and gilded page edges.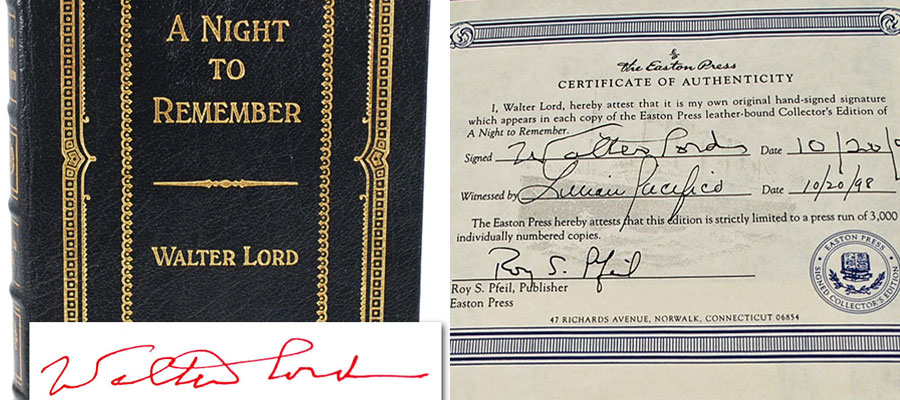 The classic minute-by-minute account of the sinking of the Titanic, in a 50th anniversary edition with a new introduction by Nathaniel Philbrick
First published in 1955, A Night to Remember remains a completely riveting account of the Titanic's fatal collision and the behavior of the passengers and crew, both noble and ignominious. Some sacrificed their lives, while others fought like animals for their own survival. Wives beseeched husbands to join them in lifeboats; gentlemen went taut-lipped to their deaths in full evening dress; and hundreds of steerage passengers, trapped below decks, sought help in vain.
Available for the first time in trade paperback and with a new introduction for the 50th anniversary edition by Nathaniel Phil-brick, author of In the Heart of the Sea and Sea of Glory, Walter Lord's classic minute-by-minute re-creation is as vivid now as it was upon first publication fifty years ago. From the initial distress flares to the struggles of those left adrift for hours in freezing waters, this semicentennial edition brings that moonlit night in 1912 to life for a new generation of readers.
Features
Includes all the classic Easton Press qualities:

* Premium Leather
* Silk Moire Endleaves
* Distinctive Cover Design
* Hubbed Spine, Accented in Real 22KT Gold
* Satin Ribbon Page Marker
* Gilded Page Edges
* Long-lasting, High Quality Acid-neutral Paper
* Smyth-sewn Pages for Strength and Durability
* Beautiful Illustrations


About The Author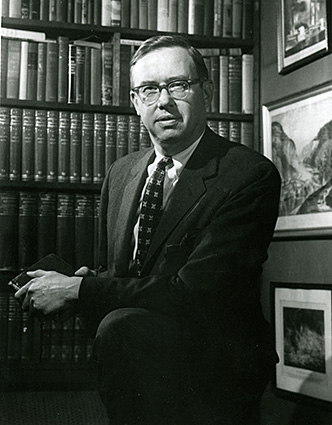 John Walter Lord, Jr. (October 8, 1917 – May 19, 2002), was an American author, best known for his documentary-style non-fiction account A Night to Remember (1955), about the sinking of the RMS Titanic. He also wrote a number of books on history.
Lord was born in Baltimore, Maryland to John Walter Lord Sr. and Henrietta MacTier (Hoffman) Lord on October 8, 1917. His father, who was a lawyer, died when Lord was just three years old. Lord's grandfather, Richard Curzon Hoffman, was president of the Baltimore Steam Packet Company ("Old Bay Line") steamship firm in the 1890s.
In July 1925, at the age of 7, Lord traveled across the Atlantic Ocean with his mother and sister, from New York to Cherbourg and Southampton, on the RMS Olympic, the Titanic's sister ship. Like many Gilman boys, he spent many summers at Hyde Bay Camp for Boys in Cooperstown, NY), where he was awarded the honorary title of "The Commodore" and later returned to reign over many annual camp events, like the eight inch regatta and closing barbecue and bonfire. Following high school at Baltimore's Gilman School, he studied history at Princeton University and graduated in 1939. Lord then enrolled at Yale Law School, interrupting his studies to join the United States Army after the attack on Pearl Harbor. During World War II, he was assigned to the Office of Strategic Services as a code clerk in London, in 1942. He was the agency's secretariat when the war ended in 1945. Afterwards, Lord returned to Yale, where he earned a degree in law.
Lord wrote, or edited and annotated 11 bestselling books[7] on such diverse subjects as the Attack on Pearl Harbor (Day of Infamy, 1957), the Battle of Midway (Incredible Victory, 1967), the Battle of the Alamo (A Time to Stand, 1961), the Battle of Baltimore (The Dawn's Early Light, 1972), Arctic exploration (Peary to the Pole, 1963), pre-World War I America (The Good Years: From 1900 to the First World War, 1960), Coastwatchers (Lonely Vigil, 1977), the Dunkirk evacuation (The Miracle of Dunkirk, 1982), and the civil rights struggle (The Past That Would Not Die, 1965).
Shortly after going to work as a copywriter for the J. Walter Thompson advertising agency in New York City, Lord published The Fremantle Diary, edited and annotated from the journals of the British officer and Confederate sympathizer, Arthur Fremantle, who toured the South for three months in 1863. It became a mild, but surprising, success in 1954, as Lord was well into completing A Night to Remember, which would win him much popular acclaim.
A Night to Remember, about the sinking of the RMS Titanic, became a bestseller in 1955 and was made into a popular 1958 British movie of the same name. The historian tracked down 63 Titanic survivors and wrote a dramatic, minute-by-minute account of the ocean liner's sinking during her maiden voyage. Lord's knowledge of the Titanic catastrophe achieved considerable renown, and he frequently lectured at meetings of the Titanic Historical Society. In his final years, Lord wrote another book about the Titanic titled The Night Lives On: Thoughts, Theories and Revelations about the Titanic, published in 1986, a year after the wreck of the Titanic was discovered and interest in the Titanic renewed again. In the next decade, Lord served as a consultant to director James Cameron during the filming of Titanic (1997). The sequel documentary to Cameron's film Titanic, Ghosts of the Abyss (2003), was dedicated to Lord's memory.
VERY FINE GUARANTEED. This volume is a wonderful bright clean copy free of any markings, writings, or stamps. Sharp corners that are not bumped. Tight and square spine. Unread book without any attached bookplates or indication of any removed.
Book Grading Definitions
Publisher:

Easton Press

Edition:

Signed Limited Edition

Binding:

Full genuine leather

Illustrator:

N/A

Dimensions:

5.75" x 8.5" x 1"

Signature Authenticity:

Lifetime Guarantee of Signature Authenticity. Personally signed by the author directly into the book. The autograph is not a facsimile, stamp, or auto-pen.