A historic signed presidential collector's edition, personally hand signed by President George W. Bush.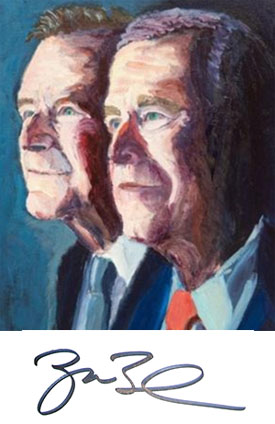 Never before has one president written a biography of another. George W. Bush, the 43rd President of the United States, has authored a personal biography of his father, George H. W. Bush, the 41st President. For the collector of presidential autographs.

This Signed Deluxe Edition of 41 is certain to be a collector's item and a cherished piece of Presidential history.

Crown Publishers Nov. 11, 2014. George W. Bush "41: A Portrait of My Father" . US First Edition; First Printing. Autographed Deluxe, Cloth Bound, Slip Cased Edition. Signed by the author George W. Bush directly into the book and not on a bookplate. Full number line as required on the copyright page. Bound in full cloth case with foil stamping. Exclusive 4 color frontispiece of painted portrait of Bush 41. This edition is slipcased and is in the original shrink-wrap from the publisher.


About


Each copy is hand-signed by President George W. Bush, printed on high-quality, acid-free paper, and bound in a full cloth case with foil stamping. Additionally, the book includes a 4-color frontispiece of a stunning never-before-seen portrait of father and son painted by President George W. Bush and is slipcased and shrinkwrapped.
Forty-three men have served as President of the United States. Countless books have been written about them. But never before has a President told the story of his father, another President, through his own eyes and in his own words. A unique and intimate biography, the book covers the entire scope of the elder President Bush's life and career, including his service in the Pacific during World War II, his pioneering work in the Texas oil business, and his political rise as a Congressman, U.S. Representative to China and the United Nations, CIA Director, Vice President, and President. The book shines new light on both the accomplished statesman and the warm, decent man known best by his family. In addition, George W. Bush discusses his father's influence on him throughout his own life, from his childhood in West Texas to his early campaign trips with his father, and from his decision to go into politics to his own two-term Presidency.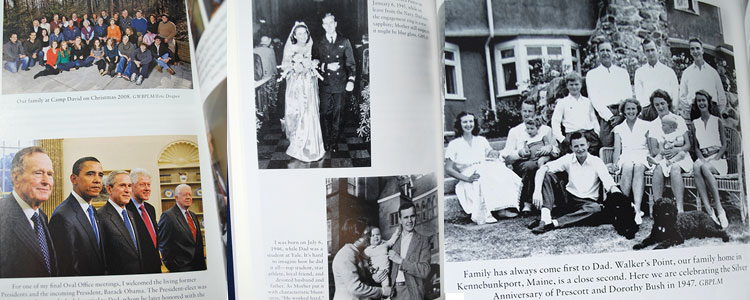 About the book


Pages: 304 pages
Publisher: Crown
Release Date: December 2, 2014
ISBN-13: 9780553448276
Edition: Autographed First Deluxe Edition
Book Dimensions: 5.9 x 1.2 x 8.5 inches.

George W. Bush is the forty-third President of the United States, serving from 2001 to 2009. He previously served as Governor of Texas. He and his wife, Laura, live in Dallas, where they founded the George W. Bush Presidential Center at SMU. President Bush's previous book, Decision Points, is the bestselling Presidential memoir of the modern era.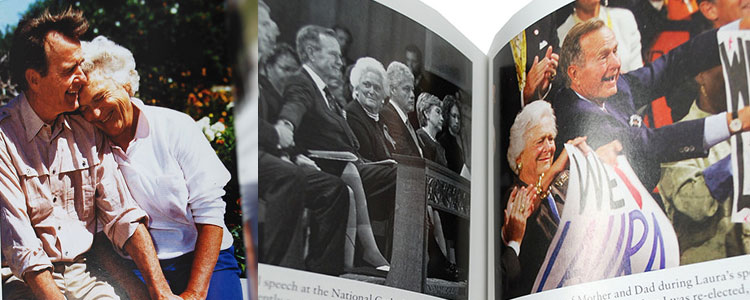 VERY FINE GUARANTEED. As New. Sealed in the original shrink-wrap. Sharp corners that are not bumped.
Publisher:

Crown Publishers 2014

Edition:

Signed First Edition [Deluxe Edition]

Binding:

Slipcased Hardcover

Dimensions:

9" x 6" x 1.5"

Signature Authenticity:

Lifetime Guarantee of Signature Authenticity. Personally hand signed by George W. Bush directly into the book. The autograph is not a facsimile, stamp, or auto-pen.

Author:

George W Bush