"It was something… the way a person's life picked up speed, the way a life was like a bullet aimed at one final target, impossible to slow or turn aside, and like the bullet, you were ignorant of what you were going to hit, would never know anything except the rush and the impact." — Joe Hill, Horns
---
Personally Signed by Joe Hill and Magdalena Kaczan. Limited to only 250
Suntup Editions 2019. "Horns" by Joe Hill. Signed Limited Edition. Number 90 of only 250. This is the first North American signed limited edition of Horns, and is presented in three states: an Artist Gift edition, a Numbered edition and a Lettered edition. All three measure 6" x 9" and feature twelve full-color illustrations by Magdalena Kaczan. The Numbered and Lettered editions are signed by Joe Hill and Magdalena Kaczan, and all editions include a new introduction by Joe Hill. This edition is printed letterpress.
A dark fantasy novel originally published in 2010, Horns is the book with which TIME Magazine proclaimed, "Joe Hill has emerged as one of America's finest horror writers." Horns follows the story of Ig Parish. After the brutal murder of his girlfriend Merrin Williams, a grief-stricken Ig awakens one morning to find horns growing out of his head. Ig soon discovers the horns hold a mysterious power that forces people to reveal their deepest and darkest secrets to him as he defends his innocence and fights to avenge the death of his one true love. Horns is the author's second published novel. The novel also incorporates elements of contemporary fantasy, crime fiction, and Gothic fiction.
"I am so pleased to be doing an edition of Horns by Suntup Editions. Their books are remarkable." — Joe Hill
Horns was nominated for a Bram Stoker Award and hailed by the Los Angeles Times as "a richly nuanced story. Fire and brimstone have rarely looked this good." In 2013, the novel was adapted into a film starring Daniel Radcliffe, which made its debut at The Toronto International Film Festival before receiving a theatrical release on October 31, 2014.
Signed Numbered Edition
Personally signed by Joe Hill and Magdalena Kaczan.
6" x 9" trim size.
Limited to 265 copies, the first 250 of which are for sale and numbered in black. The remaining 15 copies are numbered in red and are reserved for private distribution.
Bradel handbinding with Japanese cloth boards, and a genuine snakeskin spine.
Twelve full-color illustrations by Magdalena Kaczan.
New introduction by Joe Hill written exclusively for this edition.
Printed letterpress on Mohawk Superfine.
Hahnemühle Bugra endpapers.
Housed in a custom two-piece, die-cut enclosure covered in Japanese cloth.
Very Fine without any flaws.
"Artist Magdalena Kaczan's artwork just about glows on the page. There's something about her style — dreamy, vulnerable, rippling with texture…" — Joe Hill
THE
HORNS

PROMO KIT

Included with every order of the Lettered edition is this limited promotional artwork kit, showcasing some of the gorgeous illustrations from Magdalena Kaczan. Included is a full-color 6" x 9" print, a 4" x 6" postcard and a deluxe, oversized UV coated 2.5" x 8.5" bookmark, all packed inside a gold metallic printed envelope.

About the Author


Joe Hill is the #1 New York Times Bestselling Author of The Fireman, NOS4A2, Heart-Shaped Box, and Horns. His book of short stories, 20th Century Ghosts, won the Bram Stoker Award and British Fantasy Award for Best Collection. He earned the Eisner Award for Best Writer for his long-running comic book series, Locke & Key, featuring the art of Gabriel Rodriguez.

About the Artist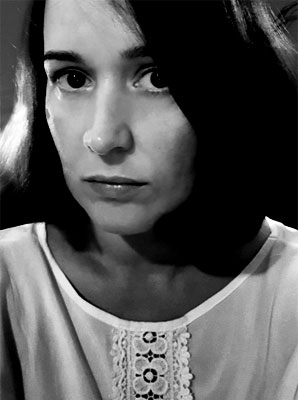 Magdalena Kaczan is an emerging artist from Krakow, Poland. She studied art at Maria Curie-Skłodowska University and Jan Matejko Academy of Fine Arts. Although Lena is not currently working full-time in her chosen profession, she spends a good deal of time living creatively by taking on commissions, such as the cover she created for Summerlong by Peter S. Beagle, and making fan art for friends. Lena draws in ink, pens and fineliners, and then processes the drawings digitally.

About the Publisher
There is a clear distinction between a book that is mass produced, and one that is a finely crafted book. Our Limited and Lettered editions are hand-bound, one at time, and we go to great expense to utilize only the finest materials available. Most of our editions are printed letterpress, which is the printing method perfected by Gutenberg, who used it to produce the first book printed from moveable type in the West, the now-famous Gutenberg Bible.
The mission of our press is to publish finely crafted limited editions, by collaborating with some of today's leading writers, artists, designers, printers and bookmakers to create an edition that is itself, an art object. By incorporating elements of the story into the design and production of the books, and enclosures, our editions offer a unique reading experience.






VERY FINE GUARANTEED. Very Fine without any flaws. As New. A wonderful bring clean copy without any other marks, writings , or stamps. Clean & straight boards. No attached bookplates or indication of any removed. A well-cared for book, protected from any potential damage. Unread with square and tight spine.
Publisher:

Suntup Press 2019

Author:

Joe Hill

Edition:

Signed Limited Edition of 250

Binding:

Handbound quarter leather binding with boards covered in crushed silk

Illustrator:

Magdalena Kaczan

Signature Authenticity:

Lifetime Guarantee of Signature Authenticity. Personally signed by Joe Hill and Magdalena Kaczan directly into the book. The autographs are not facsimiles, stamps, or auto-pens.