"With all of the external pressures coming at us, we gotta love, forgive, and love some more. Don't confuse stupidity with love. Intelligent love is the only way our people can survive. Thank you, Mr. and Mrs. Simmons."
(LL Cool J)
---
Personally signed by Joseph "Rev Run" And Justine Simmons

Dey Street Books (January 28, 2020). Joseph "Rev Run" Simmons and Justine Simmons "Old School Love: And Why It Works". Signed First Edition. Hardcover without dust-jacket as issued. Personally signed by Joseph "Rev Run" and Justine Simmons directly into the book with a silver sharpie pen. Slipcased Signed First Edition with COA. 224 pages. Archival sleeve protection. As New without any discernible flaws. Sealed. ISBN-10: 0062939726 ISBN-13: 978-0062939722
Product Dimensions: 5.5 x 0.8 x 8.2 inches
Full book features and description:
Personally signed by Joseph "Rev Run" and Justine Simmons

Signed First Edition/First Printing (Dey Street Books)
Limited Slipcased Signed First Edition of only 20 produced
Very Fine/Very Fine without any discernible flaws.
COA (Certificate of Authenticity)
The slipcase is produced from high quality material (sophisticated rich appearance and feel) with the author's name and book title printed on the front and spine surfaces.
Archival Sleeve Protection in a brand new Brodart archival acid-free Mylar sleeve.
Available on a "first come, first served" basis.
Free luxury gift wrapping available at check-out.
The entire package will be SEALED in shrink-wrapping.
30 day return policy with free 2-way shipping (within the US) .
The same quality and attention to detail you have come to expect from veryfinebooks.com
Professional packing & shipping.
---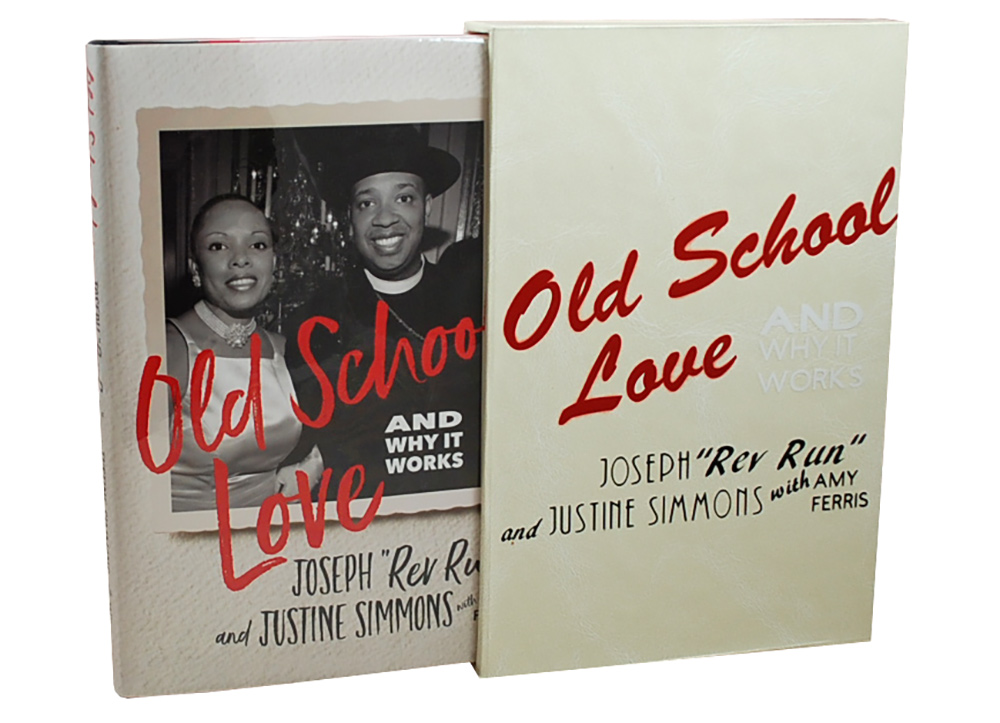 ---
ABOUT "OLD SCHOOL LOVE"
RUN DMC.'s iconic rapper Joseph "Reverend Run" Simmons and his wife, Justine, share their secrets to lasting love and the guiding principles that have kept them together for more than twenty years. Written with Amy Ferris.
This is a book about love.
The kind of love that will keep you warm at night—that will keep you feeling safe and sound.
The kind of love that will get you through some dark times; get you through some hard and yes, some tough times.
The kind of love that will make you laugh, that will make you smile, that will make you nod knowingly.
The kind of love that is nurtured and watered and grows—from a seedling to a flower.
The kind of love that is desperately needed in the world right now, shared and sprinkled everywhere.
Old School Love is a book to help you find the kind of soul-filling love you desire, written by a couple who has built a strong and joyful relationship amid the pressures, pitfalls, and temptations of the entertainment industry. Rev Run and his wife, Justine, have been blessed with a devoted partnership that has inspired others. In this homage to classic courtship, Rev and Justine reveal the secrets to their marriage's longevity and happiness.
Each chapter of Old School Love offers stories, anecdotes, and memories of Rev and Justine's marriage, their family, their experiences, their passion, and their deep faith and belief in God. Some will make you laugh, some will make you think, and some will make you cry. Yet all will make you wiser—more beautiful for the wear—and encourage you to be a kinder, more generous, and better human. Their reflections are bookended by a verse or line from scripture, a saying, or a favorite quote and a sampling of personal wisdom. Over two decades strong, Rev and Justine's partnership is an inspiration. With Old School Love they are spreading their message of positivity, and creating a legacy for all of us to embrace and share. Powerful and life-changing, this little gem of a book is about magic, and miracles, and yes, the irrefutable power of love.

Old School Love includes 8 pages of photos from Rev and Justine's personal collection.

About Joseph "Rev Run" Simmons


Joseph "Rev Run" Simmons, the front man of the seminal hip-hop group RUN DMC, has sold tens of millions of records around the world and is widely credited for ushering rap music into mainstream culture. "Recently inducted into the Rock & Roll Hall of Fame, the group was also the first rap act to earn a Grammy Lifetime Achievement Award." Rev Run remains a dynamic figure in entertainment today, and along with his wife of more than twenty-five years, Justine, has starred on shows including Run's House, All About the Washingtons, and Rev Run's Sunday Suppers. Through their television endeavors, and their book Take Back Your Family: A Challenge to America's Parents, they strive to make their family values, humor, and spirituality as visible as possible. Family remains their biggest focus, and their playful, loving relationship is an inspiration for many.
About Justine Simmons
Justine Simmons is the costar of the blockbuster MTV show Run's House. She and her husband, Reverend Run, aka Joseph Simmons—one of the pioneering founders of Run DMC—live in New Jersey with their children.
Reviews

"Old School Love is the kind of love that makes you wanna wear matching shell-toe sneakers and dance in the living room. Rev Run and Justine personify black love and family. Their commitment to God is the foundation of their union. God is love. Old School Love is 'like that, and that's the way it is.'" (Nia Long)
"Bless up; Rev Run and his Queen Justine are a true example of love. The way that Rev upholds his queen and the way Justine supports her king serve as an inspiration for what unconditional love should look like. Rev and Justine share the same values as my queen and I, that God is the foundation of our love." (DJ Khaled, Asahd's father)
"With all of the external pressures coming at us, we gotta love, forgive, and love some more. Don't confuse stupidity with love. Intelligent love is the only way our people can survive. Thank you, Mr. and Mrs. Simmons." (LL Cool J)
"Justine and Rev Run Simmons represent a level of integrity, heart, and spirituality like nothing that's ever been seen in our generation. Their marriage has created a vibration in my life that was never there before I met them. My wife and I are honored to know Rev and Justine, and to have seen firsthand the magic and integrity that their marriage represents." (Tyrese)
"The traditional values the authors espouse will appeal to young couples working to remain true to their wedding vows." (Publishers Weekly)
"I've read many celebrity-authored books, and rarely do I feel compelled to recommend a book, but this one I'm going to recommend." (Ebony)
VERY FINE GUARANTEED. Sealed.
Very Fine without any flaws. A wonderful bring clean copy without any other marks, writings , or stamps. Clean & straight boards. No attached bookplates or indication of any removed. A well-cared for book, protected from any potential damage. Unread with square and tight spine.
Publisher:

Dey Street Publishers (January 28, 2020)

Edition:

Slipcased Signed First Edition w/COA

Binding:

Hardcover with dust-jacket

Illustrator:

See product description

Dimensions:

9" x 6" x 1.5"

Signature Authenticity:

Lifetime Guarantee of Signature Authenticity. Personally signed by Joseph Rev Run and Justine Simmons directly into the book. The autographs are not facsimiles, stamps, or auto-pens. Includes a hand-numbered COA.