Slipcased Oversized Hardcover Gift Edition of only 1,750 copies
Cemetery Dance Publications. 2010. "Full Dark, No Stars" by Stephen King. First limited edition. This limited edition is the Slipcased Oversized Hardcover Gift Edition of only 1,750 copies. Printed in two colors with two color hot foil stamping and marbled endpapers. Please note, this edition is not signed by the author. Sealed. Very Fine without any flaws in slipcase the same.



About "Full Dark, No Stars"

"I believe there is another man inside every man, a stranger . . ." writes Wilfred Leland James in the early pages of the riveting confession that makes up "1922," the first in this pitch-black quartet of mesmerizing tales from Stephen King. For James, that stranger is awakened when his wife, Arlette, proposes selling off the family homestead and moving to Omaha, setting in motion a gruesome train of murder and madness.
In "Big Driver," a cozy-mystery writer named Tess encounters the stranger along a back road in Massachusetts when she takes a shortcut home after a book-club engagement. Violated and left for dead, Tess plots a revenge that will bring her face-to-face with another stranger: the one inside herself.
"Fair Extension," the shortest of these tales, is perhaps the nastiest and certainly the funniest. Making a deal with the devil not only saves Dave Streeter from a fatal cancer but provides rich recompense for a lifetime of resentment.
When her husband of more than twenty years is away on one of his business trips, Darcy Anderson looks for batteries in the garage. Her toe knocks up against a box under a worktable and she discovers the stranger inside her husband. It's a horrifying discovery, rendered with bristling intensity, and it definitively ends a good marriage.
Like Different Seasons and Four Past Midnight, which generated such enduring films as The Shawshank Redemption and Stand by Me, Full Dark, No Stars proves Stephen King a master of the long story form.
---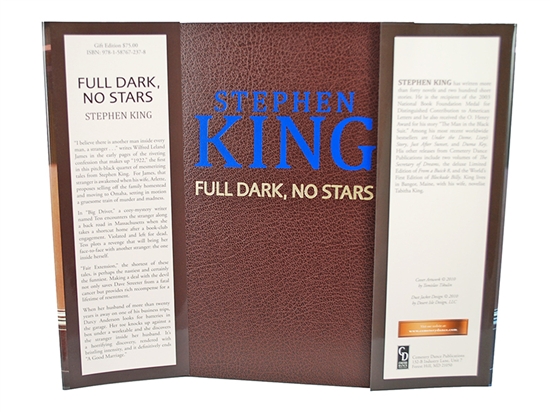 REVIEWS:
"King [is] the most wonderfully gruesome man on the planet - The pages practically turn themselves."
- Carol Memmott, USA Today
"Full Dark, No Stars is an extraordinary collection, thrillingly merciless, and a career high point."
-The Telegraph (UK)
"A page turner. King seems able to write compact tales or gargantuan ones with equal ease."
-Janet Maslin, New York Times
"Might yield another classic. Solid psychological chillers."
-Columbus Dispatch
"Just as gripping as his epic novels."
-St. Louis Post-Dispatch
About the Artists:
Tomislav Tikulin was born in Zagreb, Croatia. He has worked primarily with digital illustrations for book covers, as well as posters, DVD jackets, and production design illustrations. His focus is science fiction, fantasy and horror for various magazines and book publishers in Croatia, Europe, and the United States, including Fantasy & Science Fiction Magazine, Asimov's Science Fiction Magazine, Solaris Books, PS Publishing, Subterranean Press, Cemetery Dance Publications, Orson Scott Card's InterGalactic Medicine Show, Heyne Verlag, and Editions Jai Lu. His artwork has graced the covers of many science fiction and fantasy books including Larry Niven's Ringworld Engineers, Arthur C. Clarke's Rendezvous With Rama, and Ray Bradbury's Dandelion Wine.
Glenn Chadbourne's artwork has appeared in over thirty books as well as numerous magazines and comics. His trademark pen and ink drawings have accompanied the works of today's hottest genre authors. His other Stephen King Limited Editions with Cemetery Dance include two volumes of The Secretary of Dreams. Glenn lives in Newcastle, Maine, with his wife Sheila and their pug dog Rocket.
Jill Bauman has been a freelance illustrator/designer for 31 years. In that time she has produced hundreds of covers for horror, mystery, fantasy, science fiction, best-selling books and other products. She has illustrated works by authors such as Stephen King, Harlan Ellison, Peter Straub, Lilian Jackson Braun, Charles L. Grant, Robert McCammon, Richard Laymon, Jack Williamson, Hugh B. Cave, Fritz Leiber, Mike Resnick, J. G. Ballard, Stewart O'Nan and Justin Cronin. Jill has been nominated for the World Fantasy Award five times and nominated for the Chesley Award several times. Her art has been exhibited at the Delaware Art Museum, the Moore College of Art, Science Fiction Museum of Seattle, NY Art Students League and the NY Illustrators Society. She lives in Queens, New York.
Alan M. Clark grew up in Tennessee. His illustrations have appeared in books of fiction, non-fiction, textbooks, young adult fiction and children's books. Awards for his illustration work include the World Fantasy Award and four Chesley Awards. His short fiction has appeared in magazines and anthologies and four of his novels have been published. Lazy Fascist Press will publish a collection of his fiction titled Boneyard Babies in November of 2010. Clark's publishing company, IFD Publishing, has published six books, the most recent of which is a full color book of his artwork, The Paint in My Blood. He and his wife, Melody, live in Oregon.
Vincent Chong is an award-winning freelance illustrator and designer. Since 2004 he has brought his creative vision and distinctive visual style to a wide range of projects for both print and the web. Currently living and working in the UK, his art and design can be seen on book covers, magazines, CD packaging, and websites. He has worked for clients all around the world, illustrating the works of authors such as Ray Bradbury and Stephen King, and in 2010 he released his first art book, Altered Visions: The Art of Vincent Chong. Vincent has also received the British Fantasy Award for "Best Artist" three years running in 2007, 2008 and 2009.
This book was originally published in three states (This is the Gift Edition in bold):
-Slipcased Oversized Hardcover Gift Edition of only 1,750 copies printed in two colors with two color hot foil stamping and marbled endpapers
-Traycased Oversized Hardcover Signed Limited Edition of only 750 copies printed in two colors and bound in leather with two color hot foil stamping, a satin ribbon page marker, and embossed endpapers, signed by Stephen King
-Oversized Signed Hardcover Lettered Edition of only 52 copies printed in two colors and bound in two different fine materials with gilded page edges, a satin ribbon page marker, imported endpapers, and protected in a custom deluxe traycase, signed by Stephen King and all of the artists
About the Author:
Stephen King has written more than forty novels and two hundred short stories. He is the recipient of the 2003 National Book Foundation Medal for Distinguished Contribution to American Letters and he also received the O. Henry Award for his story "The Man in the Black Suit." Among his most recent worldwide bestsellers are Under the Dome, Cell, Lisey's Story, and Duma Key. His other releases from Cemetery Dance Publications include two volumes of The Secretary of Dreams, the deluxe Limited Edition of From a Buick 8, the deluxe Limited Edition of Full Dark, No Stars, and the World's First Edition of Blockade Billy. King lives in Bangor, Maine, with his wife, novelist Tabitha King.
VERY FINE GUARANTEED. Sealed. A wonderful bright clean copy free of any markings, writings, or stamps inside the book. See photos. Sharp corners that have not been bumped. Tight binding, most likely an unread book.
Publisher:

Cemetery Dance (2010)

Edition:

Limited Gift Edition

Binding:

Hardcover with dust-jacket, Slipcased

Title:

Full Dark, No Stars

Author:

Stephen King

Illustrator:

Tomislav Tikulin

Illustrator:

Glenn Chadbourne

Illustrator:

Jill Bauman

Illustrator:

Alan M. Clark