Personally signed by Stephen King and the Illustrator Glenn Chadbourne.

A Matching Two Volume Set, Lettered "F" and Limited to only 52 Lettered Deluxe First Editions.

Cemetery Dance Publications, Baltimore, MD. 2006 and 2010. "Secretary Of Dreams" Volume I and "Secretary of Dreams" Volume II matching signed lettered editions. Each volume has been personally signed by Stephen King and the illustrator Glenn Chadbourne. Signed limited first edition. Each edition is an oversized hardcover, bound in fine materials with gilded page edges and protected in a large deluxe tray-case. Each volume is a lettered "F". Full genuine leather binding. Includes original publisher issued letters and materials. Both dust-jackets are now protected in brand new acid-free archival Brodart sleeves. Very Fine without any discernible flaws.

Lettered Edition of only 52 copies, bound in fine materials with gilded page edges, a satin ribbon page marker, and protected in a massive deluxe tray-case.

Each special edition of this matching set features:

A hand-bound custom Lettered Edition:

- A completely unique dustjacket (different design than the Gift and Limited Editions)
- Cromwell Black Leather with Flanders Grain on spine
- brown Skivertex Sanigal, Oxford embossing, aqueous coating for front and back covers
- imported French marbled endsheets
- pages edged in gold gilding
- hot-stamped, blind embossed with clear foil on spine
- custom black imprinted image on cover
- smyth sewn with cotton thread
- skrimmed with cotton hinge cloth, sewn headbands


A handmade custom clamshell box:

- violet baroque satin lining
- wrapped in a "green" ecological, recycled paper, manufactured in New Hampshire, Safari Elk color
- box made from 100-point recycled chipboard, manufactured in Philadelphia, Pennsylvania
- hot-stamped, blind embossed with clear foil on box top




Secretary of Dreams Volume I
From Cemetery Dance:
Featuring a half-dozen classic tales of terror personally selected by King, this collection presents his stories for the first time in the tradition of the pulp horror comics. Spanning over 280 oversized pages, the hundreds of illustrations and full comic panels from acclaimed Maine artist Glenn Chadbourne transform The Secretary of Dreams into a work of art. Not one word from King's stories has been left out, but now they've been brought to life by hundreds of pen and ink drawings by Chadbourne! The featured stories are: "The Road Virus Heads North," "Uncle Otto's Truck," "Rainy Season," "The Reach," "Jerusalem's Lot," and "Home Delivery."
This exclusive Cemetery Dance title features an oversized deluxe trim-size and is available in three editions: a slipcased Gift Edition limited to 5,000 copies, a traycased deluxe Limited Edition limited to 750 copies signed by King and Chadbourne, and a deluxe Lettered Edition limited to 52 copies signed by King and Chadbourne and housed in a deluxe traycase. There are no other editions planned of this title, but King has already selected six more stories for a second volume that will be announced in 2006, and Chadbourne is hard at work on the illustrations!


Secretary of Dreams Volume II
World Fantasy Award winner Cemetery Dance Publications, critically acclaimed artist Glenn Chadbourne, and New York Times bestselling author Stephen King are proud to announce The Secretary of Dreams (Volume Two). This second venture into the world of Stephen King's stories contains even more artwork and detailed illustrations that could only have come from the inspired hands of artist Glenn Chadbourne!
Bonus Items Included With This Package
The following two bonus items are included with you order:
1. The Secretary of Dreams (Volume 2). Uncorrected Designed pages. 18 pages in total, each one measuring 11" x 17".
2. The Secretary of Dreams (Volume 1). Advance Uncorrected Proof "NOT FOR SALE" (Very Fine)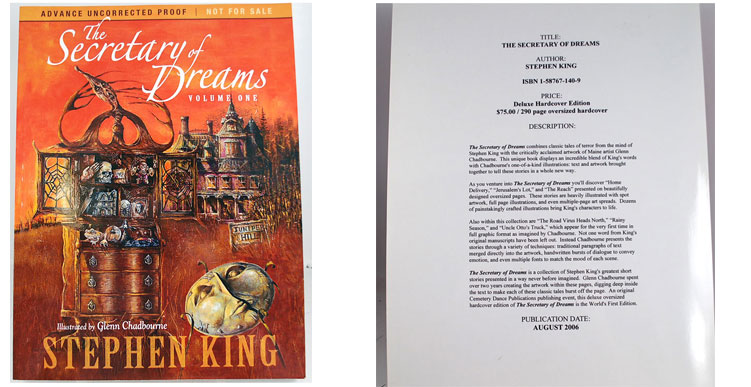 The Secretary of Dreams (Volume Two) continues where the first acclaimed volume left off: combining classic tales of terror from the mind of Stephen King with the haunting artwork of Maine artist Glenn Chadbourne. This unique book displays an incredible and original blend of King's words with Chadbourne's one-of-a-kind B&W illustrations: text and artwork brought together to tell these chilling stories in a whole new way.
As you venture into this new volume of The Secretary of Dreams you'll discover "The Monkey," "Strawberry Spring," and "In the Deathroom" presented on beautifully designed oversized pages. These stories are heavily illustrated with spot artwork, full page illustrations, and even multiple-page art spreads. Dozens of painstakingly crafted illustrations bring King's characters to life.
Also within this collection are "Gray Matter," "One for the Road ," and "Nona," which appear for the very first time in full graphic format as imagined by Chadbourne. Not one word from King's original manuscripts has been left out. Instead Chadbourne presents the stories through a variety of techniques: traditional paragraphs of text merged directly into the artwork, handwritten bursts of dialogue to convey emotion, and even multiple fonts to match the mood of each scene.
Like the first volume of The Secretary of Dreams, this is a new collection of Stephen King's greatest short stories presented in a way never before imagined. Glenn Chadbourne has spent over two years creating the artwork within these pages, digging deep inside the text to make each of these classic tales burst off the page.
An original Cemetery Dance Publications publishing event, this deluxe oversized hardcover edition is the World's First Edition and there are no other editions planned of this title at this time.
Very Fine in a Very Fine tray-case for both volumes. Each volume is a wonderful bright clean copy free of any markings, writings, or stamps inside the book. See photos. Sharp corners that have not been bumped. Tight binding. A new, unread book. The dust-jackets are now protected in Mylar sleeves. The same condition as originally shipping from the publisher. There may be couple of very minor marks to the silver page edges, typical as with other CD lettered productions.


Publisher:

Cemetary Dance Publications 2010

Edition:

Matching Signed Lettered Edition of 52 "F"

Binding:

Full Genuine Leather Binding

Illustrator:

Glenn Chadbourne

Dimensions:

Each Edition overall approx. 17.5" x 14" x 4"

Signature Authenticity:

LIFETIME GUARANTEE OF SIGNATURE AUTHENTICITY . Personally signed by Stephen King along with the illustrator Glenn Chadbourne directly onto each of the special lettered limitation pages.