Personally signed by Dean Koontz directly onto the limitation page.
Charnel House 2003. Dean Koontz "The Book of Counted Sorrows". Signed limited edition. Personally signed by Dean Koontz directly onto the limitation page of the book. This is number 503 of only 1,250 slipcased copies produced. Very Fine without any flaws. FIRST EDITION as stated on the copyright page.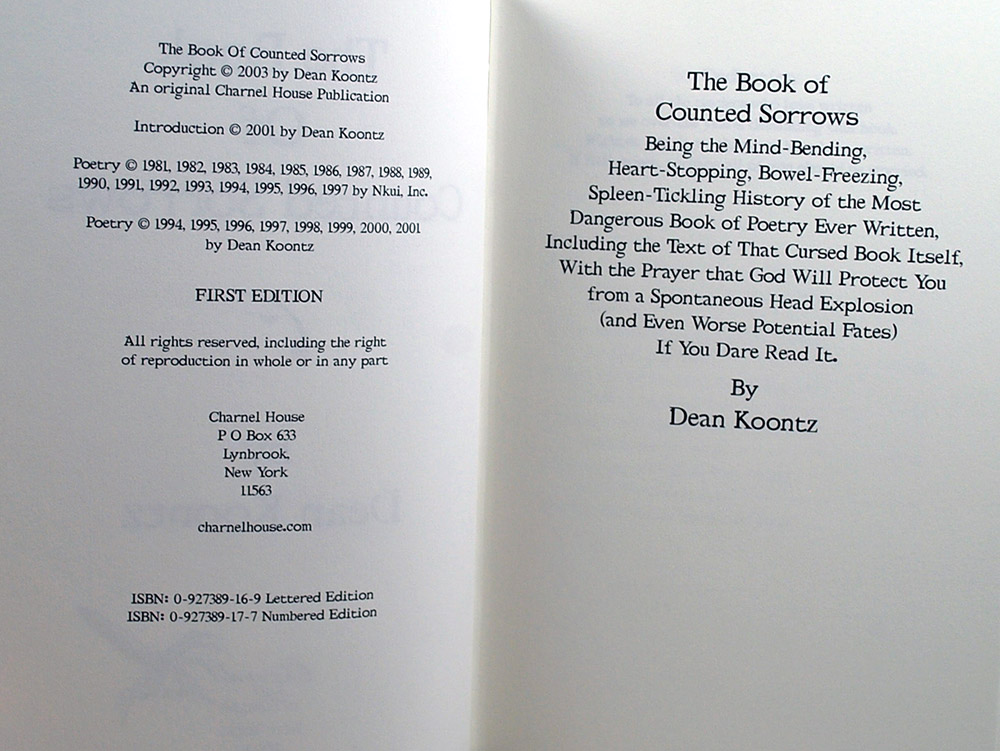 The Book of Counted Sorrows was originally a nonexistent book "quoted" in many of Dean Koontz's books. For many years Koontz fans everywhere searched for this elusive book. Many librarians were frustrated in their attempts to locate it, because it did not exist. This was confirmed by a librarian from Cedar Rapids Public Library who corresponded with Koontz regarding this mysterious book. Koontz himself stated that he received up to 3,000 letters per year inquiring about it.
In a letter dated August 10, 1992, Koontz stated:
"Actually, there is no such book. I made it up. The way you made up footnote sources for fabricated facts in high-school English reports. Oh, come on, yes, you did. Sometimes, when I need a bit of verse to convey some of the underlying themes of a section of a novel, I can't find anything applicable, so I write my own and attribute it to this imaginary tome. I figured readers would eventually realize THE BOOK OF COUNTED SORROWS was my own invention, and I never expected that one day librarians and booksellers would be writing from all over the country, asking for help in tracking down this rare and mysterious volume!"
Koontz went on to say that he would publish such a book in a few years, when he had enough verses to fill a volume. He included a history of the poems in the beginning of the book, followed by the poems, some having never been in any of his books. According to Shannon Presley of Harvest Books, "Koontz himself wrote the poems, attributed to a Stephen Crane."
In 2001, The Book of Counted Sorrows was published in an e-book format offered exclusively through Barnes & Noble; It was the first book published in Barnes & Noble's launch of its first-ever list of books from its newly formed electronic-publishing division, Barnes & Noble Digital, and "quickly became Barnesandnoble.com's best-selling e-books of the year." Barnes & Noble Digital's premier 2001 edition is no longer available. Later that year, Charnel House published two limited editions of the book: a 1250-copy numbered edition and a 26-copy lettered edition. Both editions quickly sold out from the publisher. In the summer of 2009, Dogged Press issued a 3000-copy hardcover edition.
Koontz describes his book this way, according to the title page: "Being the mind bending, heart stopping, bowel freezing, spleen tickling history of the most dangerous book of poetry ever written, including the text of that cursed book itself, with the prayer that God will protect you from a spontaneous head explosion (and even worse potential fates) if you dare read it."
About the Author
Dean Ray Koontz (born July 9, 1945) is an American author. His novels are billed as suspense thrillers, but frequently incorporate elements of horror, fantasy, science fiction, mystery, and satire. In the 1970s, Koontz began writing suspense and horror fiction, both under his own name and several pseudonyms, sometimes publishing up to eight books a year. Koontz has stated that he began using pen names after several editors convinced him that authors who switched back and forth between different genres invariably fell victim to "negative crossover" (alienating established fans and simultaneously failing to pick up any new ones). Known pseudonyms used by Koontz during his career include Deanna Dwyer, K. R. Dwyer, Aaron Wolfe, David Axton, Brian Coffey, John Hill, Leigh Nichols, Owen West, Richard Paige, and Anthony North. As Brian Coffey, he wrote the "Mike Tucker" trilogy [Blood Risk, Surrounded, Wall of Masks] in acknowledged tribute to the Parker novels of Richard Stark (Donald E. Westlake). Many of Koontz's pseudonymous novels are now available under his real name. Many others remain suppressed by Koontz, who bought back the rights to ensure they could not be republished; he has, on occasion, said that he might revise some for republication, but only three have appeared -- Demon Seed and Invasion were both heavily rewritten before they were republished, and Prison of Ice had certain sections bowdlerised.
After writing full-time for more than 10 years, Koontz's acknowledged breakthrough novel was Whispers, published in 1980. The two books before that, The Key to Midnight and The Funhouse, also sold over a million copies, but were written under pen names. His first bestseller was Demon Seed, the sales of which picked up after the release of the film of the same name in 1977, and sold over two million copies in one year. His first hardcover bestseller, which finally promised some financial stability and lifted him out of the midlist hit-and-miss range, was his book Strangers. Since then, 12 hardcovers and 14 paperbacks written by Koontz have reached number one on The New York Times Bestseller List.
Many of his novels are set in and around Orange County, California. As of 2006, he lives there with his wife, Gerda (Cerra), in Newport Coast, California, behind the gates of Pelican Hills. In 2008, he was the world's sixth-most highly paid author, tied with John Grisham, at $25 million annually.
Features
Numbered signed limited edition, 487 of 1,250, in slipcase.
VERY FINE GUARANTEED. A wonderful bright clean copy free of any markings, writings, or stamps. Sharp corners that have not been bumped. Unread book with square and tight binding. No bookplates attached or indication of any removed. Edges are free of any marks, spots, scratches, or blemishes.
Publisher:

Charnel House

Edition:

Signed Limited Edition

Binding:

Specially bound edition with slipcase.

Illustrator:

See description for details

Dimensions:

9"x6"x1.5"