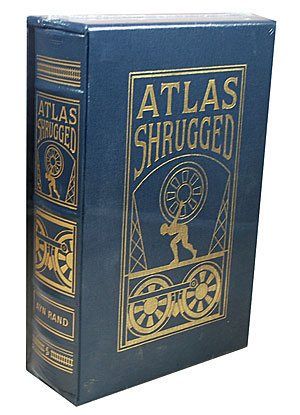 Own one of only 800 deluxe edition copies of this beloved masterpiece.
Arrives complete with the original certificate from Easton Press.
First published in 1957, Ayn Rand's landmark novel "Atlas Shrugged" was named by readers in the Modern Library as the greatest novel of the 20th century. The author's fourth and final novel, it was also her longest, and has made a significant impact on American culture.
This breathtaking limited edition by Easton Press is an exceptional find for the serious collector, as just 800 copies have been printed. The 2012 deluxe limited edition is a leather-bound hardcover with a hubbed spine, and 22kt gold accents forming the distinctive cover design. The volume features silk moire endleaves and gilded page edges. The volume is housed in a fabric-covered, custom-crafted slipcase.
The durable Smyth-sewn pages are printed on high quality, acid-neutral paper. The book includes exclusive full-color artwork by Frank Mayo, and a sewn-in satin ribbon page marker. This rare edition of Rand's groundbreaking novel is a must-have for the advanced collector of fiction.
About the author
Ayn Rand's first novel, We the Living, was published in 1936. With the publication of The Fountainhead in 1943, she achieved spectacular and enduring success. Through her novels and nonfiction writings, which express her unique philosophy, Objectivism, Rand maintains a lasting influence on popular thought.

About the book
With this acclaimed work and its immortal query, "Who is John Galt?", Ayn Rand found the perfect artistic form to express her vision of existence. Atlas Shrugged made Rand not only one of the most popular novelists of the century, but one of its most influential thinkers. Atlas Shrugged is the astounding story of a man who said that he would stop the motor of the world--and did. Tremendous in scope, breathtaking in its suspense, Atlas Shrugged stretches the boundaries further than any book you have ever read. It is a mystery, not about the murder of a man's body, but about the murder--and rebirth--of man's spirit. Atlas Shrugged is the "second most influential book for Americans today" after the Bible, according to a joint survey conducted by the Library of Congress and the Book of the Month Club
Features
Includes all the classic Easton Press qualities:

* Premium Leather
* Silk Moire Endleaves
* Distinctive Cover Design
* Hubbed Spine, Accented in Real 22KT Gold
* Satin Ribbon Page Marker
* Gilded Page Edges
* Long-lasting, High Quality Acid-neutral Paper
* Smyth-sewn Pages for Strength and Durability
* Beautiful Illustrations
About The Author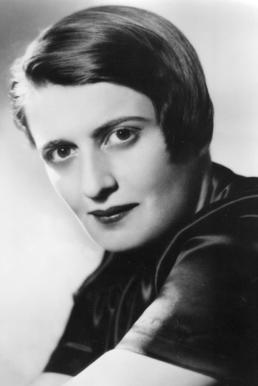 Ayn Rand (1905 – March 6, 1982) was a Russian-American writer and philosopher. She is known for her two best-selling novels, The Fountainhead and Atlas Shrugged, and for developing a philosophical system she named Objectivism. Educated in Russia, she moved to the United States in 1926. She had a play produced on Broadway in 1935 and 1936. After two early novels that were initially unsuccessful, she achieved fame with her 1943 novel, The Fountainhead. In 1957, Rand published her best-known work, the novel Atlas Shrugged. Afterward, she turned to non-fiction to promote her philosophy, publishing her own periodicals and releasing several collections of essays until her death in 1982.
Rand advocated reason as the only means of acquiring knowledge and rejected faith and religion. She supported rational and ethical egoism and rejected altruism. In politics, she condemned the initiation of force as immoral[3] and opposed collectivism and statism as well as anarchism, instead supporting laissez-faire capitalism, which she defined as the system based on recognizing individual rights, including property rights. In art, Rand promoted romantic realism. She was sharply critical of most philosophers and philosophical traditions known to her, except for Aristotle, Thomas Aquinas and classical liberals.
Literary critics received Rand's fiction with mixed reviews[6] and academia generally ignored or rejected her philosophy, though academic interest has increased in recent decades.The Objectivist movement attempts to spread her ideas, both to the public and in academic settings. She has been a significant influence among libertarians and American conservatives.
VERY FINE GUARANTEED
. Sealed. A wonderful bright clean copy free of any markings, writings, or stamps. Sharp corners that have not been bumped. Tight binding. Most likely an unread book. No bookplates attached or indication of any removed. The gilded page edges are free of any marks, scratches, or blemishes.
Publisher:

Easton Press (2012)

Edition:

Deluxe Limited Edition of only 800

Binding:

Full Genuine Leather

Illustrator:

see product description

Dimensions:

10" x 6.5" x 2.5"