A Deluxe Leather Bound Edition, Personally Signed by Paulo Coelho

THE 25TH ANNIVERSARY EDITION OF THE MODERN FABLE THAT CHANGED THE WORLD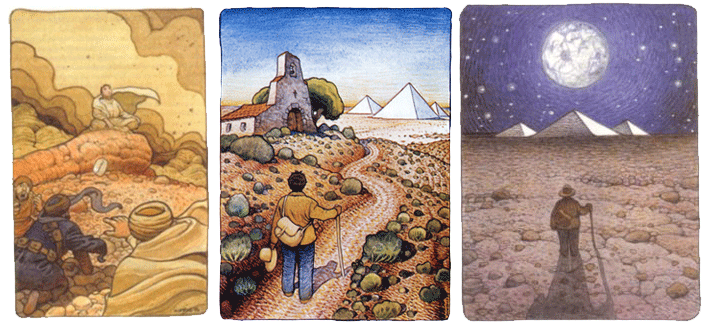 Easton Press, Norwalk, CT. "The Alchemist" Paulo Coelho, Signed Limited Deluxe Edition. A special collector's edition, limited to only 1,000 signed and hand-numbered copies, and luxuriously bound in full genuine leather. Illustrations by the late artist Moebius. 208 pages.
Dimensions: 6 1/2" x 9 3/4".
This is the inspirational fable that became a global bestseller and an acclaimed literary phenomenon.
Paulo Coelho is a Brazilian lyricist and novelist. He has become one of the most widely read authors in the world today. He is the recipient of numerous international awards, amongst them the Crystal Award by the World Economic Forum. The Alchemist, his most famous novel, has been translated into 67 languages. The author has sold 150 million copies worldwide.
About "The Alchemist"

"My heart is afraid that it will have to suffer," the boy told the alchemist one night as they looked up at the moonless sky." Tell your heart that the fear of suffering is worse than the suffering itself. And that no heart has ever suffered when it goes in search of its dreams."
The Alchemist is the magical story of Santiago, an Andalusian shepherd boy who yearns to travel in search of a worldly treasure as extravagant as any ever found. From his home in Spain he journeys to the markets of Tangiers and across the Egyptian desert to a fateful encounter with the alchemist.
The story of the treasures Santiago finds along the way teaches us, as only a few stories have done, about the essential wisdom of listening to our hearts, learning to read the omens strewn along life's path, and, above all, following our dreams.
Every few decades a book is published that changes the lives of its readers forever. The Alchemist is such a book. With over a million and a half copies sold around the world, The Alchemist has already established itself as a modern classic, universally admired. Paulo Coelho's charming fable, now available in English for the first time, will enchant and inspire an even wider audience of readers for generations to come.
Features
Includes all the classic Easton Press qualities:

* Premium Leather
* Silk Moire Endleaves
* Distinctive Cover Design
* Hubbed Spine, Accented in Real 22KT Gold
* Satin Ribbon Page Marker
* Gilded Page Edges
* Long-lasting, High Quality Acid-neutral Paper
* Smyth-sewn Pages for Strength and Durability
* Beautiful Illustrations
VERY FINE GUARANTEED
As New(Sealed) in As New slipcase without any flaws. The condition is of the highest quality without any bumped corners and free of marks to gilded page edges.
Publisher:

Easton Press

Edition:

Deluxe Signed Limited Edition

Binding:

Full Genuine Leather

Illustrator:

see product description

Dimensions:

10.5" x 7" x 1.5"