An Impressive 11-Volume Leather Bound Collection That Will Make A Unique Addition To Your Library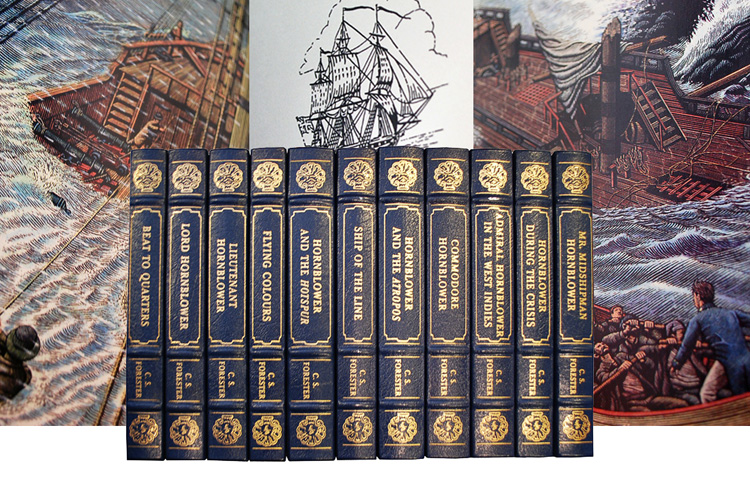 A complete matching collection bound in rich, blue leather with full-color frontispiece artwork. Easton Press 2001. Norwalk, CT. Limited Collector's Edition. This collection makes an amazing addition to the library of any serious collector. Each edition is luxuriously bound in full genuine leather with exquisite gold detailing.
This eleven volume collection from Easton Press includes:
"Beat to Quarters"

"Lord Hornblower"

"Commodore Hornblower"

"Hornblower and the Atropos"

"Ship of the Line"

"Admiral Hornblower in the West Indies"

"Hornblower During the Crisis"

"Lieutenant Hornblower"

"Mr. Midshipman Hornblower"

"Hornblower and the Hotspur"

"Flying Colours"

About
Horatio Hornblower is a fictional Napoleonic Wars era Royal Navy officer who is the protagonist of a series of novels by C. S. Forester. The original Hornblower tales began with the appearance of a junior Royal Navy captain on independent duty on a secret mission to Central America, though later stories would fill out his earlier years, starting with an unpromising beginning as a seasick midshipman. As the Napoleonic Wars progress, he gains promotion steadily as a result of his skill and daring, despite his initial poverty and lack of influential friends. Eventually, after surviving many adventures in a wide variety of locales, he rises to the pinnacle of his profession, promoted to Admiral of the Fleet, knighted as a Knight Grand Cross of the Order of the Bath, and named the 1st Baron Hornblower.
Features
Includes all the classic Easton Press qualities:

* Premium Leather
* Silk Moire Endleaves
* Distinctive Cover Design
* Hubbed Spine, Accented in Real 22KT Gold
* Satin Ribbon Page Marker
* Gilded Page Edges
* Long-lasting, High Quality Acid-neutral Paper
* Smyth-sewn Pages for Strength and Durability
* Beautiful Illustrations
About The Author
C. S. Forester (1899-1966) wrote several novels with military and naval themes, but he is best known as the creator of Horatio Hornblower, a British naval genius of the Napoleonic era, whose exploits and adventures on the high seas Forester chronicled in a series of eleven acclaimed historical novels. Over the years Hornblower has proved to be one of the most beloved and enduring fictional heroes in English literature, his popularity rivaled only by Sherlock Holmes.
Eleven volumes are in Very Fine condition without any flaws. Each one is a wonderful bright clean copy with a square and tight spine. Sharp corners that are not bumped corners. No bookplates attached or indication of any removed and without any marks, writings or stamps.

Publisher:

Easton Press

Edition:

Easton Press 2001

Binding:

Full Genuine Leather

Illustrator:

Complete Matching Set

Dimensions:

Each volume 9" x 6" x 1.5"