Easton Press, Norwalk CT. 1968 Charles Dickens "Nicholas Nickleby" Limited Edition. The Collector's Library of Famous Editions. Luxuriously bound in full genuine leather. A limited collector's edition with the original NOTES FROM THE ARCHIVES. Very Fine without any flaws.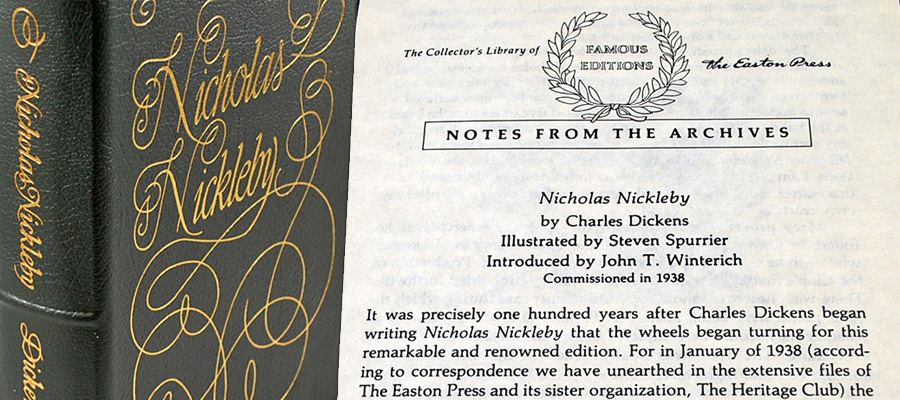 About
Nicholas Nickleby; or, The Life and Adventures of Nicholas Nickleby is a novel by Charles Dickens. Originally published as a serial from 1838 to 1839, it was Dickens's third novel.
The novel centres on the life and adventures of Nicholas Nickleby, a young man who must support his mother and sister after his father dies.
Like most of Dickens's early works, the novel had a contemporary setting. Much of the action takes place in London, with several chapters taking place in Dickens's birthplace of Portsmouth, as well as settings in Yorkshire and Devon.
The tone of the work is that of ironic social satire, with Dickens taking aim at what he perceives to be social injustices. Many memorable characters are introduced, including Nicholas's malevolent Uncle Ralph, and the villainous Wackford Squeers, who operates an abusive all-boys boarding school at which Nicholas temporarily serves as a tutor.
Features
Includes all the classic Easton Press qualities:

* Premium Leather
* Silk Moire Endleaves
* Distinctive Cover Design
* Hubbed Spine, Accented in Real 22KT Gold
* Satin Ribbon Page Marker
* Gilded Page Edges
* Long-lasting, High Quality Acid-neutral Paper
* Smyth-sewn Pages for Strength and Durability
* Beautiful Illustrations


About The Author
Charles John Huffam Dickens (/ˈdɪkɪnz/; 7 February 1812 – 9 June 1870) was an English writer and social critic. He created some of the world's best-known fictional characters and is regarded by many as the greatest novelist of the Victorian era. His works enjoyed unprecedented popularity during his lifetime, and by the 20th century critics and scholars had recognized him as a literary genius. His novels and short stories are still widely read today.
VERY FINE GUARANTEED. A wonderful bright clean copy free of any markings, writings, or stamps. Sharp corners that are not bumped. Tight and square spine. Unread book. No attached bookplates or indication of any removed.
Book Grading Definitions
Publisher:

Easton Press (1968)

Edition:

Limited Edition

Binding:

Leather Bound (Full genuine leather)

Illustrator:

Steven Spurrier

Dimensions:

6.25" x 9.25" x 2"