Easton Press full genuine leather
The Library of Great Lives
Includes original note card from the publisher
Forward by George J. Worth
Charles Dickens grew up in harsh poverty and became one of the world's most beloved authors. Biographer Fred Kaplan takes a brilliant, multifaceted approach in his examination of Dickens's life: his fraught marriage and relationships; the ever-present effects of his humble beginnings; his extensive, but carefully managed, public life; and his friendships with famous writers. Dickens unearths the complex passions that drove both the man and his work, illuminating why the legendary author just like the characters in his fiction has remained a mammoth figure in Western literature.
About the author
Fred Kaplan (born 1937) is distinguished Professor Emeritus of English at Queens College and the Graduate Center of the City University of New York.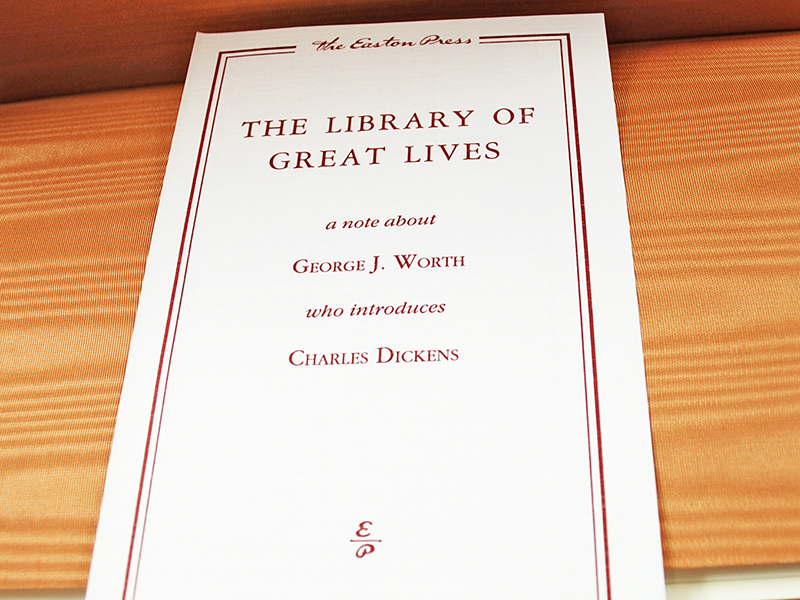 Features
Includes all the classic Easton Press qualities:

* Premium Leather
* Silk Moire Endleaves
* Distinctive Cover Design
* Hubbed Spine, Accented in Real 22KT Gold
* Satin Ribbon Page Marker
* Gilded Page Edges
* Long-lasting, High Quality Acid-neutral Paper
* Smyth-sewn Pages for Strength and Durability
* Beautiful Illustrations


VERY FINE GUARANTEED
A wonderful bright clean copy free of any markings, writings, or stamps. Sharp corners that are not bumped. Tight and square spine. Unread book. No attached bookplates or indication of any removed.
Publisher:

Easton Press

Edition:

Easton Press

Binding:

Leather Bound (Full genuine leather)

Illustrator:

Limited Edition

Dimensions:

9 "x 6" x 2"