An original limited edition framed print, personally autographed by General Chuck Yeager.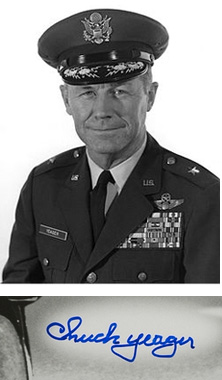 Chuck Yeager Broke Sound Barrier more than 60 Years Ago
A historic framed print to display proudly in your home or office.
Overall frame dimensions: 16" x 14"
Approximate print dimensions 10" x 8"
COA - Certificate of Authenticity by the publisher.
Charles Elwood "Chuck" Yeager (born February 13, 1923) is a retired Brigadier-General in the United States Air Force and a noted test pilot. In 1947, he became the first pilot (at age 24) to travel faster than sound in level flight and ascent.
An exclusive signed limited edition print, as a tribute to the 60th anniversary of one of aviation's greatest accomplishments. This is Chuck Yeager and his Bell X-1, the famous plane to break the sound barrier. Presented in a beautiful hardwood frame ready for wall mounting.
This remarkable image has been printed on unique acid-free paper. Housed under a protective glass and encased in a hardwood frame. A wonderful gift for the aviation collector that will add years of enjoyment. This print has been hand signed by Chuck Yeager in the lower right corner of the image in a blue pen. To guarantee the authenticity of the signature, Easton Press has included a COA (Certificate of Authenticity) on the back panel.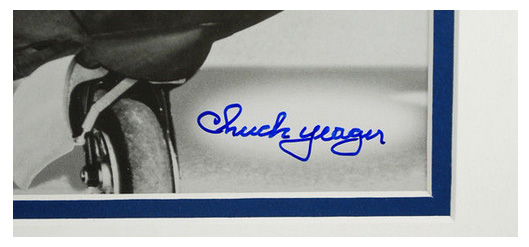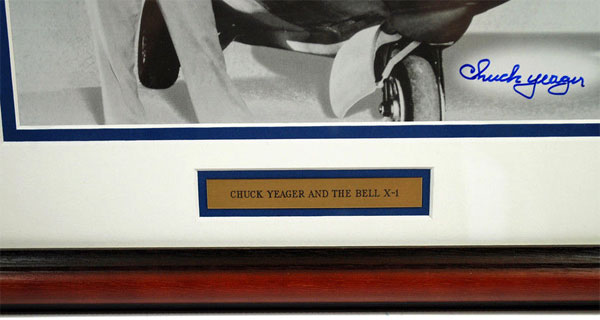 About Chuck Yeager
Charles Elwood "Chuck" Yeager (/ˈjeɪɡər/; born February 13, 1923) is a retired brigadier general in the United States Air Force and record-setting test pilot. In 1947, he became the first pilot confirmed to have traveled faster than sound.
Yeager's career began in World War II as a private in the United States Army Air Forces. After serving as an aircraft mechanic, in September 1942 he entered enlisted pilot training and upon graduation was promoted to the rank of flight officer (the World War II USAAF equivalent to warrant officer) and became a P-51 fighter pilot.
After the war, Yeager became a test pilot of many types of aircraft, including experimental rocket-powered aircraft. As the first human to break the sound barrier, on October 14, 1947, he flew the experimental Bell X-1 at Mach 1 at an altitude of 45,000 ft (13,700 m). Although Scott Crossfield was the first to fly faster than Mach 2 in 1953, Yeager shortly thereafter set a new record of Mach 2.44.
Yeager later commanded fighter squadrons and wings in Germany, and in Southeast Asia during the Vietnam War, and in recognition of the outstanding performance ratings of those units he was promoted to brigadier general. Yeager's flying career spans more than 60 years and has taken him to every corner of the globe, including the Soviet Union during the height of the Cold War.
In the 1980s, he was prominently featured in Tom Wolfe's book The Right Stuff and in its 1983 film adaptation, in which he has a cameo role as bartender Fred.


About
A member of the National Aviation Hall of Fame, Air Force Captain Charles Elwood Yeager was the first to break the sound barrier. On October 14, 1947, Yeager's Bell X-1, Glamorous Glennis, powered by four liquid oxygen and alcohol rockets, was attached to a B-29 mother plane until reaching an altitude of 25,000 feet, streaked at over 662 mph to more than 40,000 feet over Rogers Dry Lake in southern California. Yeager climbed to 42,000 feet and reached a speed of 670 mph (March 1.015).
The feat, which was not publicly announced until June of 1948, was not Yeager's last record-breaker; on December 12, 1953, he set a world record of 1,650 mph in an X-1A rocket plane. Over twenty years after retiring from the Air Force with the rank of Brigadier General (1975), Yeager duplicated his history-making feat on October 14, 1997 - exactly fifty years after first breaking the sound barrier. The former WWII fighter pilot turned test pilot retired from the U.S. Air Force as a Brigadier General in 1975.
Publisher:

Easton Press

Edition:

Easton Press

Binding:

N/A

Illustrator:

Signed Limited Edition w/COA

Dimensions:

Overall 16" x 14"

Signature Authenticity:

Lifetime Guarantee of Signature Authenticity. Personally hand signed by General Chuck Yeager directly onto the print. The autograph is not a facsimile, stamp, or auto-pen. Includes Certificate of Authenticity by the publisher.