Personally hand signed by Zadie Smith on a special limitation page.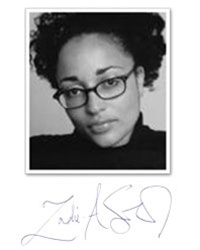 Zadie Smith FRSL is an English novelist, essayist, and short story writer.
Smith was elected a fellow of the Royal Society of Literature in 2002. As of 2012, she has published four novels, all of which have received substantial critical praise.
In 2003, she was included on Granta's list of 20 best young authors, and was also included in the 2013 list. She joined New York University's Creative Writing Program as a tenured professor on 1 September 2010. Smith has won the Orange Prize for Fiction and the Anisfield-Wolf Book Award in 2006 and her novel White Teeth was included in Time magazine's TIME 100 Best English-language Novels from 1923 to 2005 list.


About White Teeth
Zadie Smith's dazzling debut caught critics grasping for comparisons and deciding on everyone from Charles Dickens to Salman Rushdie to John Irving and Martin Amis. But the truth is that Zadie Smith's voice is remarkably, fluently, and altogether wonderfully her own.
At the center of this invigorating novel are two unlikely friends, Archie Jones and Samad Iqbal. Hapless veterans of World War II, Archie and Samad and their families become agents of England's irrevocable transformation. A second marriage to Clara Bowden, a beautiful, albeit tooth-challenged, Jamaican half his age, quite literally gives Archie a second lease on life, and produces Irie, a knowing child whose personality doesn't quite match her name (Jamaican for "no problem"). Samad's late-in-life arranged marriage (he had to wait for his bride to be born), produces twin sons whose separate paths confound Iqbal's every effort to direct them, and a renewed, if selective, submission to his Islamic faith. Set against London's racial and cultural tapestry, venturing across the former empire and into the past as it barrels toward the future, White Teeth revels in the ecstatic hodgepodge of modern life, flirting with disaster, confounding expectations, and embracing the comedy of daily existence.
Features
Includes all the classic Easton Press qualities:

* Premium Leather
* Silk Moire Endleaves
* Distinctive Cover Design
* Hubbed Spine, Accented in Real 22KT Gold
* Satin Ribbon Page Marker
* Gilded Page Edges
* Long-lasting, High Quality Acid-neutral Paper
* Smyth-sewn Pages for Strength and Durability
* Beautiful Illustrations


VERY FINE GUARANTEED
As New (Sealed). The condition is of the highest quality without any discernible flaws.
Publisher:

Easton Press

Edition:

Signed Limited Edition of 1200

Binding:

Full Genuine Leather

Illustrator:

N/A

Dimensions:

9" x 6" x 1.5"

Signature Authenticity:

Lifetime Guarantee of Signature Authenticity. Personally signed by the author directly into the book. The autograph is not a facsimile, stamp, or auto-pen.