Personally hand signed by Greg Bear on a special limitation page.
A numbered volume, #782 of only 1,000 copies signed by the author. A magnificent collector's edition.
Easton Press. Norwalk, CT. 1998. SIGNED BY AUTHOR. Signed First Edition - Limited Collector's Edition. A great unique gift for yourself or for a loved one. A luxurious leather bound masterpiece from the Signed First Edition of Science Fiction collection by Easton Press. Beautifully illustrated and bound in full genuine leather. One of the most celebrated works of science fiction literature by a historical writer. A rare signed first edition for the discerning collector.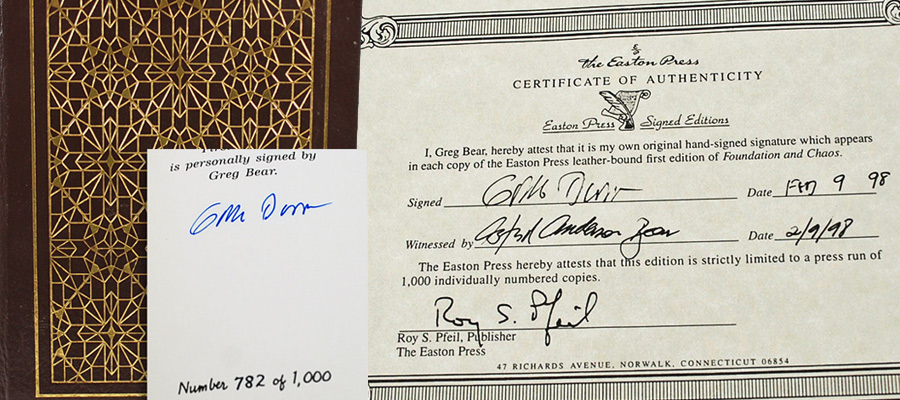 About
Isaac Asimov's renowned Foundation Trilogy pioneered many of the familiar themes of modern science fiction and shaped many of its best writers. With the permission and blessing of the Asimov estate, the epic saga left unfinished by the Grand Master himself now continues with this second masterful volume.

With Hari Seldon on trial for treason, the Galactic Empire's long-anticipated migration to Star's End is about to begin. But the mission's brilliant robot leader, R. Daneel Olivaw, has discovered a potential enemy far deadlier--and closer--than he ever imagined. One of his own kind.

A freak accident erases the basic commandments in humaniform robot Lodovik Trema's positronic brain. Now Lodovic's service to humankind is no longer bound by destiny, but by will. To ensure his loyalty, Daneel has Lodovic secretly reprogrammed. But can he be trusted? Now, other robots are beginning to question their mission--and Daneel's strategy. And stirrings of rebellion, too, are infecting their human counterparts. Among them is a young woman with awesome psychic abilities, a reluctant leader with the power to join man and robot in a quest for common freedom or mutual destruction.
Features
Contains all the classic Easton Press qualities:
* Premium Leather
* Silk Moire Endleaves
* Distinctive Cover Design
* Hubbed Spine, Accented in Real 22KT Gold
* Satin Ribbon Page Marker
* Gilded Page Edges
* Long-lasting, High Quality Acid-neutral Paper
* Smyth-sewn Pages for Strength and Durability
* Beautiful Illustrations
About The Author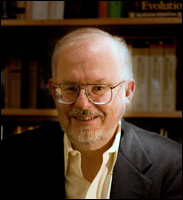 Greg Bear is the author of more than thirty books, spanning thrillers, science fiction, and fantasy, including Blood Music, Eon, The Forge of God, Darwin's Radio, City at the End of Time, and Hull Zero Three. His books have won numerous international prizes, have been translated into more than twenty-two languages, and have sold millions of copies worldwide. Over the last twenty-eight years, he has also served as a consultant for NASA, the U.S. Army, the State Department, the International Food Protection Association, and Homeland Security on matters ranging from privatizing space to food safety, the frontiers of microbiology and genetics, and biological security.
Very fine without any flaws. A wonderful bright clean copy. Unread book with no bumped corners. Sharp corners. No marks, writings or stamps. All photos of actual book.
Publisher:

Easton Press (1998)

Edition:

Signed First Edition

Binding:

Full Genuine Leather

Illustrator:

Jeff Fisher

Dimensions:

9.5" x 6.25" x 1.5"

Signature Authenticity:

Lifetime Guarantee of Signature Authenticity. Personally hand signed by the author directly into the book. The autograph is not a facsimile, stamp, or auto-pen.