Easton Press, Norwalk, CT. 2004. Jimmy Carter "The Hornet's Nest".
US Signed Edition. Hard Cover. A special limited edition, this copy SIGNED by the AUTHOR, the former U. S. President, and Nobel Peace Prize winner Jimmy Carter. A wonderful copy in As New condition, never taken out of its original shrink-wrap.
Jimmy Carter brings to life the Revolutionary War as it was fought in the Deep South. The Hornet"s Nest follows a cast of characters and their loved ones on both sides of this violent conflict -- including some who are based on the author"s ancestors. The first work of fiction by a President of the United States -- a sweeping novel of the American South and the War of Independence.
Features
Includes all the classic Easton Press qualities:

* Premium Leather
* Silk Moire Endleaves
* Distinctive Cover Design
* Hubbed Spine, Accented in Real 22KT Gold
* Satin Ribbon Page Marker
* Gilded Page Edges
* Long-lasting, High Quality Acid-neutral Paper
* Smyth-sewn Pages for Strength and Durability
* Beautiful Illustrations
About The Author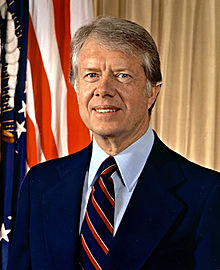 James Earl Carter Jr. (born October 1, 1924) is an American politician who served as the 39th President of the United States from 1977 to 1981. A Democrat, he previously served as a Georgia State Senator from 1963 to 1967 and as the 76th Governor of Georgia from 1971 to 1975. Carter has remained active in public life during his post-presidency, and in 2002 he was awarded the Nobel Peace Prize for his work in co-founding the Carter Center. He is currently the earliest-serving living former U.S. President.
VERY FINE GUARANTEED
. As New (Sealed). The condition is of the highest quality without any discernible flaws.
Publisher:

Easton Press

Edition:

Signed Limited Edition w/COA

Binding:

Full Genuine Leather

Illustrator:

N/A

Dimensions:

9.5" x 6.5" x 1.5"

Signature Authenticity:

Lifetime Guarantee of Signature Authenticity. Personally signed by the author directly into the book. The autograph is not a facsimile, stamp, or auto-pen.