A Luxurious Leather Bound Masterpiece for Your Very Fine Library

Limited Edition - Collector's Edition. A great unique gift for yourself or for a loved one. This is the last novel written by Tolstoy, the Russian writer who is widely regarded as among the greatest of novelists.
Part of prestigious
The Collector's Library of Famous Editions
published by Easton Press. Beautifully illustrated and bound in full genuine leather. A rare collector's edition that is hard to find, especially in this very fine condition. Easton Press 1994. Black leather.
In the Leo Wiener Tranlation as revised by F.D. Reeve. Introduced by Earnest J. Simmons, Illustrated by Fritz Eichenberg. NOTES FROM THE ARCHIVES. Includes extra unattached Ex-Libris bookplate for your own personalization. Includes original collector notes.
One of the most celebrated works of popular literature by a historical writer. A true classic for your home library or office.
Condition
Very Fine. A wonderful bright clean copy. Free of markings, writings, or stamps. No attached bookplates or indication of any removed. Tight spine. Not even a single scratch to the gilded page edges. Unread book.
PHOTOS OF ACTUAL BOOK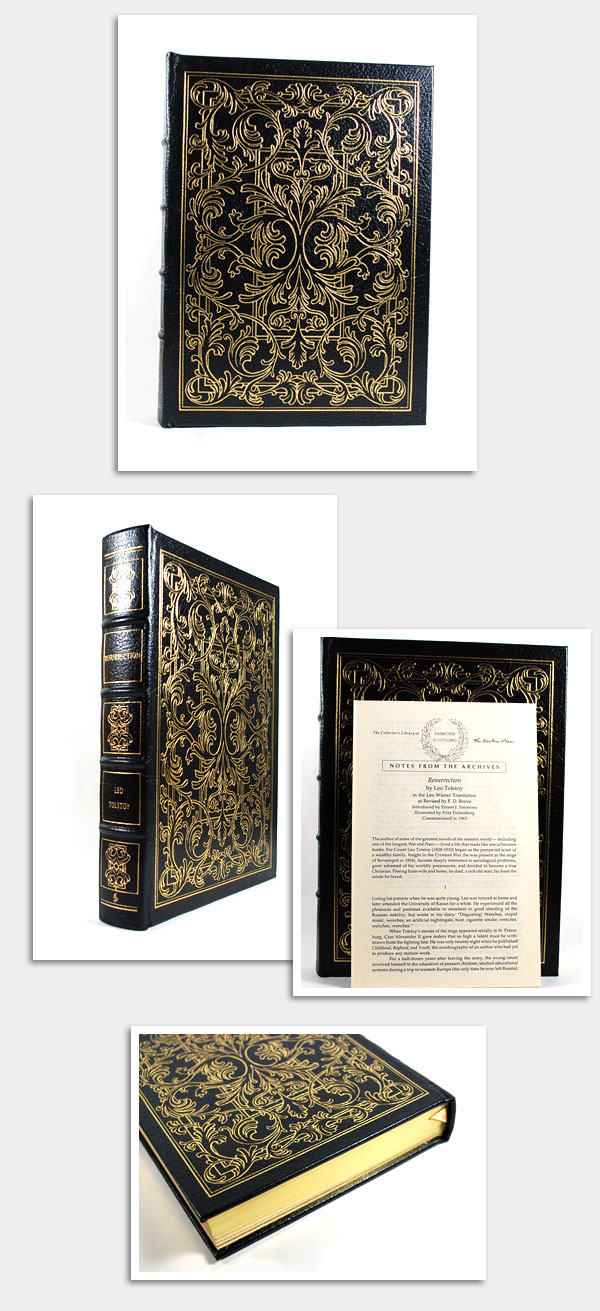 Includes the classic Easton Press qualities:
* Premium Leather
* Silk Moire Endleaves
* Distinctive Cover Design
* Hubbed Spine, Accented in Real 22KT Gold
* Satin Ribbon Page Marker
* Gilded Page Edges
* Long-lasting, High Quality Acid-neutral Paper
* Smyth-sewn Pages for Strength and Durability
* Beautiful Illustrations
"Resurrection" first published in 1899, was the last novel written by Leo Tolstoy.
The book is the last of his major long fiction works published in his lifetime. Tolstoy intended the novel as an exposition of injustice of man-made laws and the hypocrisy of institutionalized church. It was first published serially in the magazine Niva as an effort to raise funds for the resettlement of the Dukhobors.
Leo Tolstoy, or Count Lev Nikolayevich Tolstoy. September 9 [O.S. August 28] 1828 – November 20 [O.S. November 7] 1910), was a Russian writer widely regarded as among the greatest of novelists. His masterpieces War and Peace and Anna Karenina represent in their scope, breadth and vivid depiction of 19th-century Russian life and attitudes, the peak of realist fiction.
Tolstoy's further talents as essayist, dramatist, and educational reformer made him the most influential member of the aristocratic Tolstoy family. His literal interpretation of the ethical teachings of Jesus, centering on the Sermon on the Mount, caused him in later life to become a fervent Christian anarchist and pacifist. His ideas on nonviolent resistance, expressed in such works as The Kingdom of God Is Within You, were to have a profound impact on such pivotal twentieth-century figures as Gandhi and Martin Luther King, Jr.
VERY FINE GUARANTEED
A wonderful bright clean copy free of any markings, writings, or stamps. Sharp corners that have not been bumped. Unread book with tight binding. No bookplates attached or indication of any removed. The gilded page edges are free of any marks, scratches, or blemishes.
Publisher:

Easton Press

Edition:

N/A

Binding:

Full Genuine Leather

Illustrator:

N/A

Dimensions:

N/A