A Luxurious Leather Bound Masterpiece

Easton Press, Norwalk CT. Henri Troyat "Count Leo Nikolayevich Tolstoy" Part of the The Library of Great Lives collection. Beautifully bound in full genuine leather. A two volume set in one shipment. Includes the original collector's notes by the publisher.


The Library of Great Lives
Translated from the French by Nancy Amphoux
Forward by Professor Uday S. Mehta




From Wikipedia


Count Lev Nikolayevich Tolstoy, usually referred to in English as Leo Tolstoy, was a Russian writer who is regarded as one of the greatest authors of all time.
Born to an aristocratic Russian family in 1828, he is best known for the novels War and Peace (1869) and Anna Karenina (1877), often cited as pinnacles of realist fiction. He first achieved literary acclaim in his twenties with his semi-autobiographical trilogy, Childhood, Boyhood, and Youth (1852–1856), and Sevastopol Sketches (1855), based upon his experiences in the Crimean War. Tolstoy's fiction includes dozens of short stories and several novellas such as The Death of Ivan Ilyich, Family Happiness, and Hadji Murad. He also wrote plays and numerous philosophical essays.
In the 1870s Tolstoy experienced a profound moral crisis, followed by what he regarded as an equally profound spiritual awakening, as outlined in his non-fiction work A Confession. His literal interpretation of the ethical teachings of Jesus, centering on the Sermon on the Mount, caused him to become a fervent Christian anarchist and pacifist. Tolstoy's ideas on nonviolent resistance, expressed in such works as The Kingdom of God Is Within You, were to have a profound impact on such pivotal 20th-century figures as Mohandas Gandhi, Martin Luther King, Jr., and James Bevel. Tolstoy also became a dedicated advocate of Georgism, the economic philosophy of Henry George, which he incorporated into his writing, particularly Resurrection.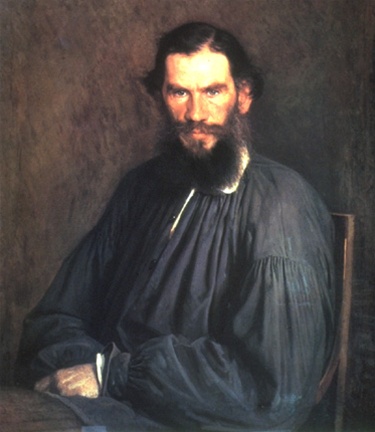 About Henri Troyat

Troyat was born Lev Aslanovich Tarasov, (Russian: Лев Асланович Тарасов, Lev Aslanovich Tarasov) in Moscow to parents of mixed heritage, including Armenian, Russian, German and Georgian. According to his autobiography he states that his surname is Armenian (Torossian), while his maternal grandmother was German and his maternal grandfather was of mixed Georgian and Armenian descent. His family fled Russia after the outbreak of the revolution. After a long exodus taking them to the Caucasus on to Crimea and later by sea to Istanbul and then Venice, the family finally settled in Paris in 1920, where young Troyat was schooled and later earned a law degree. The stirring and tragic events of this flight across half of Europe are vividly recounted by Troyat in Tant que la terre durera. His first marriage produced a son before ending in divorce. He later married the love of his life, a widow with a young daughter whom he raised as his own.
Troyat received his first literary award, Le prix du roman populaire, at the age of twenty-four, and by twenty-seven, he was awarded the Prix Goncourt. He published more than 100 books, novels and biographies, among them those of Anton Chekhov, Catherine the Great, Rasputin, Fyodor Dostoyevsky, Ivan the Terrible and Leo Tolstoy. Troyat's best-known work is La neige en deuil, which was adapted as an English-language film in 1956 under the title The Mountain.
Troyat was elected as a member of the Académie française in 1959. At the time of his death, he was the longest-serving member.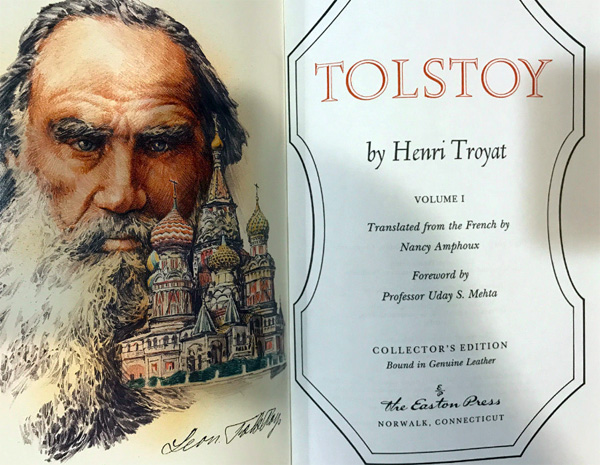 Features
Includes the classic Easton Press qualities:

* Premium Leather
* Silk Moire Endleaves
* Distinctive Cover Design
* Hubbed Spine, Accented in Real 22KT Gold
* Satin Ribbon Page Marker
* Gilded Page Edges
* Long-lasting, High Quality Acid-neutral Paper
* Smyth-sewn Pages for Strength and Durability
* Beautiful Illustrations
VERY FINE-

The page edges show a couple of very minor superficial marks. Each volume is a wonderful bright clean copy free of any other markings, writings, or stamps. Sharp corners that are not bumped. Tight and square spines. No attached bookplates or indication of any removed.
Publisher:

Easton Press

Edition:

Limited Edition

Binding:

Leather Bound (Full genuine leather)

Author:

Henri Troyat

Title:

Tolstoy