This is David Roberts's pioneering masterpiece of lithography, Fine Edition of only produced by The Folio Society
---
The Folio Society 2014, London. David Roberts. THE HOLY LAND & EGYPT AND NUBIA in 2 vols. Bound in cloth and blocked with designs by Neil Gower. Gilded top edges, red ribbon markers. measured by 14¾" x 10¾" Each volume is presented in an individual slipcase. This pair would make a superb, striking addition to any library.
LIST OF TITLES: a set in 2 volumes:
"The Holy Land: Syria, Idumea and Arabia", 304 pages, including 123 plates, portrait of Roberts and map
"Egypt and Nubia", 272 pages, including 124 plates and map

Two massive volumes measuring 15" x 11 1/2" x 3" overall and weighing over 13 lbs total.
Printed by Editoriale Bortolazzi, Verona, on heavyweight Gardapat Kiara paper. Presented in hand-made slipcases bound in cloth and lined with coloured paper, with inserts in the bases to support the weight of the books. Beautiful colour lithographs throughout faithfully reproduced from the originals.
This Folio Society Fine Edition 2014 , slightly smaller than the Limited Edition version. These copies quickly sold out when released in 2010. This smaller version (the Fine Edition) was produced in 2014 to meet demand but is dwarfed by the Limited Edition version which weighs around 8kg per each volume.
Bound in full canvas cloth printed silkscreen in black and gold with a design by Neil Gower derived from Robert's originals. Photos of actual books.
---
ABOUT THE PUBLISHER
Founded in London in 1947, The Folio Society publishes carefully crafted editions of the world's finest literature. We believe that great books deserve to be presented in a form worthy of their contents. For over 70 years we have celebrated the unique joy to be derived from owning, holding and reading a beautiful printed edition.
Beautifully crafted, imaginative editions of the world's great works of fiction and non-fiction, Folio Society books offer a rich literary experience to readers of all ages. The books we select for publication are timeless – we know they will be enjoyed and appreciated now and in the future. Because each book is considered as an individual object of value in its own right, there is a variety to our aesthetic – the only uniformity is in the quality of every single book.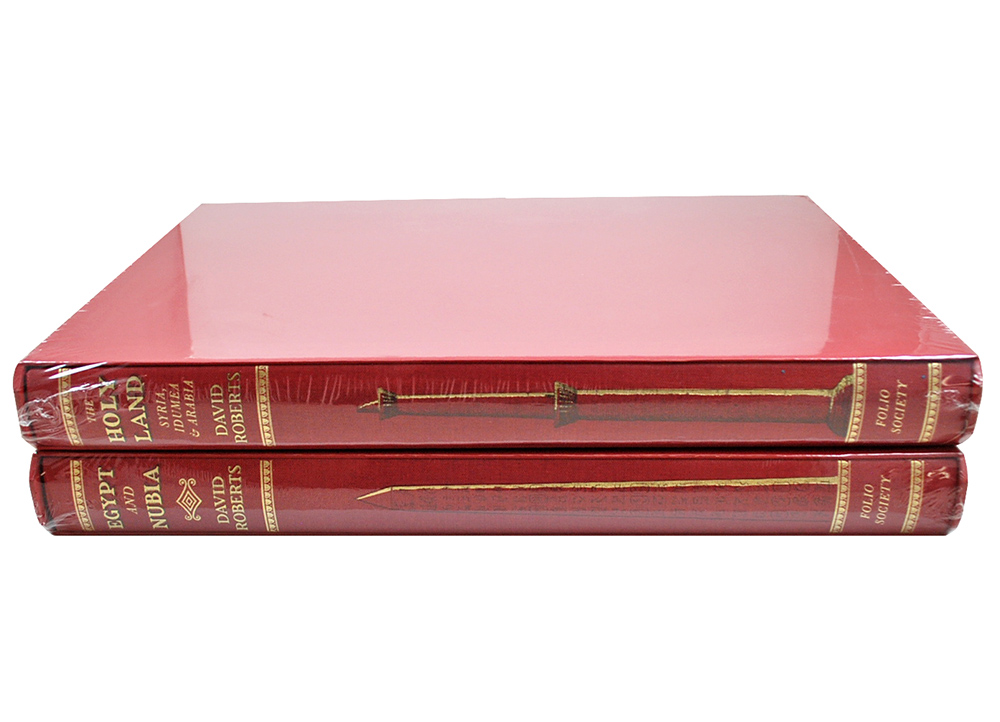 VERY FINE GUARANTEED. SEALED. Mint and flawless for both volumes in Near Fine + slipcase. One slipcase has a minor bump to corner as shown. . Very Fine hardcover volumes. Mint condition. Unread. Free of markings, writings, or stamps. No bookplates attached or indication of any removed. No bumped corners. A wonderful bright clean copy that is unread with a square and tight spine.
Publisher:

Folio Society 2014

Edition:

Fine Edition 2-Vol. Collector's Set

Binding:

Hardcover, Fine Binding w/Slipcase

Illustrator:

see product description

Dimensions:

15" x 11 1/2" x 3" overall