"Bond...James Bond"
Bond is a cool, handsome, dangerous agent for British Intelligence his code number, 007
---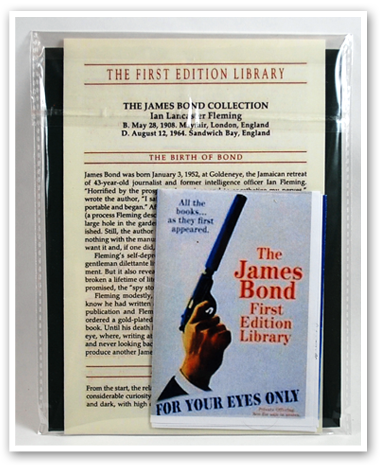 EASTON PRESS - The First Edition Library - The Complete James Bond by Ian Fleming in a 14 volume matching collection. These extraordinary books are worth having just for the covers alone. (see photos below). These set of books also include the original publisher issued pamphlet, still sealed in the original plastic sleeve.

An excellent opportunity to own a piece of literary history. James Bond is one of the most famous secret agents in modern fiction.
Each book is identical to the First Edition, including...
the first critics' comments printed on the jacket flap

the design of every volume is unique to its own era

the original artwork on the dust jacket

hardcover bindings

the typefaces

the endpapers

the title pages

and even the minor errors that collectors look for.
Foil the world's smartest diamond smugglers in Diamonds Are Forever, face flaming guns and gorgeous women in The Spy Who Loved Me. Discover all the stories that have been immortalized in films such as Goldfinger, From Russia with Love, You Only Live Twice, Dr. No, Live and Let Die, and many more!
All 14 books in the series include:
1. Casino Royale (As New, sealed)
2. Doctor No (As New, sealed)
3. Diamonds Are Forever (As New, sealed)
4. For Your Eyes Only (As New, sealed)
5. From Russia With Love (As New, sealed)


6. Goldfinger (As New, sealed)
7. Live and Let Die (As New, sealed)
8. The Man With The Golden Gun (Very near fine with 2 tiny chips to dust-jacket)
9. Moonraker (As New, not sealed)
10. Octopussy and The Living Daylights (As New, sealed)


11. On Her Majesty's Secret Service (As New, sealed)
12. The Spy Who Loved Me (As New, not sealed)
13. Thunderball (As New, not sealed)
14. You Only Live Twice (As New, not sealed)
PHOTOS

James Bond 007 is a fictional character created in 1953 by writer Ian Fleming, who featured him in twelve novels and two short story collections. The character has also been used in the second longest running and second most successful film franchise to date, starting in 1962 with Dr. No. There have been 21 films in the EON Productions series to date, with the 22nd, Quantum of Solace, due for release in November 2008). In addition there have been two independent feature productions (a 1967 spoof version of Casino Royale starring David Niven in the title role, and 1983's Never Say Never Again) and one Fleming-licensed American television adaptation of the first novel, aired in 1954. In 1956, Moonraker was also adapted into a South African radio play starring Bob HolnessYou Only Live Twice was adapted into a 90 minute radio play for BBC Radio 4 with Michael Jayston playing James Bond. (although the UK release date has been moved forward to 31st October as Bond. In 1990,
After Fleming's death in 1964, subsequent James Bond novels were written by Kingsley Amis (as Robert Markham), John Pearson, John Gardner and Raymond Benson. In addition Charlie Higson has begun to write a series of books detailing the "Young James Bond". Moreover, Christopher Wood novelized two screenplays, while other writers have authored unofficial versions of the character.
In July 2007, it was announced that Sebastian Faulks has been commissioned to write a new Bond novel to commemorate Fleming's 100th Birthday. The book - titled Devil May Care - was published on 27 May 2008 with an imposing launch involving the Royal Navy's HMS Exeter and a military speedboat racing up the Thames.
In 2008, BBC Radio 4 was granted the rights for a one-shot broadcast of a radio adaptation of another 007 novel: Dr. No, with Toby Stephens (who portrayed the villain Die Another Day) as James Bond. The EON Productions films are generally termed as "official" films originating with the purchase of the James Bond film rights by producer Harry Saltzman in the late 1950s.
Apart from movies, TV and radio, Bond has also been adapted for many other media, including comic strips and video games.
FACTS
Known as "007," the British secret agent had a license to kill (connoted in the double-0 prefix)

Protagonist of series of books written by

Ian Fleming

; after Fleming's death in 1964, others picked up the mantle and continued the series
In the movies, was portrayed by

Sean Connery

,

George Lazenby

,

Roger Moore

,

Timothy Dalton

,

Pierce Brosnan

and

Daniel Craig

Enjoys vodka

martinis

shaken, not stirred

Casino Royale

was first Bond novel
Fleming owned an estate in

Jamaica

called

GoldenEye

, the name of another of his novels
In 1954 American TV production of

Casino Royale

, "Jimmy Bond" was played by

Barry Nelson

(making him the first actor to play Bond!)
First Bond film was

Dr. No

, made by

Albert R. Broccoli

and

Harry Saltzman

(1962)
Bond's family motto:

Orbis non sufficit

(Latin for "The world is not enough")
In the novel,

You Only Live Twice

, Bond marries

Kissy Suzuki

and she has his child, though Bond doesn't know about him until much later (in the short story "Blast From the Past"); no child is ever mentioned in Bond films
Fleming took Bond's name from an

ornithologist

he admired;

James Bond

wrote

Birds of the West Indies
Read condition description below for each title.
Publisher:

N/A

Edition:

Easton Press First Edition Library

Binding:

dj/HC in Slipcases

Illustrator:

First Edition Library, 14 volumes.

Dimensions:

As New, Sealed, read below