A magnificent leather bound edition, SIGNED by the great Ray Bradbury. As New. Sealed in the original shrink-wrap without any flaws. The condition is of the highest quality. Easton Press, Norwalk, CT. 1998. Includes the original COA (Certificate of Authenticity) and Collector's Notes. A beautiful and scarce signed limited edition to display in your library.
An ideal gift for the Ray Bradbury fan. Only 1 in stock.
This signed edition contains the classic Easton Press qualities:
* Premium Leather
* Silk Moire Endleaves
* Distinctive Cover Design
* Hubbed Spine, Accented in Real 22KT Gold
* Satin Ribbon Page Marker
* Gilded Page Edges
* Long-lasting, High Quality Acid-neutral Paper
* Smyth-sewn Pages for Strength and Durability
* Beautiful Illustrations

Photos of the actual edition you will receive: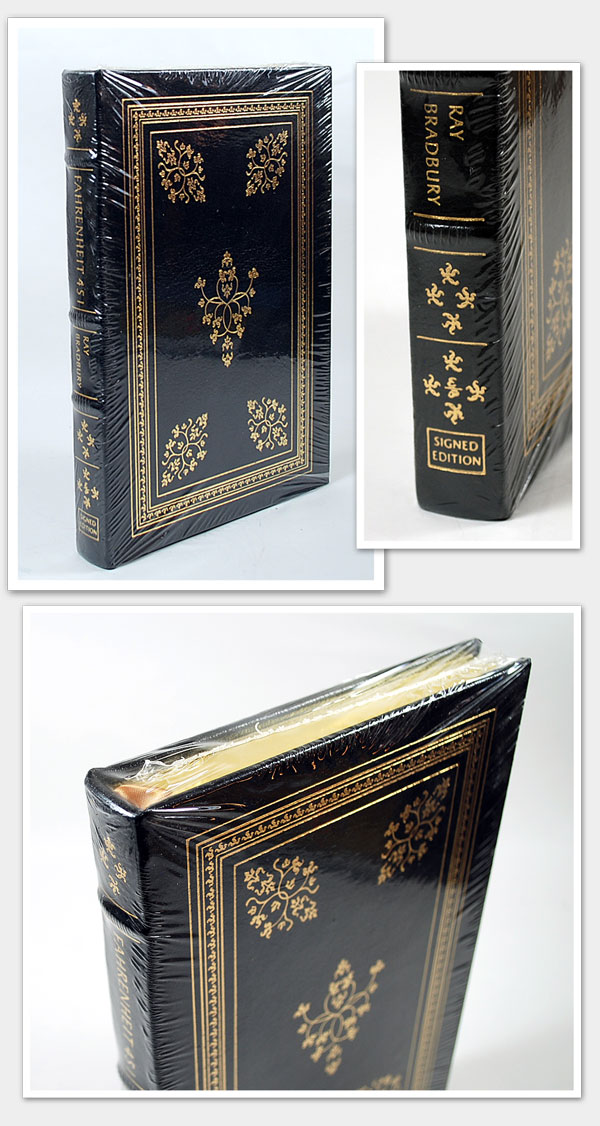 About the Author
Ray Douglas Bradbury is an American fantasy, horror, science fiction, and mystery writer. Best known for his dystopian novel Fahrenheit 451 (1953) and for the science fiction stories gathered together as The Martian Chronicles (1950) and The Illustrated Man (1951), Bradbury is one of the most celebrated among 20th and 21st century American writers of speculative fiction. Many of Bradbury's works have been adapted into television shows or films
About Fahrenheit 451
Fahrenheit 451 is a dystopian novel by Ray Bradbury which was first published in a shorter form as "The Fireman" (Galaxy Science Fiction, Vol. 1 No. 5, February 1951). The short novel presents a future American society in which the masses are hedonistic and critical thought through reading is outlawed. The central character, Guy Montag, is employed as a "fireman" (which, in this future, means "bookburner"). The novel's title refers to the supposed temperature at which book paper combusts.

Although sources contemporary with the novel's writing gave the temperature as 450 °C (842 °F), Bradbury is believed to have thought "Fahrenheit" made for a better title; however, in an introduction to the 40th anniversary edition of the novel, Bradbury states that a person he spoke with at the local fire department said "Book-paper catches fire at 451 degrees Fahrenheit". The "firemen" burn them "for the good of humanity". Written in the early years of the Cold War, the novel is a critique of what Bradbury saw as issues in American society of the era.
Publisher:

Easton Press (1998)

Edition:

signed limited edition

Binding:

Full genuine leather

Illustrator:

Signed Limited Edition

Dimensions:

As New (Sealed)

Signature Authenticity:

Lifetime Guarantee of Signature Authenticity. Personally signed by the author directly into the book. The autograph is not a facsimile, stamp, or auto-pen.