Personally signed by Stephen King directly onto the title page.
Scribner, New York. 2011. "11/22/63" by Stephen King. Signed first edition, first printing. Hardcover in tray-case. 960 pages. Brand new from the Master of Modern Horror. The ideal gift for the King fan. Signed First Edition. Personally hand signed by Stephen King directly onto the title page of the book. No bookplates attached or indication of any removed. Very Fine without any flaws. The dust-jacket is now protected in an archival acid-free Mylar plastic sleeve. Full number line on the copyright page starting with "1" to indicate the first printing state. Certificate of Authenticity with proof of provenance. This particular copy was signed at the "A Conversation with Stephen King" event that occurred on November 7th, 2011 at the John F. Kennedy library. Includes original paper bag and flyer as shown.
Presented here is the acclaimed author and master of horror Stephen King's number one bestselling time travel novel, "11/22/63". This novel was the winner of the 2011 Los Angeles Times Book Prize for Best Mystery/Thriller and praised by USA TODAY as "extraordinary!"
Signature Authenticity: You will receive a legitimate hand-signed edition. This book includes a 100% lifetime guarantee of authenticity and will pass authentication by the PSADNA, AMA (Academy of Manuscript and Autograph ), or any company that specializes in autographs. The autograph is genuine and not an auto-pen, stamp, or facsimile copy. Personally hand-signed by Stephen King directly into the book and not on a bookplate.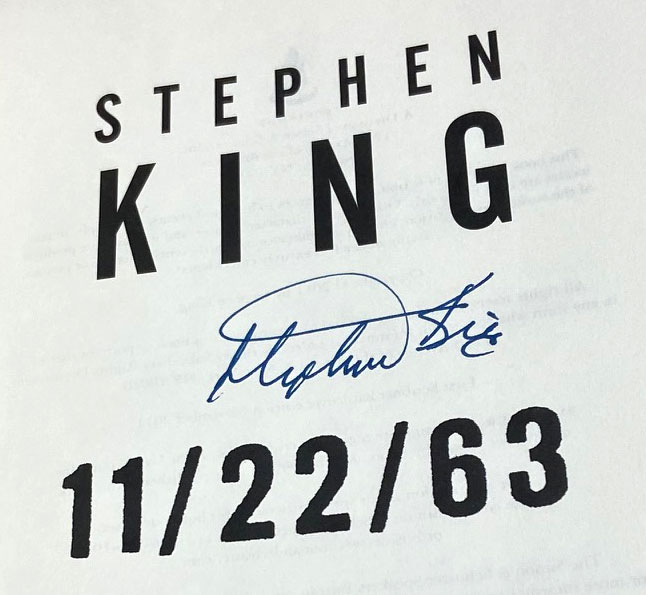 About the book:
On November 22, 1963, three shots rang out in Dallas, President Kennedy died, and the world changed. What if you could change it back? Stephen King's heart-stoppingly dramatic new novel is about a man who travels back in time to prevent the JFK assassination - a thousand page tour de force. Following his massively successful novel Under the Dome, King sweeps readers back in time to another moment - a real life moment - when everything went wrong: the JFK assassination. And he introduces readers to a character who has the power to change the course of history. Jake Epping is a thirty-five-year-old high school English teacher in Lisbon Falls, Maine, who makes extra money teaching adults in the GED program. He receives an essay from one of the students' a gruesome, harrowing first person story about the night 50 years ago when Harry Dunning's father came home and killed his mother, his sister, and his brother with a hammer.
Harry escaped with a smashed leg, as evidenced by his crooked walk. Not much later, Jake's friend Al, who runs the local diner, divulges a secret: his storeroom is a portal to 1958. He enlists Jake on an insane - and insanely possible - mission to try to prevent the Kennedy assassination. So begins Jake's new life as George Amberson and his new world of Elvis and JFK, of big American cars and sock hops, of a troubled loner named Lee Harvey Oswald and a beautiful high school librarian named Sadie Dunhill, who becomes the love of Jake's life - a life that transgresses all the normal rules of time. A tribute to a simpler era and a devastating exercise in escalating suspense, 11/22/63 is Stephen King at his epic best.
---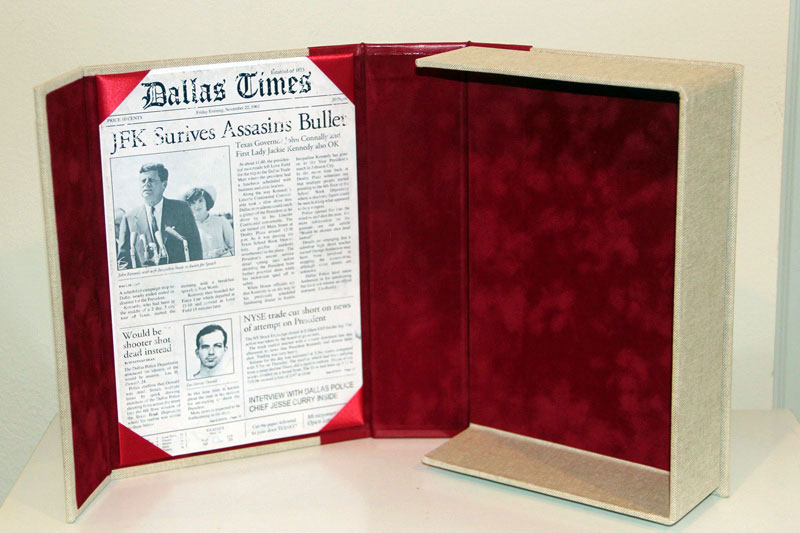 About the 11/22/63 Tray-case (a $75 value)


This clamshell traycase case features a combo linen and leatherette wrap on the outside with the title stamped on the front. Title and author stamped on the spine. The inside is lined with a red velvet and holds a double sided newspaper article. One side featuring headlines from "our" timeline the other from the "alternate" timeline. You decide which you want to display. The case is closed by the same magnetic mechanism done in the Salem's Lot and Stand traycases.
About the newspaper insert. - This sheet was created by obtaining a real evening newspaper from November 22nd 1963. The articles that appear in "our" timeline are all taken and paraphrased from that actual newspaper. So the facts contained, such as the times of the events, the capture of Oswald, are all accurate based on the real newspaper they were taken from.
For the "alternate" timeline the news story was re-written by the producer, but facts were kept in line with the events in the book and side articles such as the closing numbers of the stock exchange, etc are all accurate based on what was reported in the real newspaper that day. In the pictures the print is B&W but in production the print will be in color to match the color scheme of the book DJ a bit more than currently shown.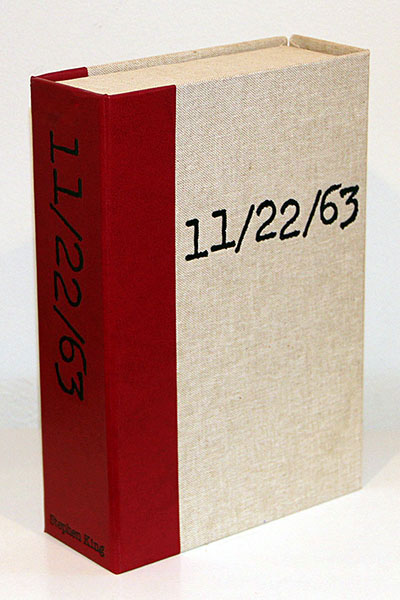 ---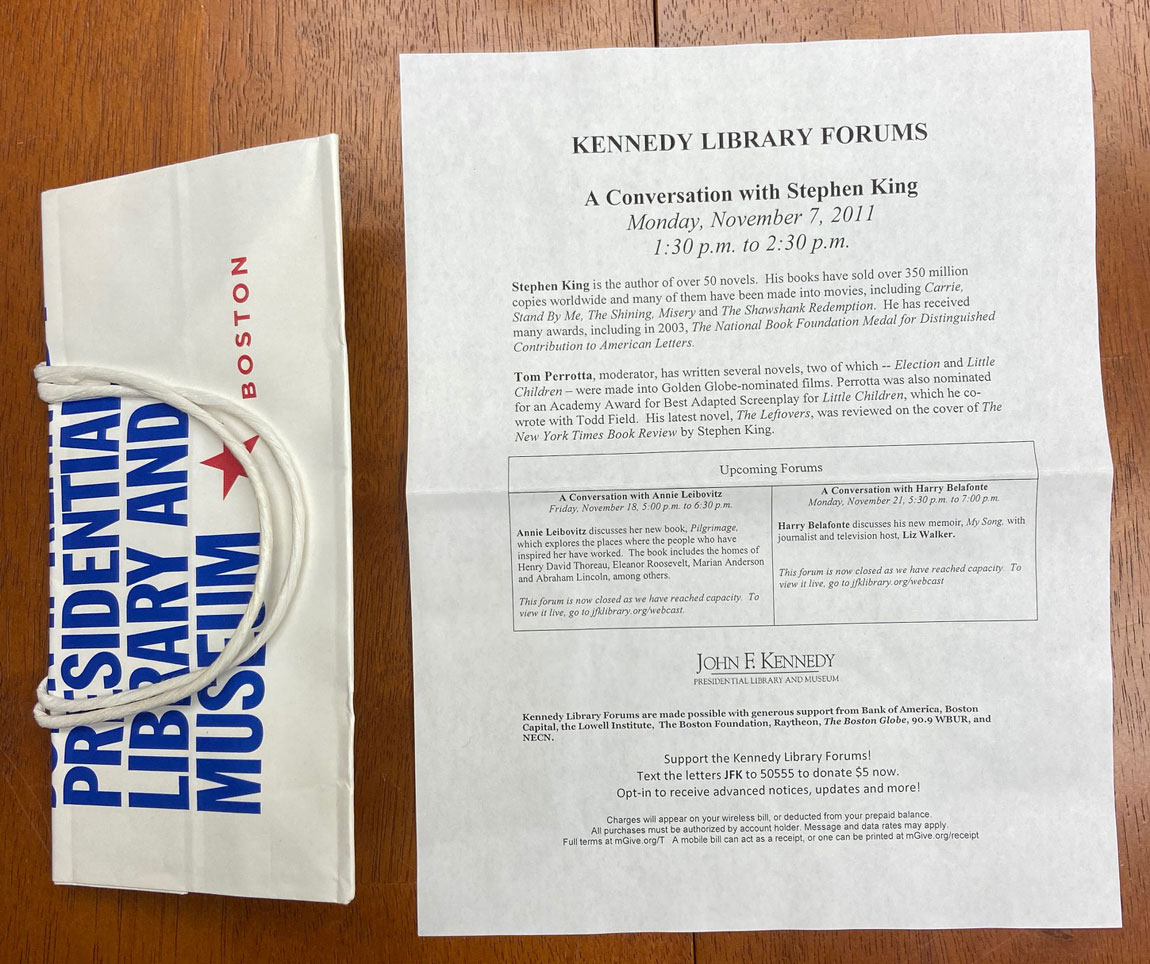 ---
FROM THE PUBLISHER:
Stephen King's #1 bestselling time-travel novel—now a limited series on Hulu starring James Franco!
In Stephen King's "most ambitious and accomplished" (NPR) and "extraordinary" (USA TODAY) #1 New York Times bestselling novel, time travel has never been so believable. Or so terrifying.
Dallas, 11/22/63: Three shots ring out. President John F. Kennedy is dead.
Life can turn on a dime—or stumble into the extraordinary, as it does for Jake Epping, a high school English teacher in a Maine town. While grading essays by his GED students, Jake reads a gruesome, enthralling piece penned by janitor Harry Dunning: fifty years ago, Harry somehow survived his father's sledgehammer slaughter of his entire family. Jake is blown away…but an even more bizarre secret comes to light when Jake's friend Al, owner of the local diner, enlists Jake to take over the mission that has become his obsession—to prevent the Kennedy assassination. How? By stepping through a portal in the diner's storeroom, and into the era of Ike and Elvis, of big American cars, sock hops, and cigarette smoke…Finding himself in warmhearted Jodie, Texas, Jake begins a new life. But all turns in the road lead to a troubled loner named Lee Harvey Oswald. The course of history is about to be rewritten…and become heart-stoppingly suspenseful.
VERY FINE GUARANTEED
. Very Fine hardcover book in a Very Fine dust-jacket. Very Fine tray-case. Free of markings, writings, or stamps. No bookplates attached or indication of any removed. No bumped corners. A wonderful bright clean copy that is unread with a square and tight spine.
Publisher:

Scribner (2011)

Edition:

Signed First Edition

Binding:

Hardcover with dust-jacket

Illustrator:

see product description

Dimensions:

9.5" x 6" x 1.5"