Personally signed by Stephen King, Owen King, and the illustrator Jana Heidersdorf
Cemetery Dance , June 11, 2019. Stephen King and Owen King. "Sleeping Beauties" Signed Lettered Edition "FF" of only 52 produced. Bound in a premium cloth and housed in a handmade tray-case. Very Fine in the original shipping box and packing slip.
About this Deluxe Special Edition
In this spectacular father/son collaboration, the authors tell the highest of high-stakes stories: what might happen if women disappeared from the world of men?
In a future so real and near it might be now, something happens when women go to sleep; they become shrouded in a cocoon-like gauze. If they are awakened, if the gauze wrapping their bodies is disturbed or violated, the women become feral and spectacularly violent; and while they sleep they go to another place...The men of our world are abandoned, left to their increasingly primal devices. One woman, however, the mysterious Evie, is immune to the blessing or curse of the sleeping disease. Is Evie a medical anomaly to be studied? Or is she a demon who must be slain?
Set in a small Appalachian town whose primary employer is a women's prison, Sleeping Beauties is a wildly provocative, gloriously absorbing father-son collaboration between Stephen King and Owen King.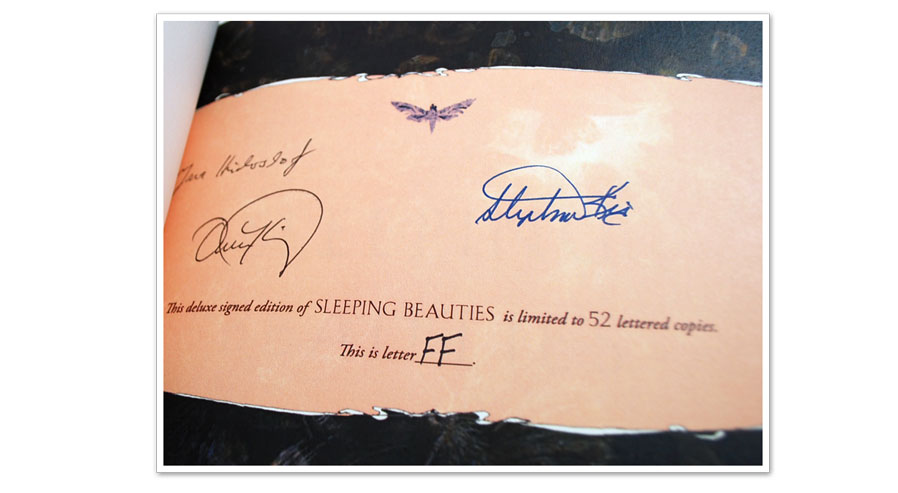 Special Features Exclusive to this Collector's Edition:
Deluxe oversized design (7 inches X 10 inches) featuring two color interior printing
Printed on a heavy interior specialty acid-free paper stock that is much thicker than the paper in a normal trade edition
Featuring two colors of hot foil stamping on the front boards and spine
Smyth sewn to create a more durable binding
Deluxe bindings for all editions with colored head and tail bands
Hand-made traycase for the Deluxe Lettered Edition
Epic wrap-around full color dust jacket artwork by Jana Heidersdorf
A different full-color dust jacket for the Signed Limited Edition
Six to Eight full-color interior paintings by Jana Heidersdorf printed on a high-quality glossy stock and tipped into the book
High-quality endpapers for all editions
Full-color signature sheets in the signed editions
Extremely collectible print run that is a tiny fraction of the print run of the trade hardcover edition from Scribner
This is the Oversized Signed Hardcover Lettered Edition of only 52 illustrated copies printed in two colors and bound in two different fine materials with gilded page edges, marbled endpapers, a satin ribbon page marker, signed by Stephen King, Owen King, and Jana Heidersdorf, and protected in a hand-made deluxe box. Original price was 2,500.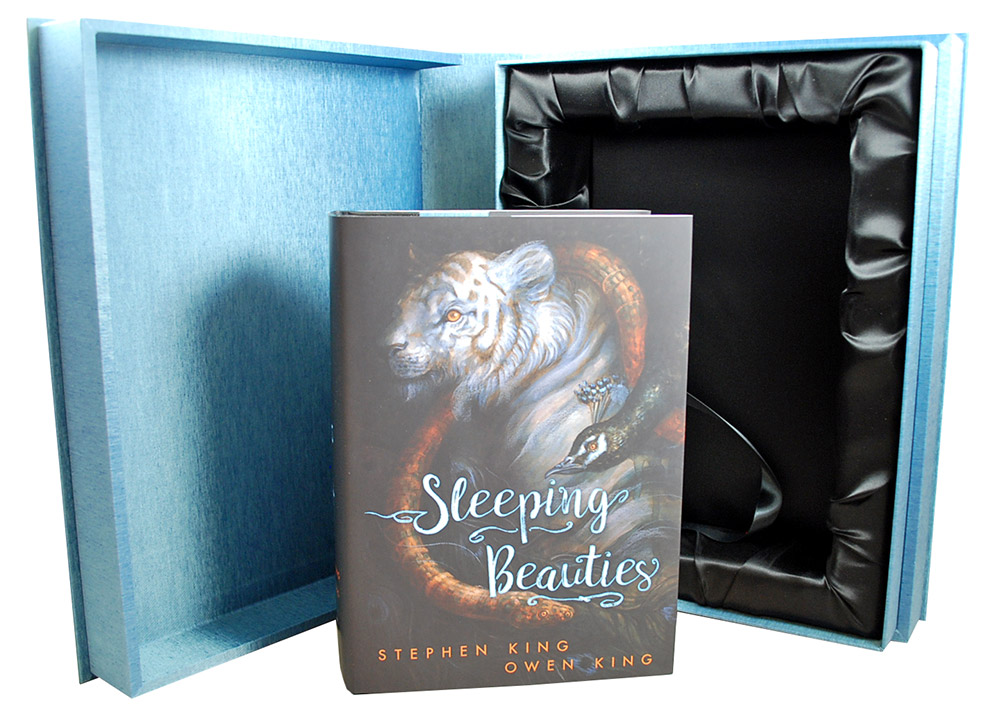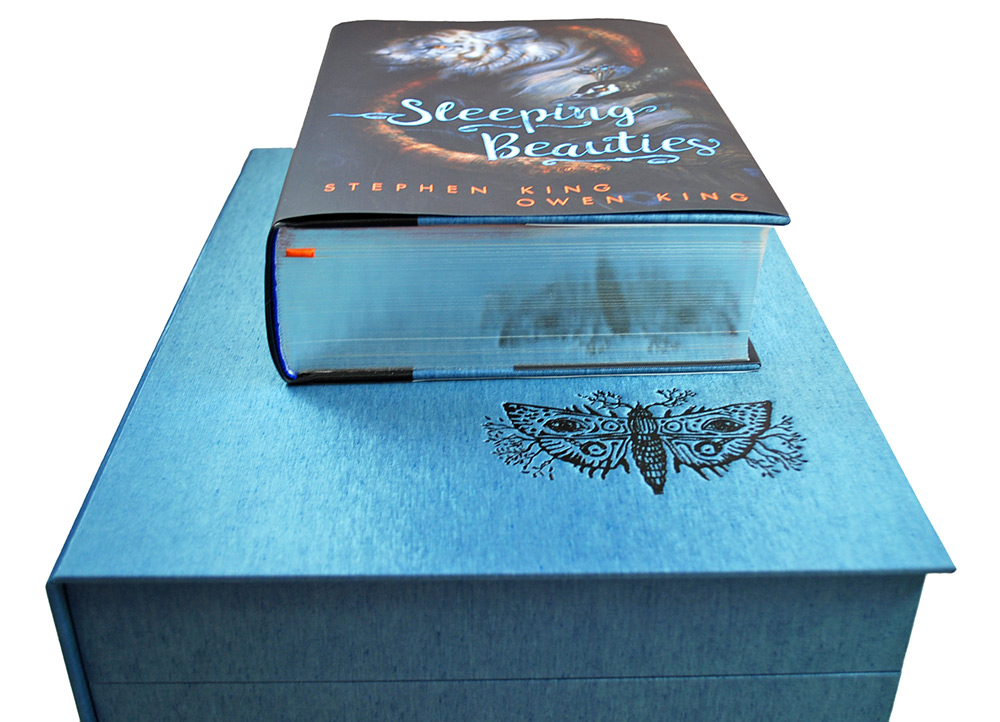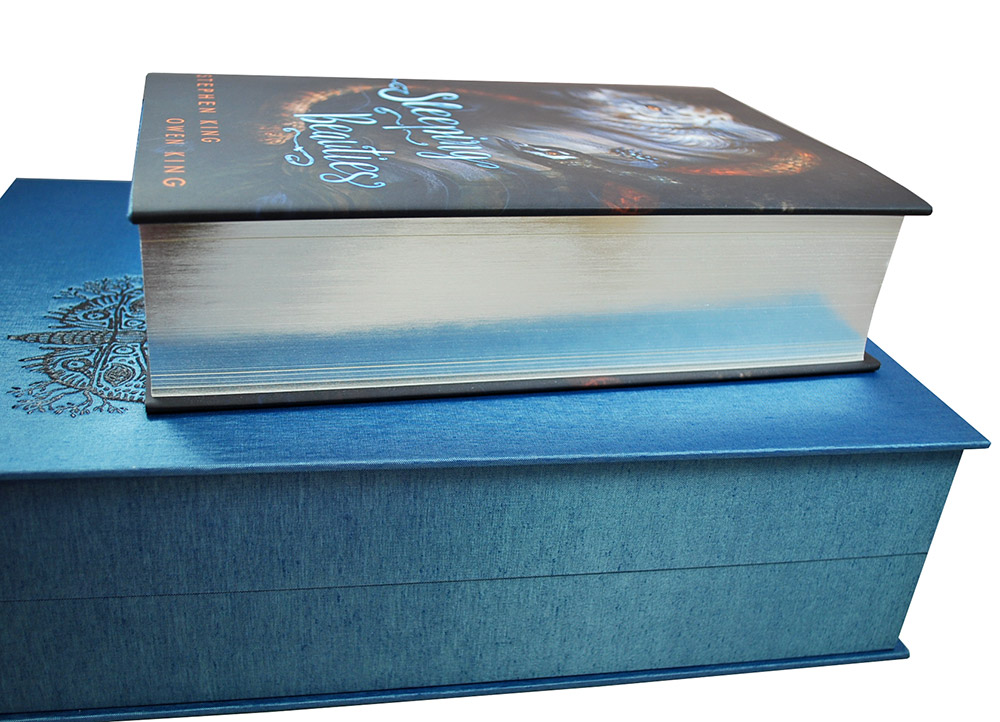 Review
"Stephen King and son team up for a beauty of a horror tale [that is] epic, ambitious, heartbreaking and, when it comes to its central horrors, all too timely. Sleeping Beauties melds the elder King's talent for exploring the darker sides of human nature when people are thrust into terrifying situations with his youngest son's gift for juggling multiple genres and complex characters. The final chapters bring all their skills together in a fast-paced, explosive finale and emotional aftermath. A thought-provoking work that examines a litany of modern-day issues." -- USA Today
"It's a violent, dystopian thrill ride that will leave you horrified - and hooked." -- People
"Entertaining...Sleeping Beauties is a bulging, colourful epic; a super-sized happy meal, liberally salted with supporting characters and garnished with splashes of arterial ketchup. This epic feels so vital and fresh." -- The Guardian
"A fast-paced thriller [that is] ambitious and sympathetic, Sleeping Beauties is both a love letter to women everywhere and an incisive look at what drives men to violence, neatly wrapped in enough fantasy elements to soften the more caustic edges of the commentary. From "Carrie" to "Dolores Claiborne" to "Lisey's Story" and beyond, Stephen King's compassion for women is an identifying characteristic of much of his work, and "Sleeping Beauties" continues the trend. The Kings have created deeply textured women to populate their book." -- Pittsburgh Post-Gazette
About the Authors
Stephen Edwin King (born September 21, 1947) is an American author of horror, supernatural fiction, suspense, and fantasy novels. His books have sold more than 350 million copies, many of which have been adapted into feature films, miniseries, television series, and comic books. King has published 61 novels (including seven under the pen name Richard Bachman) and six non-fiction books. He has written approximately 200 short stories, most of which have been published in book collections.
King has received Bram Stoker Awards, World Fantasy Awards, and British Fantasy Society Awards. In 2003, the National Book Foundation awarded him the Medal for Distinguished Contribution to American Letters. He has also received awards for his contribution to literature for his entire oeuvre, such as the World Fantasy Award for Life Achievement (2004) and the Grand Master Award from the Mystery Writers of America (2007). In 2015, King was awarded with a National Medal of Arts from the United States National Endowment for the Arts for his contributions to literature. He has been described as the "King of Horror". He lives in Bangor, Maine, with his wife, novelist Tabitha King.
Owen King is the author of the novel Double Feature and co-author of the graphic novel Intro to Alien Invasion. His writing has appeared in numerous journals and newspapers, including the Boston Globe, Lady Churchill's Rosebud Wristlet, the Los Angeles Review of Books, the New York Times Book Review, One Story, and Subtropics. He is married to the novelist Kelly Braffet.
Jana Heidersdorf is an artist and illustrator fascinated by the feral and fantastical. Her work explores everything that lurks in the dark, may it be wild creatures or shapeless thoughts and feelings, and turns it into moody compositions in pencil and mixed media techniques. It can be found on and in books, comics, magazines, on walls and on the internet. She is currently spending a lot of time in the twisted world of mermaids while working on her weekly 100 Mermaids drawing project. When she isn't drawing, she pretends to be a wood sprite and scares the local squirrel population.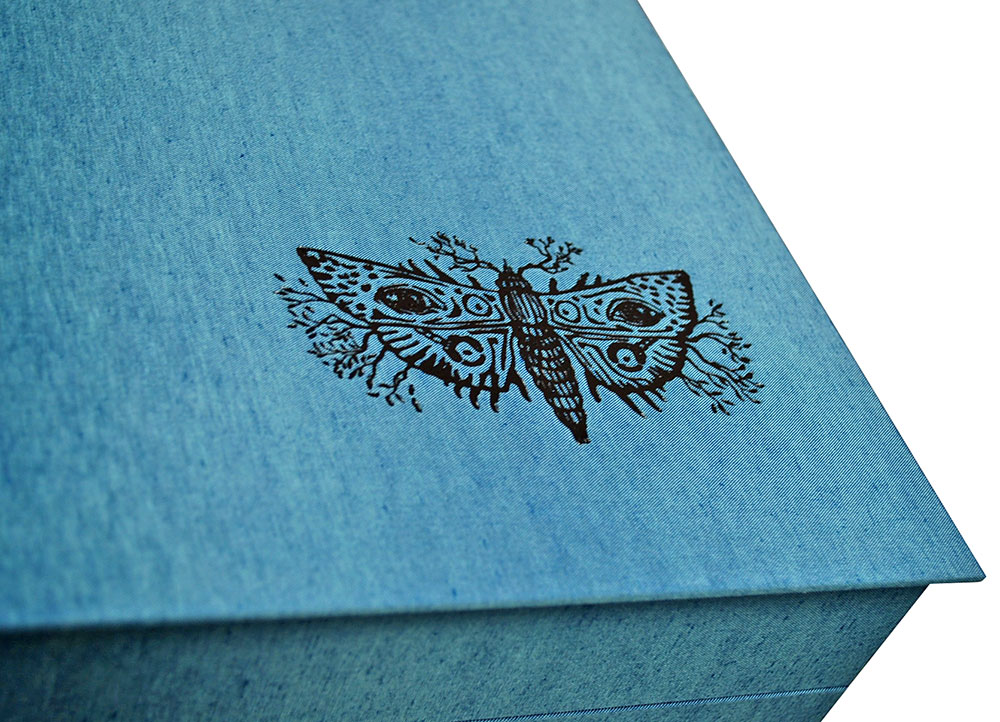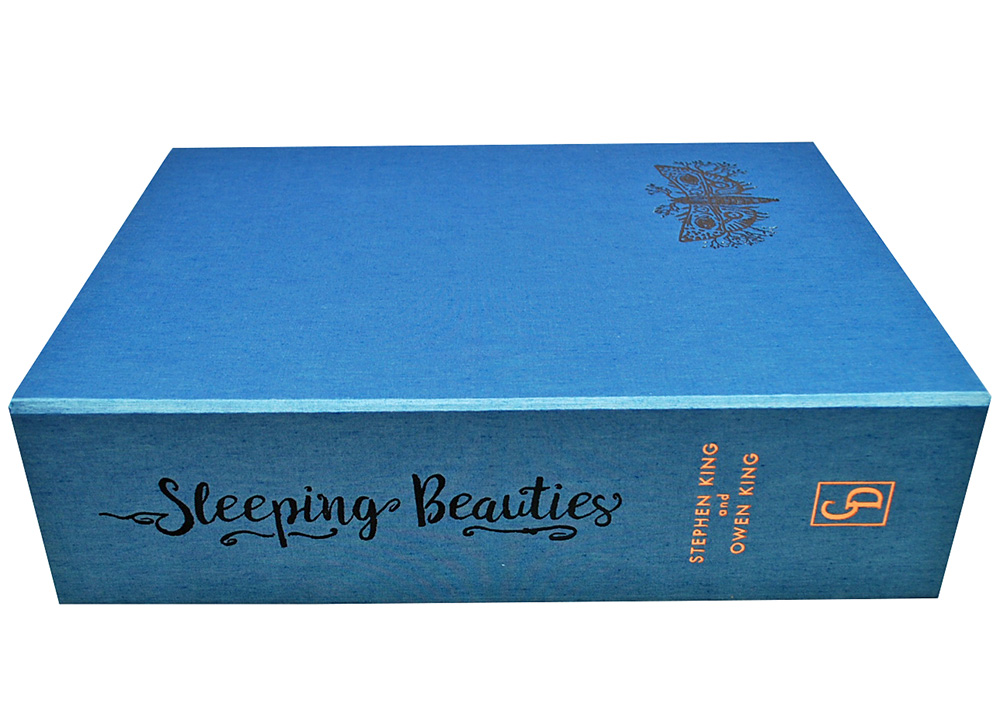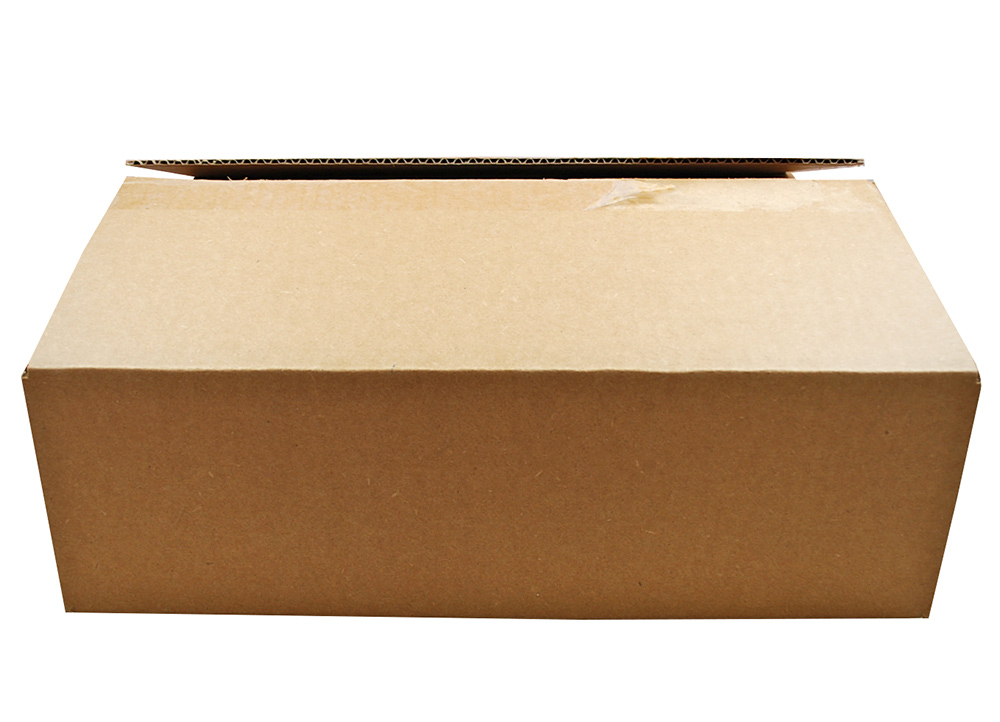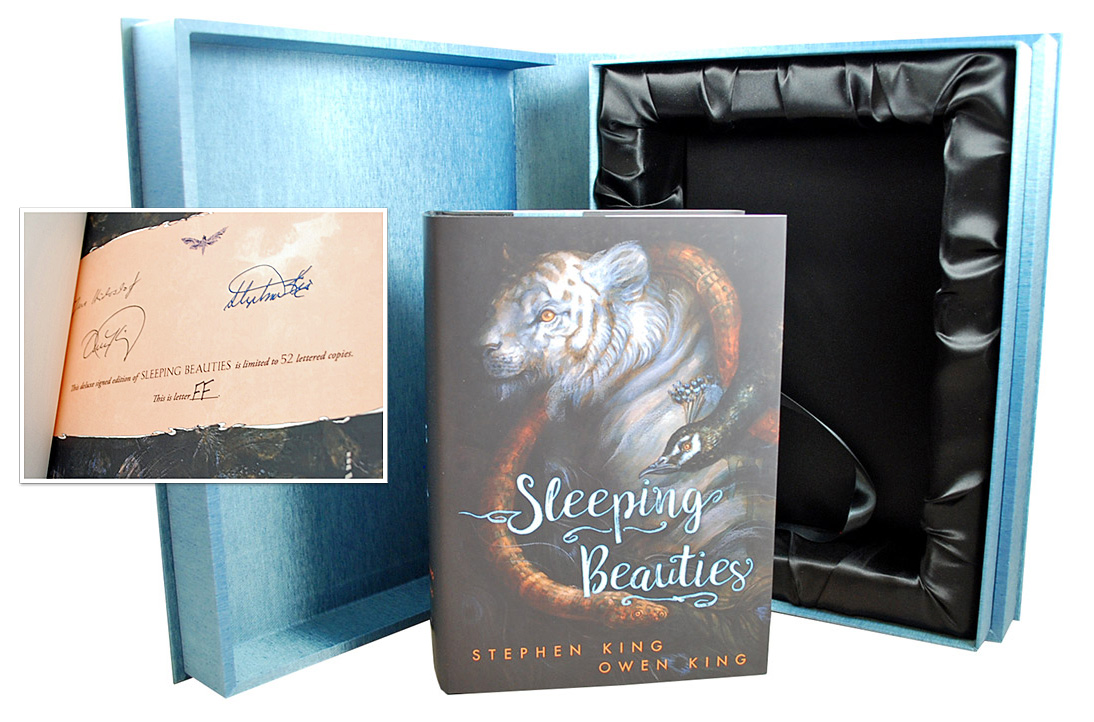 VERY FINE GUARANTEED. A wonderful bright clean copy free of any markings, writings, or stamps. Sharp corners that have not been bumped. Unread book with square and tight binding. No bookplates attached or indication of any removed. Edges are free of any marks, spots, scratches, or blemishes.
Publisher:

Cemetery Dance Publications

Edition:

Signed Limited Edition

Binding:

Deluxe Edition with gilded edges, marbled endpapers, and satin ribbon, in a hand-made deluxe box

Illustrator:

Jana Heidersdorf

Dimensions:

10.5 x 7.5 x 2

Signature Authenticity:

Lifetime Guarantee of Signature Authenticity. Personally signed by authors Stephen and Owen King and the illustrator Jana Heidersdorf directly into the book. The autographs are not facsimiles, stamps, or auto-pens.