"Set in a small Appalachian town whose primary employer is a women's prison, SLEEPING BEAUTIES is a wildly provocative, gloriously absorbing father/son collaboration between Stephen King and Owen King."
– Sleeping Beauties: A Novel / Scribner
This First Printing has been personally signed by both Stephen King and Owen King directly onto the title page of the book.
A Significantly Unique Book Since This Is The Only Collaboration Between Father & Son.

Scribner (September 26, 2017). Stephen King & Owen King "Sleeping Beauties" Signed First Edition, First Printing. A very fine example with archival sleeve protection. 720 pages. ISBN-10: 150116340X. ISBN-13: 978-1501163401. This book contains all the markings required for a first printing edition. Fisher Center for the Performing Arts at Bard College. Sept. 27, 2017. Includes a Letter of Autograph Authenticity. Order today!
Matching pictorial slipcase from Cemetery Dance
COA, Certificate of Authenticity.



About Sleeping Beauties


In this spectacular father/son collaboration, Stephen King and Owen King tell the highest of high-stakes stories: what might happen if women disappeared from the world of men?
In a future so real and near it might be now, something happens when women go to sleep: they become shrouded in a cocoon-like gauze. If they are awakened, if the gauze wrapping their bodies is disturbed or violated, the women become feral and spectacularly violent. And while they sleep they go to another place, a better place, where harmony prevails and conflict is rare.
One woman, the mysterious "Eve Black," is immune to the blessing or curse of the sleeping disease. Is Eve a medical anomaly to be studied? Or is she a demon who must be slain? Abandoned, left to their increasingly primal urges, the men divide into warring factions, some wanting to kill Eve, some to save her. Others exploit the chaos to wreak their own vengeance on new enemies. All turn to violence in a suddenly all-male world.
Set in a small Appalachian town whose primary employer is a women's prison, Sleeping Beauties is a wildly provocative, gloriously dramatic father-son collaboration that feels particularly urgent and relevant today.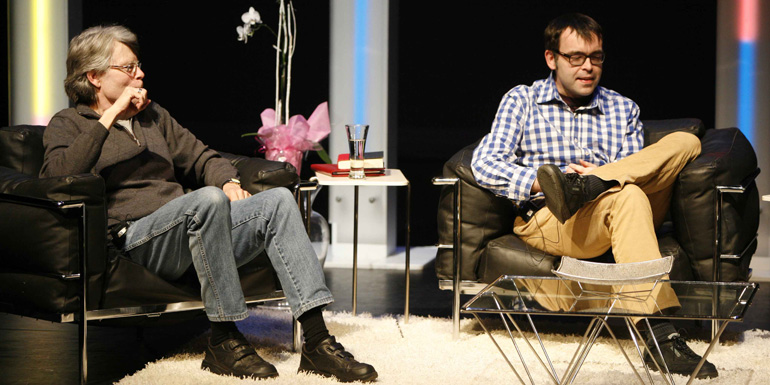 About Stephen King


Stephen Edwin King is an American author of contemporary horror, suspense, science fiction and fantasy fiction. His books have sold more than 350 million copies and have been adapted into a number of feature films, television movies and comic books. As of 2011, King has written and published 49 novels, including seven under the pen name Richard Bachman, five non-fiction books, and nine collections of short stories. Many of his stories are set in his home state of Maine.
King has received Bram Stoker Awards, World Fantasy Awards, British Fantasy Society Awards, his novella The Way Station was a Nebula Award novelette nominee, and in 2003, the National Book Foundation awarded him the Medal for Distinguished Contribution to American Letters. He has also received awards for his contribution to literature for his whole career, such as the World Fantasy Award for Life Achievement (2004), the Canadian Booksellers Association Lifetime Achievement Award (2007) and the Grand Master Award from the Mystery Writers of America (2007).

About Owen King

Owen King is the author of the novel Double Feature and co-author of the graphic novel Intro to Alien Invasion. His writing has appeared in numerous journals and newspapers, including the Boston Globe, Lady Churchill's Rosebud Wristlet, the Los Angeles Review of Books, the New York Times Book Review, One Story, and Subtropics. He is married to the novelist Kelly Braffet.
Owen's next book, the novel Sleeping Beauties, is a collaboration with Stephen King. It will be available in bookstores everywhere in September 2017.



Reviews

"This delicious first collaboration between Stephen King and his son Owen is a horror-tinged realistic fantasy that imagines what could happen if most of the women of the world fall asleep, leaving men on their own. The authors' writing is seamless and naturally flowing. Once the action begins, [SLEEPING BEAUTIES] barrels along like a freight train." (Publishers Weekly)
"Another horror blockbuster, Mercedes and all, from maestro King and his heir apparent…In a kind of untold Greek tragedy meets Deliverance meets—well, bits of Mr. Mercedes and The Shawshank Redemption, perhaps—King and King, father and son, take their time putting all the pieces into play: brutish men, resourceful women who've had quite enough, alcohol, and always a subtle sociological subtext, in this case of rural poverty and dreams sure to be dashed…A blood-splattered pleasure." (Kirkus (starred review))
"Following the renewed interest in Margaret Atwood's The Handmaid's Tale and an increasing climate of wolf-whistle politics, this examination of gender stereotypes, systems of oppression, and pervasive misogyny within American culture feels especially timely…The large cast of characters allows for a multitude of narrative perspectives—from both the affected women and the men they've left behind. Violent, subversive, and compulsively readable. The true horror of this father-son-penned novel derives more from its unflinchingly realistic depiction of hatred and violence against women than from the supernatural elements." (Library Journal)
VERY FINE GUARANTEED

Hardcover: Very Fine without any flaws. A wonderful bring clean copy without any other marks, writings , or stamps. Clean & straight boards. No attached bookplates or indication of any removed. A well-cared for book, protected from any potential damage. Unread with square and tight spine.

Dust-jacket: Very Fine without any flaws. It is free of tears, chips, creases, etc. As new condition as normally shipped by the publisher.
Publisher:

Scribner (September 26, 2017)

Edition:

Signed First Edition, First printing

Binding:

Hardcover with dust jacket

Illustrator:

Signed First Edition / First Printing

Author:

Stephen King

Author:

Owen King