'Salem's Lot: The Deluxe Special Edition (Volume Two in the "Doubleday Years" Collection)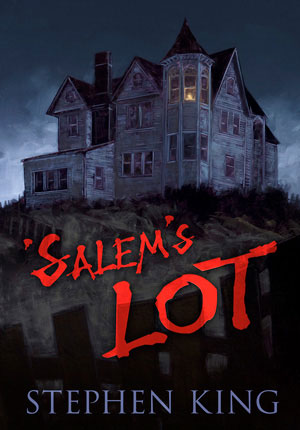 Author: Stephen King
Artist: David Palumbo
Page Count: 660 pages
Pub. Date: April 26, 2016
ISBN: 978-1-58767-507-2
Status: Out of Print
Sealed w/Original Shrink-wrap
Very Fine
Cemetery Dance 2016. Stephen King "Salem's Lot". Published in three states. This is the Slipcased Oversized Hardcover Gift Edition of only 3,000 copies printed in two colors on a specialty paper stock; bound with a fine binding, two color hot foil stamping, and embossed end-papers; and featuring a unique black-and-white limitation page with artwork by Glenn Chadbourne. This edition is now OUT OF PRINT from the publisher. This edition is not signed.
'Salem's Lot: The Deluxe Special Edition
A Collectible Limited ONE TIME PRINTING featuring an introduction by Stephen King, an afterword by Clive Barker, color paintings by David Palumbo, and Special Bonus Features including deleted scenes, two related short stories, and a map of the town by Glenn Chadbourne! Volume Two in The Stephen King Doubleday Years Set!
Featuring full color wrap-around artwork by David Palumbo and full color interior paintings printed on a high-quality glossy stock and tipped into the book!
About the Book:
'Salem's Lot is a small New England town with white clapboard houses, tree-lined streets, and solid church steeples. That summer in 'Salem's Lot was a summer of homecoming and return; spring burned out and the land lying dry, crackling underfoot. Late that summer, Ben Mears returned to 'Salem's Lot hoping to cast out his own devils and found instead a new, unspeakable horror.
A stranger had also come to the Lot, a stranger with a secret as old as evil, a secret that would wreak irreparable harm on those he touched and in turn on those they loved.
All would be changed forever—Susan, whose love for Ben could not protect her; Father Callahan, the bad priest who put his eroded faith to one last test; and Mark, a young boy who sees his fantasy world become reality and ironically proves the best equipped to handle the relentless nightmare of 'Salem's Lot.
This is a rare novel, almost hypnotic in its unyielding suspense, which builds to a climax of classic terror. You will not forget the town of 'Salem's Lot nor any of the people who used to live there.
Special Features For This Deluxe Special Edition:
• an introduction by Stephen King
• an afterword by Clive Barker
• many deleted scenes that were cut from the original manuscript
• the short stories "Jerusalem's Lot" and "One for the Road"
• deluxe oversized design (7 inches X 10 inches) featuring two color interior printing as part of the page design
• printed on a heavy interior specialty paper stock that is much thicker than the paper in a normal trade edition
• custom-made slipcase for the Gift Edition
• epic wrap-around full color dust jacket artwork by David Palumbo
• full color interior paintings by David Palumbo
• interior artwork will be printed on a heavy glossy stock and tipped into the book
• an original map of the town drawn by Glenn Chadbourne exclusively for this special edition
• signature sheet artwork for all three editions by Glenn Chadbourne
• high-quality end-papers and fine bindings
• an exclusive reproduction of the first reader's letter to point out the Father "Cody" error and several internal memos from Doubleday about changing the pricing after the first edition of the book was already printed
• extremely collectible print run that is a tiny fraction of the TENS OF MILLIONS of copies of this novel you've seen in bookstores over the years!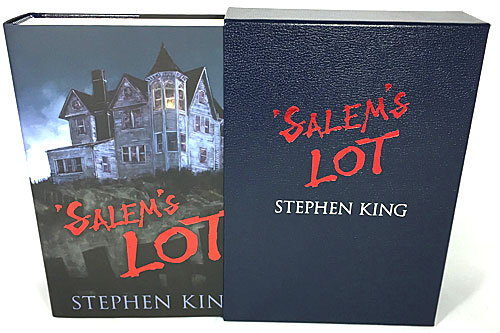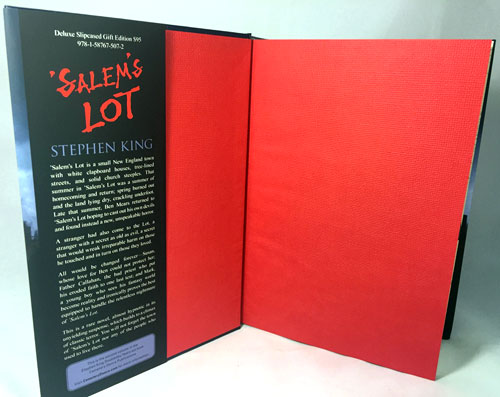 Biography
Stephen King has written more than forty novels and two hundred short stories. He is the recipient of the 2003 National Book Foundation Medal for Distinguished Contribution to American Letters and he also received the O. Henry Award for his story "The Man in the Black Suit." His previous Cemetery Dance Publications special editions include two volumes of The Secretary of Dreams, the deluxe Limited Editions of From a Buick 8, Full Dark, No Stars, It: The 25th Anniversary Special Limited Edition, Doctor Sleep, Carrie, and the World's First Trade Editions of Blockade Billy and The Dark Man. King lives in Bangor, Maine, with his wife, novelist Tabitha King.
David Palumbo is a painter whose work primarily depicts narrative, moody scenes that combine a modern psychology and texture with heavy influences of classical realism and golden-age illustration. His images can be found most often on book covers and gaming cards and has received numerous honors including a Chesley award and several Spectrum medals. In addition to his genre illustration, he has also been showing in fine art galleries from New York to Paris for over 10 years and has published multiple collections of his personal paintings. Palumbo currently lives in Philadelphia and enjoys painting and creating every single day.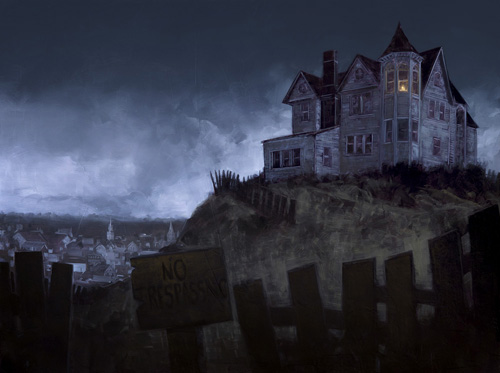 As New (Sealed). Very Fine in a Very Fine slipcase. The volume along with the slipcase is in mint condition without any flaws. There are no marks, writings, or stamps and free of any bumped corners. No attached bookplates or indication of any removed. Unread book with tight spine.
Publisher:

Cemetery Dance (2016)

Edition:

Deluxe Limited Edition

Binding:

Hardcover with dust-jacket

Dimensions:

Oversized 10" x 7" x 2"

Author:

Stephen King