SPECIAL BONUS OFFER :

ORDER TODAY AND GET A VERY NICE 1st/1st HARDCOVER EDITION OF SKELETON CREW!!
---
Stephen King "Skeleton Crew" Scream Press 1985 Hardcover. A First edition with slip-case that includes a full color 3-Fold Poster laid in. A profusely illustrated book in Fine/Fine condition with a Very Near Fine matching slipcase as issued by the publisher.
This copy is #842 of only 1000 copies available
personally hand signed by both the author Stephen King and artist J.K. Potter
on a special black dedication page. A Horror collection of 23 stories. 545 pps. This is an over-sized book measuring 7 1/2" x 10". Illustrated throughout.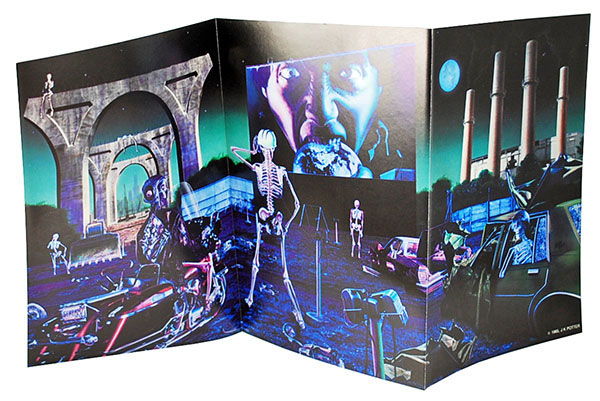 Background


In the introduction to Skeleton Crew (1985), his second collection of stories, King pokes fun at his penchant for "literary elephantiasis," makes scatological jokes about his muse, confesses how much money he makes (gross and net), and tells a story about getting arrested one time when he was "suffused with the sort of towering, righteous rage that only drunk undergraduates can feel." He winds up with an invitation to a scary voyage: "Grab onto my arm now. Hold tight. We are going into a number of dark places, but I think I know the way."
And he sure does. Skeleton Crew contains a superb short novel ("The Mist") that alone is worth the price of admission, plus two forgettable poems and 20 short stories on such themes as an evil toy monkey, a human-eating water slick, a machine that avenges murder, and unnatural creatures that inhabit the thick woods near Castle Rock, Maine. The short tales range from simply enjoyable to surprisingly good.
In addition to "The Mist," the real standout is "The Reach," a beautifully subtle story about a great-grandmother who was born on a small island off the coast of Maine and has lived there her whole life. She has never been across "the Reach," the body of water between island and mainland. This is the story that King fans give to their friends who don't read horror in order to show them how literate, how charming a storyteller he can be. Don't miss it.



Fine/Fine hardcover book in dust-jacket in original Very Near Fine slipcase, with only a small crease in the top left corner of the cover art-work as shown. Clean & straight boards. Unread book with tight spine. No attached bookplates or indication of any removed. A high quality limited edition in excellent condition. As New fold-out poster. Photos of actual item.

SPECIAL BONUS OFFER: ORDER TODAY AND GET A VERY NICE 1st/1st HARDCOVER EDITION OF SKELETON CREW WITH YOUR ORDER!! A $100 VALUE.
Publisher:

N/A

Edition:

Scream Press (1985)

Binding:

Hardcover in Slipcase

Illustrator:

Signed First Edition

Dimensions:

12" x 8" x 2"