A luxurious leather bound collectible,
personally hand signed by the late Kurt Vonnegut
on a special title page.
A rare and highly desirable collectible for the Kurt Vonnegut fan. Signed First Edition. Easton Press guarantees the signature to be authentic. A wonderful edition that would also make a great gift idea.
Easton Press 1991. Kurt Vonnegut "Fates Worse Than Death". Signed First Edition. Full genuine leather. No Jacket as Issued. Limited Edition. Collector's Edition. Signed by the author Kurt Vonnegut on a special title page.
Condition:
Very Fine without any flaws. Not even a single scratch to the gilded page edges. A wonderful bright clean edition. Unread without any bookplates attached or indication of any removed.
Book dimensions: 6" x 9". 241 pages. A handsome dark brown leather Collector's Edition. Includes the original Signed First Edition bookplate from Easton Press.
Includes the classic Easton Press trimmings:
* Premium Leather
* Silk Moire Endleaves
* Distinctive Cover Design
* Hubbed Spine, Accented in Real 22KT Gold
* Satin Ribbon Page Marker
* Gilded Page Edges
* Long-lasting, High Quality Acid-neutral Paper
* Smyth-sewn Pages for Strength and Durability
* Beautiful Illustrations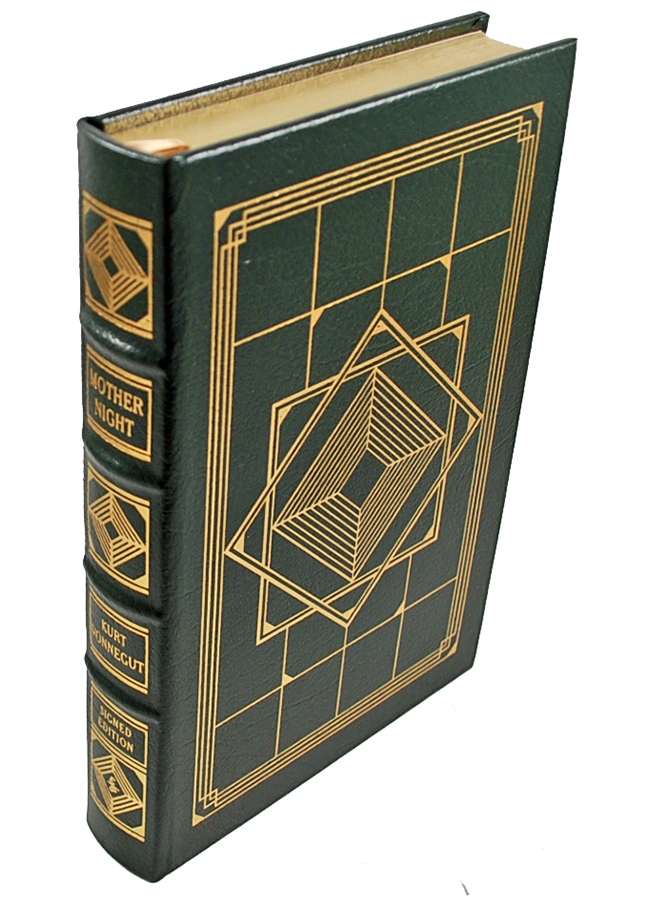 About "Fates Worse Than Death"
Fates Worse than Death, subtitled An Autobiographical Collage, is a 1990 collection of essays, speeches, and other previously uncollected writings by author Kurt Vonnegut Jr.. In the introduction to the book, Vonnegut acknowledges that the book is similar to an earlier book, Palm Sunday. In it he discusses his attempted suicide.
This book also includes a "humanist requiem" that Vonnegut wrote as a reaction to the Roman Catholic Requiem, which he had heard in Andrew Lloyd Webber's setting and whose text he found "terrible and sadistic". Vonnegut's own text was then set as a "Cosmos Cantata" by the composer Seymour Barab, of whom Vonnegut said, "Barab's music is full of magic. He proved to an atheist that God exists. What an honor to have worked with him."
The ending of this text is as follows:
"Let not eternal light disturb our sleep, O Cosmos, for Thou art merciful. Deliver me, O Cosmos, from everlasting wakefulness. On that dread day when the heavens and earth shall quake, when we shall dissolve the world into glowing ashes in the name of gods unknowable, I am seized with trembling and I am afraid until that day of reckoning shall arrive. Hence I pray, Deliver me, O Cosmos, from everlasting wakefulness on that day of wrath, calamity and misery. Rest grant us, O Cosmos, and let not light perpetual disturb our sleep."
Source: Wikipedia
Publisher:

N/A

Edition:

Easton Press

Binding:

Full genuine leather

Illustrator:

Signed First Edition (Limited to 1,000)

Dimensions:

Very Fine