This Is The Elvis Encyclopedia, A Limited Collector's Edition, Luxuriously Bound in Full Genuine Leather.
The Easton Press | Overlook Duckworth, 2008. Adam Victor "The Elvis Encyclopedia". Hardcover. First Edition. Great resource for all things Elvis! Beautiful full red leather decorated and titled in gold. Black-and-white photograph of Elvis inlaid on front cover. Hubbed spine, gilt page edges, bronze-colored silk moire end sheets, silk ribbon bookmark. Color frontispiece photograph of Elvis.

Extensively illustrated with color and black-and-white photographs. 598 pp. SEALED without any flaws! Photos of actual volume.
---
Oversized Deluxe Limited Edition by Easton Press.

---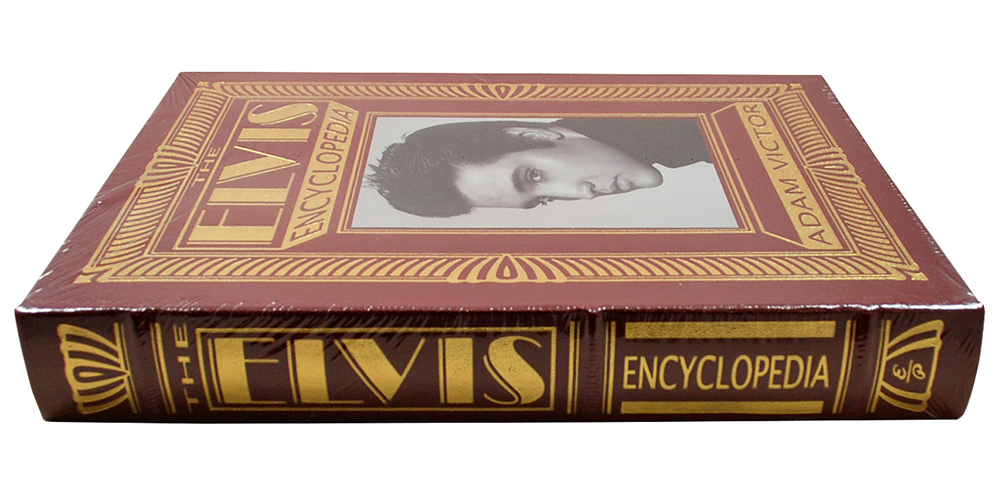 About the Author
Adam Victor is a writer and translator. The Marilyn Encyclopedia, now published in six countries, is his biggest project to date. Victor appeared in and was a consultant on the E! True Hollywood Story "The Many Loves of Marilyn Monroe." His other work includes The Elvis Encyclopedia.
"The book is lavishly and lovingly illustrated with candid photos, movie stills, posters, and assorted oddities . . . and in a nice touch the book throws in relevant quotations after many entries, by Elvis or about him." New York Times Book Review.
From Publishers Weekly
Starred Review.
This obsessively detailed and completely entertaining chronicle by Victor (The Marilyn Encyclopedia) of every possible aspect of Elvis Presley's life is mesmerizing and deserves a wide audience. Elvis fans will delight in the many famous and rare photos illustrating entries on the King's every song, album and movie as well as his complete last will and testament. But nonfans will marvel at such meticulously researched entries as Religion (a vision of Stalin and Jesus in a high bank of cloud made Elvis consider joining a monastery), as well as a comprehensive state-by-state list of Hotels Where Elvis Stayed. (Oct.) Copyright © Reed Business Information, a division of Reed Elsevier Inc. All rights reserved.
---
This edition is now SOLD OUT from the publisher.
---
Factory Sealed - Shrink Wrapped
Features
Includes all the classic Easton Press qualities:

* Premium Leather
* Silk Moire Endleaves
* Distinctive Cover Design
* Hubbed Spine, Accented in Real 22KT Gold
* Satin Ribbon Page Marker
* Gilded Page Edges
* Long-lasting, High Quality Acid-neutral Paper
* Smyth-sewn Pages for Strength and Durability
* Beautiful Illustrations
VERY FINE GUARANTEED
. Sealed. A wonderful bright clean copy free of any markings, writings, or stamps. Sharp corners that have not been bumped. Tight binding. Unread book. No bookplates attached or indication of any removed. The gilded page edges are free of any marks, scratches, or blemishes.
Publisher:

Easton Press

Edition:

Deluxe Limited Edition

Binding:

Full Genuine Leather

Illustrator:

See description for details

Dimensions:

8 1/2" x 10 7/8"