Easton Press, Norwalk CT. 2003 "Twenty Days: The Assassination of Abraham Lincoln". Luxuriously bound in full genuine leather. Over-sized edition measuring 12" x 9" x 1.5" with many black and white photographs.
"Twenty Days: A Narrative in Text and Pictures of the Assassination of Abraham Lincoln and the Twenty Days and Nights that followed - The Nation in mourning, the Long Trip Home to Springfield." by Dorothy Meserve Kunhardt and Philip B. Kunhardt Jr.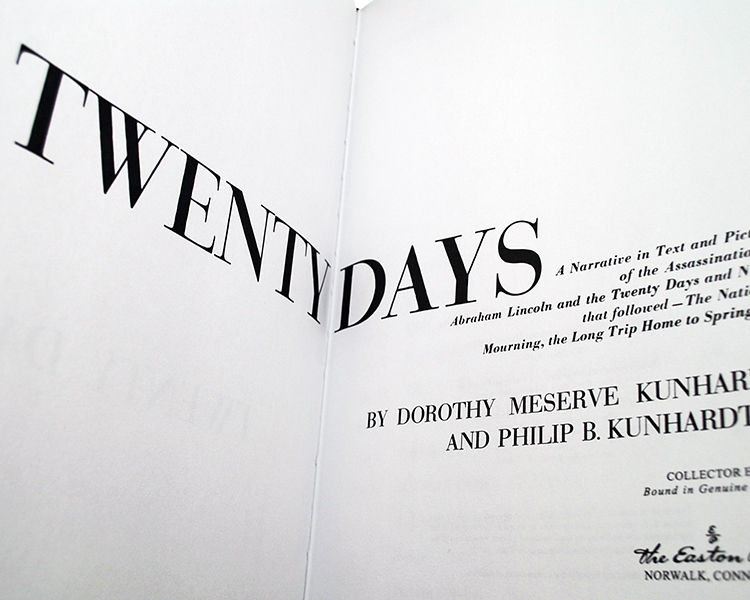 A look at the twenty days from the assassination of President Abraham Lincoln to his burial in Springfield, Illinois.
Abraham Lincoln (February 12, 1809 – April 15, 1865) was the 16th President of the United States, serving from March 1861 until his assassination in April 1865. Lincoln led the United States through its Civil War—its bloodiest war and its greatest moral, constitutional and political crisis. In doing so, he preserved the Union, abolished slavery, strengthened the federal government, and modernized the economy.
Born in Hodgenville, Kentucky, Lincoln grew up on the western frontier in Kentucky and Indiana. Largely self-educated, he became a lawyer in Illinois, a Whig Party leader, and a member of the Illinois House of Representatives, where he served from 1834 to 1846. Elected to the United States House of Representatives in 1846, Lincoln promoted rapid modernization of the economy through banks, tariffs, and railroads. Because he had originally agreed not to run for a second term in Congress, and because his opposition to the Mexican–American War was unpopular among Illinois voters, Lincoln returned to Springfield and resumed his successful law practice. Reentering politics in 1854, he became a leader in building the new Republican Party, which had a statewide majority in Illinois. In 1858, while taking part in a series of highly publicized debates with his opponent and rival, Democrat Stephen A. Douglas, Lincoln spoke out against the expansion of slavery, but lost the U.S. Senate race to Douglas.
About the author
Dorothy Kunhardt (September 29, 1901 – December 23, 1979) was an American children's-book author, best known for the baby book Pat the Bunny. She was also a historian and writer about the life of U.S. President Abraham Lincoln.
Kunhardt wrote nearly 50 books, including one of the bestselling children's books of all time, Pat the Bunny, which has sold over six million copies.
She had initially written it for her youngest child Edith, who has followed her mother's footsteps and is a popular children's author. Other works include the well known Twenty Days, an account of Lincoln's assassination and the twenty days that followed, which she wrote with her son, Philip B. Kunhardt, Jr.; Tiny Animal Stories; The Telephone Book; Lucky Mrs. Ticklefeather; Brave Mr. Buckingham; Junket is Nice (1933); Wise Old Aard-Vark (1936); and Now Open the Box.
Features
Includes all the classic Easton Press qualities:

* Premium Leather
* Silk Moire Endleaves
* Distinctive Cover Design
* Hubbed Spine, Accented in Real 22KT Gold
* Satin Ribbon Page Marker
* Gilded Page Edges
* Long-lasting, High Quality Acid-neutral Paper
* Smyth-sewn Pages for Strength and Durability
* Beautiful Illustrations


VERY FINE GUARANTEED
A wonderful bright clean copy free of any markings, writings, or stamps. Sharp corners that are not bumped. Tight and square spine. Unread book. No attached bookplates or indication of any removed.
Publisher:

Easton Press

Edition:

Easton Press (2003)

Binding:

Leather Bound (Full genuine leather)

Illustrator:

Limited Edition

Dimensions:

12" x 9" x 1.5"