Personally signed by Gao Xingjian
Easton Press, Norwalk. CT. Gao Xingjian "Soul Mountain" Signed Limited Edition. Leatherbound collector's edition. Hardcover with full genuine leather. No dust-jacket as issued. This magnificent leather-bound heirloom has been personally signed by Gao Xingjian on a special dedication page. The book comes with original COA (certificate of authenticity) and documentation.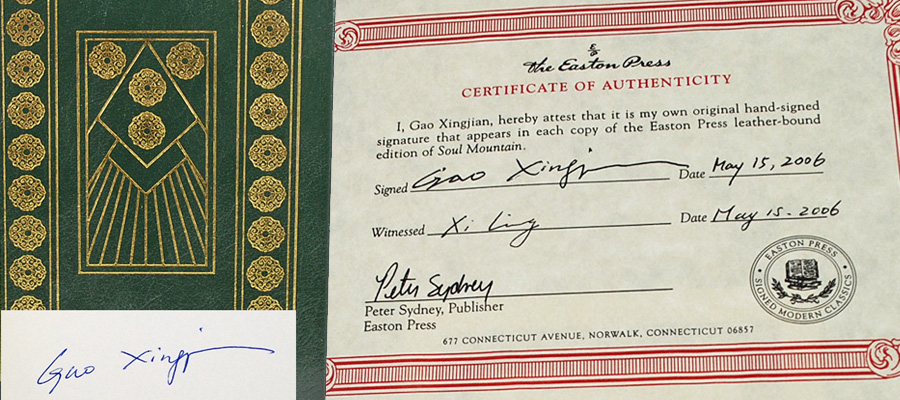 Book Description
As one of Gao Xingjian's characters remarks, if a fiction writer could know the true stories of the people he passes on the street, he would be amazed. Surely the Nobel laureate's own story, which forms the basis of Soul Mountain, is worthy of amazement. In 1983 Gao was diagnosed with lung cancer, the disease that had killed his father. At the same time, he had been threatened with arrest for his counterrevolutionary writings and was preparing to flee Beijing for the remote regions of southwest China. Shortly before his departure, however, the condemned man got at least a partial reprieve: a second set of x-rays revealed no cancer at all.
On the heels of this extraordinary redemption, he began the circuitous journey that would lead him to the sacred (and possibly mythical) mountain of Lingshan--and to this daring, historically resonant novel. A destination chosen arbitrarily, at the suggestion of a fellow traveler, the elusive Lingshan becomes rich with meaning for the narrator of Soul Mountain. Meanwhile, the narrator himself shows a tendency to go forth and multiply. First he divides into You and I. Then You generates yet a third voice, a somewhat simple but intense young woman named She, followed by He--and none of these personae can resist the elemental lure of the sacred site. Indeed, the search for Lingshan becomes a metaphor for all spiritual striving:
Would it be better to go along the main road? It will take longer travelling by the main road? After making some detours you will understand in your heart? Once you understand in your heart you will find it as soon as you look for it? The important thing is to be sincere of heart? If your heart is sincere then your wish will be granted? Along the way, I and You mourn the devastations of the Cultural Revolution, when thousands of monuments, temples, and graves were reduced to rubble. The obliteration of these reminders of the dead becomes a torment to the narrators of the novel, who struggle to assert their individuality--itself a proscribed act in Communist China--against what they see as a false and brutal ideal that has swept away history, literature, and tradition as decisively as it has destroyed the ancient forests. (At one point Gao describes the sad spectacle of the few remaining pandas, who wander a shrinking woodland wearing electronic transmitters.) Seamlessly translated by the Australian scholar Mabel Lee, Soul Mountain is a masterpiece of self-observation set against a soulful denunciation of "progress" and practicality.
From Publishers Weekly
Gao Xingjian was almost unknown in this country when he won this year's Nobel prize. Gao, who lives in exile in Paris, was embroiled in controversy in China in the 1980s because of his plays. This novel is his largest and perhaps most personal work. Around the time Gao's plays were arousing controversy, he was diagnosed with lung cancerDfalsely, as it turned out. The "detestable omniscient self" of the Gao-like narrator sharing these circumstances goes partly underground by getting out of Beijing and going to various underdeveloped regions of China. Officially, Gao is gathering folk songs and tales, but underneath that task we discern a desire to reconnect with the fate of his family, which, like so many others, was fragmented by the revolution.
The book itself is narrated in two voices: a rational first person "I" and an emotional second person "you." Gao stays with park rangers, old friends and Daoist monks. The "you" wanders a more fantastic, otherworldly Chinese landscape, looking for LingshanDthe "soul mountain" of the title. To the second person is allotted a series of frenzied sexual encounters with a series of rebellious women. Within this baggy structure, there are repeated memories of the horrors of the Cultural Revolution, episodes concerning "wild men" (the Chinese equivalent of yeti), reflections on China's environmental degradation and comments on old ruins. Seeking out old singers and shamans like a connoisseur of extinct cultures, Gao has created a sui generis work, one that, in combining story, reminiscence, meditation and journalism, warily comes to terms with the shocks of both Maoism and capitalism.
Features
Includes all the classic Easton Press qualities:

* Premium Leather
* Silk Moire Endleaves
* Distinctive Cover Design
* Hubbed Spine, Accented in Real 22KT Gold
* Satin Ribbon Page Marker
* Gilded Page Edges
* Long-lasting, High Quality Acid-neutral Paper
* Smyth-sewn Pages for Strength and Durability
* Beautiful Illustrations

About The Author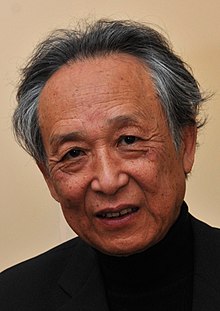 Gao Xingjian (born January 4, 1940) is a Chinese émigré novelist, playwright, and critic who in 2000 was awarded the Nobel Prize for Literature "for an oeuvre of universal validity, bitter insights and linguistic ingenuity." He is also a noted translator (particularly of Samuel Beckett and Eugène Ionesco), screenwriter, stage director, and a celebrated painter. In 1998, Gao was granted French citizenship. Gao's drama is considered to be fundamentally absurdist in nature and avant-garde in his native China. His prose works tend to be less celebrated in China but are highly regarded elsewhere in Europe and the West.
VERY FINE GUARANTEED
. As New. Sealed. Clean & straight boards. No markings, writings, or stampings. No attached bookplates or signs of any removed. A well-cared for book, protected from any potential damage. This book stands out as having had exemplary care. Square and tight spine. Excellent original example. Exceptional very fine quality.
Publisher:

Easton Press

Edition:

Signed Limited Edition

Binding:

Full Genuine Leather

Illustrator:

N/A

Dimensions:

9.25" x 6.25" x 1.25"

Signature Authenticity:

Lifetime Guarantee of Signature Authenticity. Personally signed by the author directly onto the special title page of the book. The autograph is not a facsimile, stamp, or auto-pen.