A Beautiful Leather Bound Deluxe Limited Edition 4-Vol. Collector's Set of The Great Battles.
Easton Press, Norwalk, CT. John Macdonald, Anthony Livesey, John Pimlott. THE GREAT BATTLES . 4 Volume Limited Edition Set. Oversized Limited Edition Volumes. As New without any flaws. Sealed.
Four volume set in one shipment:
"Great Battles of the Civil War" by John MacDonald [Sealed]
"Great Battles of World War I" by Anthony Livesey [Sealed]
"Great Battles of World War II" by by John MacDonald [Sealed]
"Vietnam: The Decisive Battles" by John Pimlott [Sealed]
---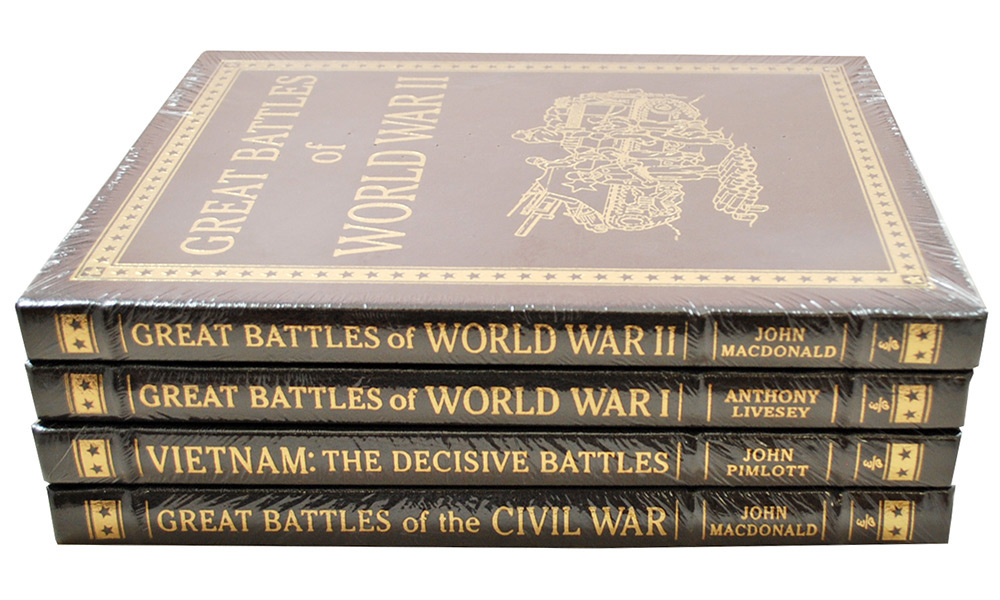 ---
"Great Battles of the Civil War" by John MacDonald
17 of the greatest battles of the Civil War come alive as never before for as breakthrough computer graphics recreate every detail of the Civil War's most important battles.
A team of experts has researched every aspect of the battle?"from topography to troop strength?"and, using the latest computer graphics technology, reconstructs the battlefields in vivid detail and analyzes why and how the winners won. Also included is a wealth of contemporary anecdotes, eyewitness accounts, character studies, paintings, drawings and period photographs that reveal a uniquely accurate picture of the most memorable battles of the Civil War.
---
"Great Battles of World War I" by Anthony Livesey
Uses maps and illustrations to recreate nineteen important World War I campaigns and battles, and discusses strategy and tactics
The latest entry in Macmillan's series of illustrated military histories is filled with its usual high-tech graphics and dramatic computerized maps. Even so, this is less a battlefield atlas than a popular reprise of the war's major battles and tactics for the general reader. The text is brief, but numerous boxes and explanatory drawings relate the combat history of World War I in a striking fashion. The choice of battles is excellent, and the sea and air phases also are covered. It is better balanced that its companion volume, John Macdonald's Great Battles of World War II (Macmillan, 1986), and is likewise an appealing survey work for public libraries.
- Raymond L. Puffer, U.S Air Force History Prog., Los Angeles
Copyright 1989 Reed Business Information, Inc.
---
"Great Battles of World War II" by by John MacDonald
A real nice World war II book with hundreds of action pictures and fold out pages in centerfold. Has maps, drawings and diagrams of the most important battles from world War II from Europe to the Pacific.
---
"Vietnam: The Decisive Battles" by John Pimlott
Vietnam: The Decisive Battles gives the reader added insights to the drama of the combat by means of computer-generated maps of the battlefields and specially commissioned artwork. Through this highly original format, the crucial moments in 17 key encounters of the war are pinpointed, from the French defeat at Dien Bien Phu in 1954 to the fall of Saigon in 1975.
Together with a text of military scholarship, these presentations bring a new dimension to the longest - and arguably the most traumatic - war in American history. The battles selected cover the war on land and water, and in the air, and clearly show how the conflict developed in both military strategy and political initiatives.
With maps, diagrams, and photographs, this superbly illustrated book records the action and the drama of war. Here are the military tactics, plus the high-tech weapons - napalm, Agent Orange, B-52s and Smart bombs -which not only became synonymous with terror but also produced effects designed to linger long after the war had finished. Profiles of the commanders and the leading politicians, stories of personal heroics, and features on Rest and Recreation, drug abuse, and other aspects of GI life serve to highlight the more intimate elements of the war.
Features
Includes all the classic Easton Press qualities:

* Premium Leather
* Silk Moire Endleaves
* Distinctive Cover Design
* Hubbed Spine, Accented in Real 22KT Gold
* Satin Ribbon Page Marker
* Gilded Page Edges
* Long-lasting, High Quality Acid-neutral Paper
* Smyth-sewn Pages for Strength and Durability
* Beautiful Illustrations
VERY FINE GUARANTEED. Sealed. Each volumes is a wonderful bright clean copy with a square and tight spine. Sharp corners that are not bumped corners. No bookplates attached or indication of any removed and without any marks, writings or stamps. No scratches, marks, or blemishes to gilded page edges.
Publisher:

Easton Press

Edition:

Limited Edition 4-vol. Set

Binding:

Full Genuine Leather

Illustrator:

see product description

Dimensions:

Each volume 10" x 7" x 1.5"