Personally signed by Harlan Ellison on the special limitation page.
No. 1,069 of only 1,500 signed and numbered copies.

A magnificent addition to your library, one of only 1,500 copies signed by the author. Easton Press. Norwalk, CT. 1994. SIGNED BY Harlan Ellison. "I, Robot: The Illustrated Screenplay". Harlan Ellison & Isaac Asimov Signed Limited Edition - Limited Collector's Edition.
A great unique gift for yourself or for a loved one. A luxurious leather bound masterpiece by Easton Press.. Beautifully illustrated and bound in full genuine leather. One of the most celebrated works of science fiction literature by a historical writer. A rare signed limited edition for the discerning collector. Illustrated by Mark Zug. 272 pages.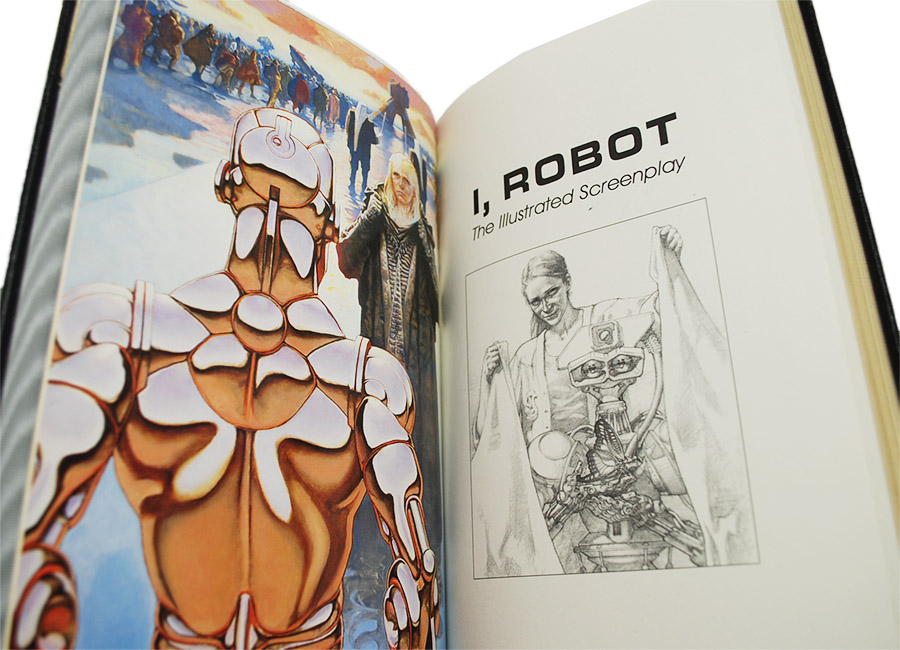 ABOUT

Numerous attempts had been made to adapt Isaac Asimov's classic story-cycle, I, Robot, to the motion picture medium. All efforts failed. In 1977, producers approached multiple-award-winning author Harlan Ellison to take a crack at this impossible project. He accepted, and produced an astonishing screenplay that Asimov felt would be The first really adult, complex, worthwhile science fiction movie ever made. That screenplay is presented here in book format.
About Harlan Ellison
Harlan Jay Ellison (born May 27, 1934) is an American writer. His principal genre is speculative fiction.
His published works include over 1,700 short stories, novellas, screenplays, comic book scripts, teleplays, essays, a wide range of criticism covering literature, film, television, and print media. He was editor and anthologist for two science fiction anthologies, Dangerous Visions (1967) and Again, Dangerous Visions (1972). Ellison has won numerous awards including multiple Hugos, Nebulas and Edgars. Bio from Wikipedia, the free encyclopedia
Features
Contains all the classic Easton Press qualities:
Premium Leather
Silk Moire Endleaves
Distinctive Cover Design
Hubbed Spine, Accented in Real 22KT Gold
Satin Ribbon Page Marker
Gilded Page Edges
Long-lasting, High Quality Acid-neutral Paper
Smyth-sewn Pages for Strength and Durability
Beautiful Illustrations
VERY FINE GUARANTEED
. Very Fine. A wonderful bright clean copy free of any markings, writings, or stamps. Sharp corners that have not been bumped. Tight binding. Most likely an unread book. No bookplates attached or indication of any removed. The gilded page edges are free of any marks, scratches, or blemishes.
Publisher:

Easton Press (1994)

Edition:

Signed Limited Edition

Binding:

Full Genuine Leather

Illustrator:

Mark Zug

Dimensions:

9.5" x 6" x 1.5"

Signature Authenticity:

Lifetime Guarantee of Signature Authenticity. Personally signed by the author Harlan Ellison directly into the book. The autograph is not a facsimile, stamp, or auto-pen.