Personally hand signed by Jack McDevitt on a special limitation page.
One of only 900 copies signed by the author, an exquisite volume with original frontispiece artwork by Bleu Turrell. The limitation number is unknown as this volume is sealed. Photos from inside the book are from an unsealed volume.
Easton Press. Norwalk, CT. 2006. 410 pages. Signed First Edition - Limited Collector's Edition. Makes an excellent addition to the library of any serious collector. This heirloom volume is part of the Signed First Edition of Science Fiction collection by Easton Press. Beautifully illustrated and bound in full genuine leather with elegant gold accents.
Condition
As New. Sealed. Without any flaws. A wonderful bright clean copy. Unread book with no bumped corners. Sharp corners. No marks, writings or stamps.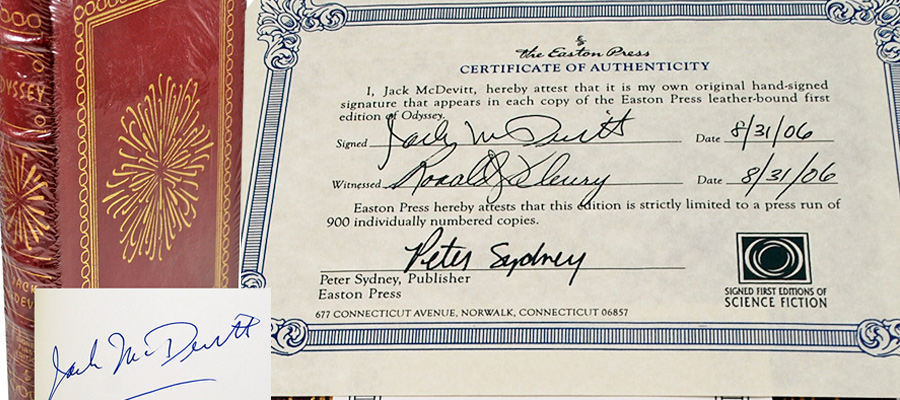 About
To boost waning interest in interstellar travel, a mission is sent into deep space to learn the truth about "moonriders," the strange lights supposedly being seen in nearby systems. But Academy pilot Valentina Kouros and the team of the starship Salvator will soon discover that their odyssey is no mere public-relations ploy, for the moonriders are not a harmless phenomenon. They are very, very dangerous-in a way that no one could possibly have imagined.

Set in the 23rd century, this straightforward adventure from Nebula-finalist McDevitt (Omega) explores the immorality of big business and the short-sightedness of the American government in minimizing support for space travel. These destructive forces are held off by the insight and brilliance of individuals such as the influential Gregory MacAllister, editor of a non-partisan journal, The Nation, and Priscilla "Hutch" Hutchins, manager of a government-sponsored space-research agency, the Academy. While often on opposite sides of support for the Academy's research budget, MacAllister and Hutch together uncover and react to evidence that Orion Tours' CEO, Charles Dryden, is engaged in a massive conspiracy to jump-start his intergalactic tour business. MacAllister unmasks the others supporting Dryden's faked alien attacks, targeting a physicist who colluded in the hoax. His skepticism about space travel, however, prevents him from seeing the existence of real aliens, something Hutch must pursue at risk to her career. Subtract the "inspirational quotations" and the newspaper headlines appended to some chapters, and what's left is enough space travel, heroics and speculation about the history of the universe to satisfy most hard SF enthusiasts. - Publishers Weekly
Features
Contains all the classic Easton Press qualities:

* Premium Leather
* Silk Moire Endleaves
* Distinctive Cover Design
* Hubbed Spine, Accented in Real 22KT Gold
* Satin Ribbon Page Marker
* Gilded Page Edges
* Long-lasting, High Quality Acid-neutral Paper
* Smyth-sewn Pages for Strength and Durability
* Beautiful Illustrations
About The Author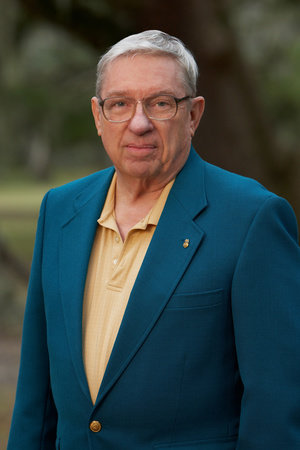 Jack McDevitt is a science fiction author who frequently writes about attempts to make contact with alien races, as well as archaeology. McDevitt has been nominated for the Nebula Award 11 times and won the award in 2006. He was born in 1935 and currently lives in Georgia.
VERY FINE GUARANTEED
. As New (Sealed). The condition is of the highest quality without any discernible flaws.
Publisher:

Easton Press (2006)

Edition:

Signed First Edition w/COA

Binding:

Full Genuine Leather

Illustrator:

N/A

Dimensions:

9.25" x 6.25" x 1.5"

Signature Authenticity:

Lifetime Guarantee of Signature Authenticity. Personally signed by the author directly into the book. The autograph is not a facsimile, stamp, or auto-pen.