Personally hand signed by Jack McDevitt on a special limitation page.
One of only 900 copies signed by the author, a stunning volume with original frontispiece artwork by Dennis Lyall.
Easton Press. Norwalk, CT. 2009. 371 pages. Signed First Edition - Limited Collector's Edition. Makes a fantastic gift for yourself or the serious collector in your life. This exquisite volume is part of the Signed First Edition of Science Fiction collection by Easton Press. Gorgeously illustrated and bound in full genuine leather with classic gold detailing. The number is not known for this version since it is sealed. Photos below from inside the book are from an unsealed version.
Condition: As New. Sealed. Without any flaws. A wonderful bright clean copy. Unread book with no bumped corners. Sharp corners. No marks, writings or stamps.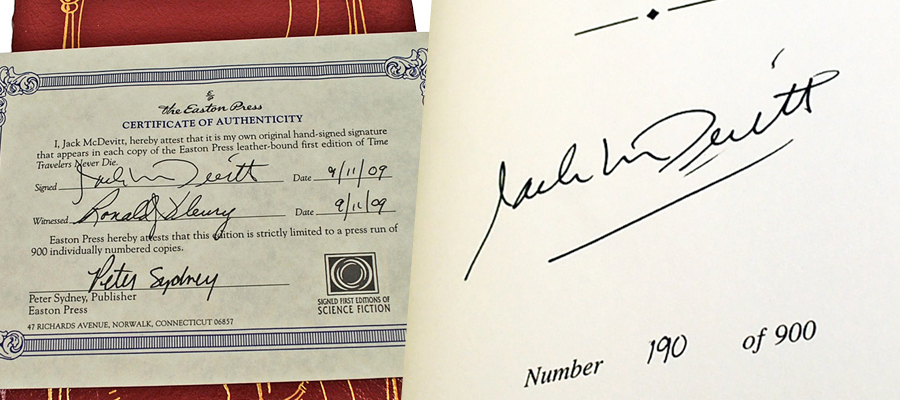 About
When physicist Michael Shelborne mysteriously vanishes, his son Shel discovers that he had constructed a time travel device. Following his father's trail through history-from the enlightenment of Renaissance Italy through the American Wild West to the civil-right upheavals of the 20th century-Shel makes a devastating discovery that sends him reeling back through the ages, and changes his life forever.

"McDevitt avoids flashy action scenes in this tale of two friends using a time machine to take a grand tour of history. When Adrian Shel Shelbourne's physicist father disappears and leaves behind a time-travel device, Shel and his friend Dave Dryden, a language expert, search for Shel's father in Galileo's Italy, Selma during the civil rights marches and other famous times and places. Realizing that time resists paradoxes and history can't be changed, the two friends seize the opportunity to live enriching, truly humane lives from Thermopylae to a few minutes in the future. As the paradoxes begin to pile up and their luck in dodging some of history's villains runs out, McDevitt ingeniously handles a tricky denouement that will leave readers satisfied." - Publishers Weekly
Features
Contains all the classic Easton Press qualities:

* Premium Leather
* Silk Moire Endleaves
* Distinctive Cover Design
* Hubbed Spine, Accented in Real 22KT Gold
* Satin Ribbon Page Marker
* Gilded Page Edges
* Long-lasting, High Quality Acid-neutral Paper
* Smyth-sewn Pages for Strength and Durability
* Beautiful Illustrations
About The Author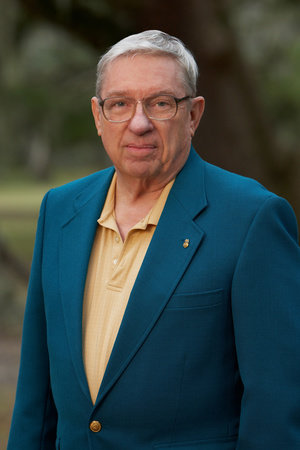 Jack McDevitt is a science fiction author who frequently writes about attempts to make contact with alien races, as well as archaeology. McDevitt has been nominated for the Nebula Award 11 times and won the award in 2006. He was born in 1935 and currently lives in Georgia.
VERY FINE GUARANTEED. As New (Sealed). The condition is of the highest quality without any discernible flaws.
Book Grading Definitions
Publisher:

Easton Press (2009)

Edition:

Signed First Edition

Binding:

Full Genuine Leather

Illustrator:

Dennis Lyall

Dimensions:

9.25" x 6.25" x 1.5"

Signature Authenticity:

Lifetime Guarantee of Signature Authenticity. Personally signed by the author directly into the book. The autograph is not a facsimile, stamp, or auto-pen.