Limited to only 300 hand-numbered copies.
Easton Press, Norwalk. CT. Jules Verne "A Journey To The Centre Of The Earth". Deluxe Limited Edition of only 300 produced. A deluxe reprinting of the immortal classic, in the lavishly illustrated 19th century English language edition. Full genuine leather. Clamshell tray-case.
As New. Sealed. Photos of actual volume.
---
This edition is now SOLD OUT from the publisher.
---

Jules Verne's landmark work of science fiction in a magnificent reprinting of the historic illustrated edition published in 1874. Verne stands as literature's first great science fiction author. This stunning edition brings you the complete original adventure deep within the earth -- and all 52 of the vintage illustrations that brought the story to life.


Features:
A beautiful volume, fully bound in premium leather.
Over 50 original illustrations from the historic 19th century English language Edition.
Replication of the 1874 Edition's spectacular two-color cover design.
A raised "hubbed" spine deeply embossed with genuine 22kt gold.
Acid-neutral paper will not crumble with age.
Printed marbled endsheets.
A clamshell case, covered in luxurious fabric, specially designed for this edition.
And much more!
8 1/2" x 6 1/2 x 2 1/4", 440pp
---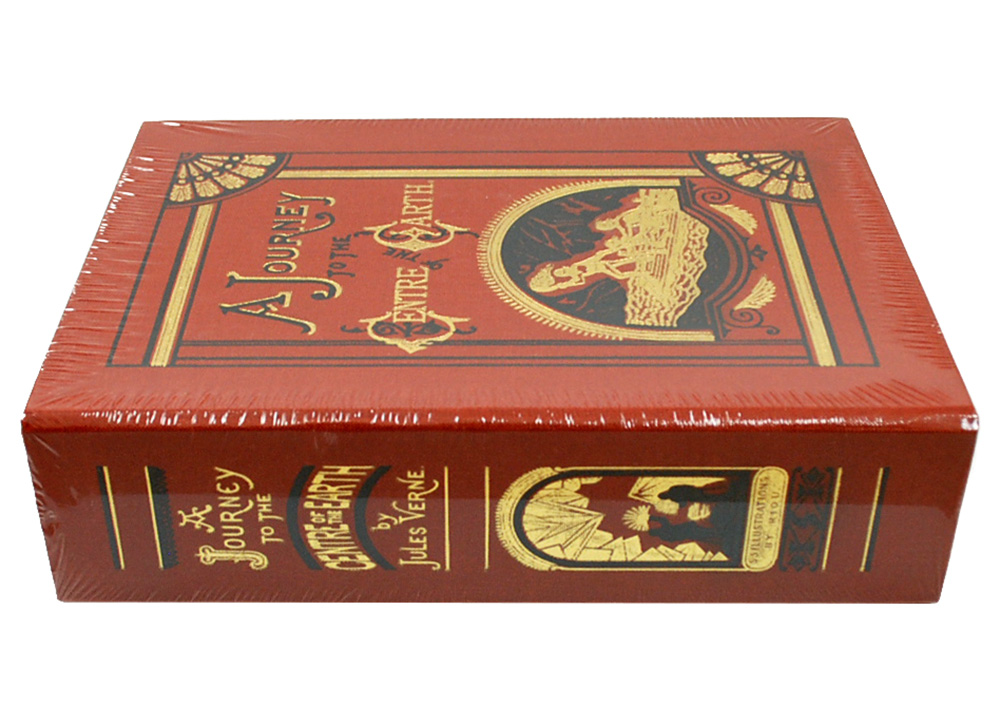 ABOUT
Journey to the Center of the Earth (French: Voyage au centre de la Terre, also translated under the titles A Journey to the Centre of the Earth and A Journey to the Interior of the Earth) is an 1864 science fiction novel by Jules Verne. The story involves German professor Otto Lidenbrock who believes there are volcanic tubes going toward the centre of the Earth. He, his nephew Axel, and their guide Hans descend into the Icelandic volcano Snæfellsjökull, encountering many adventures, including prehistoric animals and natural hazards, before eventually coming to the surface again in southern Italy, at the Stromboli volcano.
The genre of subterranean fiction already existed long before Verne. However, Journey considerably added to the genre's popularity and influenced later such writings. For example, Edgar Rice Burroughs explicitly acknowledged Verne's influence on his own Pellucidar series.

About the Author
Jules Gabriel Verne (8 February 1828 – 24 March 1905) was a French novelist, poet, and playwright.
Verne's collaboration with the publisher Pierre-Jules Hetzel led to the creation of the Voyages extraordinaires, a widely popular series of scrupulously researched adventure novels including Journey to the Center of the Earth (1864), Twenty Thousand Leagues Under the Sea (1870), and Around the World in Eighty Days (1873).
Verne is generally considered a major literary author in France and most of Europe, where he has had a wide influence on the literary avant-garde and on surrealism. His reputation was markedly different in Anglophone regions where he had often been labeled a writer of genre fiction or children's books, largely because of the highly abridged and altered translations in which his novels have often been printed (until the 1980s, when his "literary reputation ... began to improve").
Verne has been the second most-translated author in the world since 1979, ranking between Agatha Christie and William Shakespeare.[5] He has sometimes been called the "Father of Science Fiction", a title that has also been given to H. G. Wells and Hugo Gernsback.
Wikipedia.
Factory Sealed - Shrink Wrapped
Features
Includes all the classic Easton Press qualities:

* Premium Leather
* Silk Moire Endleaves
* Distinctive Cover Design
* Hubbed Spine, Accented in Real 22KT Gold
* Satin Ribbon Page Marker
* Gilded Page Edges
* Long-lasting, High Quality Acid-neutral Paper
* Smyth-sewn Pages for Strength and Durability
* Beautiful Illustrations
VERY FINE GUARANTEED
. Sealed. A wonderful bright clean copy free of any markings, writings, or stamps. Sharp corners that have not been bumped. Tight binding. Unread book. No bookplates attached or indication of any removed. The gilded page edges are free of any marks, scratches, or blemishes.
Publisher:

Easton Press

Edition:

Deluxe Limited Edition of only 300

Binding:

Full Genuine Leather

Illustrator:

see product description

Dimensions:

Overall 8 1/2" x 6 1/2 x 2 1/4"