Personally hand signed by Richard K. Morgan on a special limitation page.
A limited, numbered edition, #356 of only 900 copies signed by the author. A very fine copy, bound in full genuine leather.
Easton Press. Norwalk, CT. 2007. 544 pages. SIGNED BY AUTHOR. Signed First Edition - Limited Collector's Edition. A great unique gift for yourself or for a loved one. A luxurious leather bound masterpiece from the Signed First Edition of Science Fiction collection by Easton Press. Beautifully illustrated and bound in full genuine leather. One of the most celebrated works of science fiction literature by a historical writer. A rare signed first edition for the discerning collector.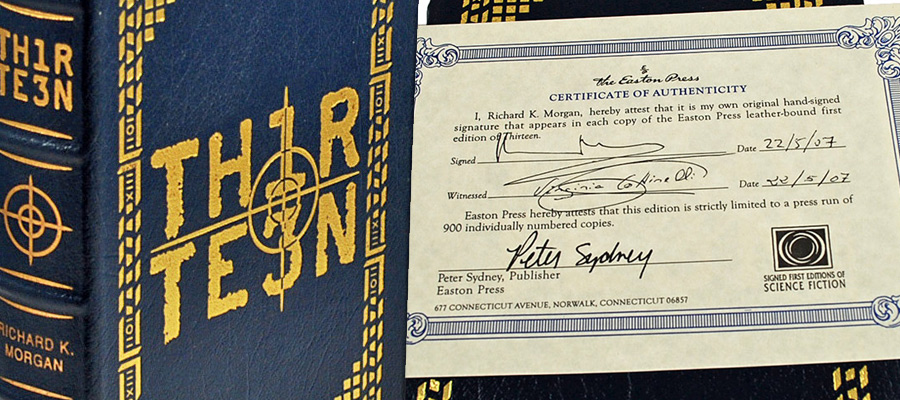 About
The future isn't what it used to be since Richard K. Morgan arrived on the scene. He unleashed Takeshi Kovacs—private eye, soldier of fortune, and all-purpose antihero—into the body-swapping, hard-boiled, urban jungle of tomorrow in Altered Carbon, Broken Angels, and Woken Furies, winning the Philip K. Dick Award in the process. In Market Forces, he launched corporate gladiator Chris Faulkner into the brave new business of war-for-profit. Now, in Thirteen, Morgan radically reshapes and recharges science fiction yet again, with a new and unforgettable hero in Carl Marsalis: hybrid, hired gun, and a man without a country . . . or a planet.

Marsalis is one of a new breed. Literally. Genetically engineered by the U.S. government to embody the naked aggression and primal survival skills that centuries of civilization have erased from humankind, Thirteens were intended to be the ultimate military fighting force. The project was scuttled, however, when a fearful public branded the super-soldiers dangerous mutants, dooming the Thirteens to forced exile on Earth's distant, desolate Mars colony. But Marsalis found a way to slip back—and into a lucrative living as a bounty hunter and hit man before a police sting landed him in prison—a fate worse than Mars, and much more dangerous.

Luckily, his "enhanced" life also seems to be a charmed one. A new chance at freedom beckons, courtesy of the government. All Marsalis has to do is use his superior skills to bring in another fugitive. But this one is no common criminal. He's another Thirteen—one who's already shanghaied a space shuttle, butchered its crew, and left a trail of bodies in his wake on a bloody cross-country spree. And like his pursuer, he was bred to fight to the death. Still, there's no question Marsalis will take the job. Though it will draw him deep into violence, treachery, corruption, and painful confrontation with himself, anything is better than remaining a prisoner. The real question is: can he remain sane—and alive—long enough to succeed?
Features
Contains all the classic Easton Press qualities:

* Premium Leather
* Silk Moire Endleaves
* Distinctive Cover Design
* Hubbed Spine, Accented in Real 22KT Gold
* Satin Ribbon Page Marker
* Gilded Page Edges
* Long-lasting, High Quality Acid-neutral Paper
* Smyth-sewn Pages for Strength and Durability
* Beautiful Illustrations
About The Author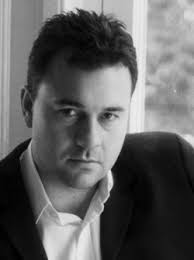 Richard K. Morgan is the acclaimed author of The Cold Commands, The Steel Remains, Thirteen, Woken Furies, Market Forces, Broken Angels, and Altered Carbon, a New York Times Notable Book that also won the Philip K. Dick Award in 2003. The movie rights to Altered Carbon were optioned by Joel Silver and Warner Bros on publication, and a film version is currently in development with Mythology Entertainment. Market Forces was also optioned to Warner Bros, before it was even published, and it won the John W. Campbell Award in 2005. Thirteen won the Arthur C. Clarke Award in 2007 and is currently under movie option to Straight Up films. The Steel Remains won the Gaylactic Spectrum Award in 2010, and its sequel, The Cold Commands, appeared in both Kirkus Reviews' and NPR's Best Science Fiction/Fantasy Books of the Year lists. Morgan is a fluent Spanish speaker and has lived and worked in Madrid, Istanbul, Ankara, and London, as well as having traveled extensively in the Americas, Africa, and Australia. He now lives in Scotland with his wife, Virginia, and son, Daniel.
VERY FINE GUARANTEED. A wonderful bright clean copy free of any markings, writings, or stamps. Sharp corners that have not been bumped. Tight binding. Most likely an unread book. No bookplates attached or indication of any removed. The gilded page edges are free of any marks, scratches, or blemishes.
Book Grading Definitions
Publisher:

Easton Press (2007)

Edition:

Signed Limited First Edition

Binding:

Full Genuine Leather

Illustrator:

Ed Cox

Dimensions:

9.5" x 6.25" x 1.5"

Signature Authenticity:

Lifetime Guarantee of Signature Authenticity. Personally signed by the author directly into the book. The autograph is not a facsimile, stamp, or auto-pen.