"Richard Paul Evans' #1 New York Times bestseller The Christmas Box has become a holiday classic, a tale so touching that it continues to "tug families' heartstrings" (USA Today). His exquisite prequel, Timepiece, and The Letter completed the glorious trilogy of the Parkin family. Now all three magical stories are compiled in one extraordinary treasury that -reaches into that place where all broken hearts will forever be made whole" (The Star, Chicago).

The Easton Press, Norwalk. CT. Richard Paul Evans "The Christmas Box Collection". This collection of very fine books are luxuriously bound in full genuine leather. Collector's editions. Photos of the actual books you will receive. All volumes are Very Fine without any flaws. Free shipping within the US.
Included in this shipment:
The Christmas Box

The Letter
Timepiece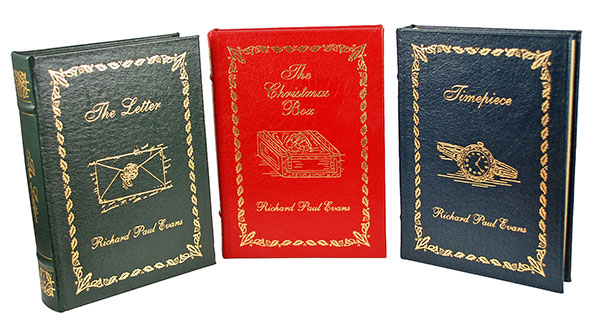 Richard Paul Evans is the #1 New York Times and USA Today bestselling author of more than twenty-five novels. There are currently more than 20 million copies of his books in print worldwide. Richard has won the American Mothers Book Award, two first place Storytelling World Awards, The Romantic Times Best Women's Novel of the Year Award, the German leserpreis Gold Award for Romance and three RCC Wilbur Awards. Four of Richard's books have been produced as television movies.
In 2011 Richard began writing Michael Vey, a #1 New York Times bestselling Young Adult series which has won multiple awards. Richard is the founder and Chairman of the Christmas Box International, an organization that provides shelter and care for abused and neglected children. For his humanitarian work, Richard has received the Washington Times Humanitarian of the Century Award and the Volunteers of America National Empathy Award. Richard lives in Salt Lake City with his wife, Keri, and their five children. (text from richardpaulevans.com)
The Christmas Box
A Christmas story unlike any other, The Christmas Box is the poignant tale of a widow and the young family who moves in with her. Together, they discover the first gift of Christmas -- and what the holiday is really all about.
Timepiece
Tracing the lives of a young couple as they discover love, loyalty, and the power of forgiveness, Timepiece is a tale of wisdom and of hope -- and a gentle reminder that the connections from one generation to the next are indelible.
The Letter
A mysterious letter is found at the grave of a couple's only child in this unforgettable conclusion to the collection. As they face love's greatest challenge, they find its truest meaning and learn the lessons that are echoed throughout.
---
THE CHRISTMAS BOX
This was the meaning of the Christmas Box, that someday I would turn around and my little girl would be gone . . .
How quickly the time has passed. Today those two little girls for whom I wrote The Christmas Box are adults. What hasn't changed is the relevance of my little story. Now, just as it was a thousand years ago and will be a thousand years from now, parents still look at their children and feel their hearts breaking a little, knowing that the only promise of childhood is that someday it will be gone. It is my deepest hope that, for centuries to come, the message of The Christmas Box will endure as a reminder of the sanctity and holiness of a parent's love. God Bless and Merry Christmas.
TIMEPIECE
"Of all, clockmakers and morticians should bear the keenest sense of priority-their lives daily spent in observance of the unflagging procession of time... and the end thereof."
-DAVID PARKIN'S DIARY. JANUARY 3, 1901
So begins Timepiece, the unforgettable story of hope and the source of the wisdom MaryAnne Parkin shared with Richard in The Christmas Box. With the help of David Parkin's diary, Richard discovers the mystery of the timepiece and the significance of MaryAnne's request.
Nineteen years previous, only eleven days before her death, MaryAnne Parkin had bequeathed a beautiful rose-gold timepiece to my keeping.
"The day before you give Jenna away," she had said, her voice trembling as she handed me the heirloom, "give this to her for the gift."
I was puzzled by her choice of words.
"Her wedding gift?" I asked.
She looked at me sadly, then forced a fragile smile.
"You will know what I mean."
THE LETTER
The Letter, the final book of the Christmas Box collection is, most simply stated, the love story of David and MaryAnne Parkin. But it is also everyone's love story, for it is about the storms that all relationships must face when the blissful state of romance vanishes into one of real-life challenges and difficulties. We often forget that it is in the hard times that we truly see what is best in love as well as in life. Though love may be temporarily darkened, true love never gives in, or up, but holds tight to noble ideas, which transcend this earth and all time.
The Letter is also about our pasts and our individual quests to discover who we are. In The Letter, David Parkin sets out on a journey to find his mother, a woman who abandoned him when he was a child. In truth, however, David is searching for himself as he seeks to free himself from the pain of her rejection and his fear that he was somehow unworthy of her love. In a sense, David's search is the same journey we are all pursuing. We are all seeking love.
My hope is that you will feel what I felt as I wrote this book -- the divine nature of loyalty and the understanding of why we must share love whenever and wherever.
One final note. I am saddened to finish the Christmas Box trilogy and to bid good-bye to the Parkin family. I do not know if I shall ever visit them again, but I am glad for this last story -- a story which I think is a fitting sendoff for the characters I've grown to love. I hope that the message you find in their lives is meaningful to your own. And, most of all, that in reading the Christmas Box collection, you, and those with whom you share my books, will never be the same.
With my love, Richard Paul Evans
Features
Includes the classic Easton Press qualities:

* Premium Leather
* Silk Moire Endleaves
* Distinctive Cover Design
* Hubbed Spine, Accented in Real 22KT Gold
* Satin Ribbon Page Marker
* Gilded Page Edges
* Long-lasting, High Quality Acid-neutral Paper
* Smyth-sewn Pages for Strength and Durability
* Beautiful Illustrations



VERY FINE GUARANTEED
Each volume is a wonderful bright clean copy free of any markings, writings, or stamps. Sharp corners that are not bumped. Tight and square spines. Unread books without any attached bookplates or indication of any removed. The gilded page edges are unmarked. One volume is still sealed in the original shrink-wrap.
Publisher:

Easton Press

Edition:

Easton Press

Binding:

Full genuine leather

Illustrator:

Limited Edition Matched Set

Dimensions:

9" x 6" x 1.5"