Personally signed by Flea directly onto the title page of the book!

Flea is an Australian-born American musician and occasional actor. He is best known as the bassist and co-founding member of the Red Hot Chili Peppers, and co-founder of The Silverlake Conservatory of Music.


Headline Publishing Group (November 5, 2019). Flea "Acid For The Children: A Memoir" UK Signed First Edition. Personally signed by Flea directly onto the title page. 400 pages. ISBN-10: 1455530530. ISBN-13: 978-1455530533. Book dimensions are 6.4 x 1.6 x 9.4 inches. Very Fine without any flaws.
"First published in 2019 by HEADLINE PUBLISHING GROUP" as required on the copyright page with the number "1" for a first edition, first printing.


About the Book:

The iconic bassist and co-founder of the Red Hot Chili Peppers tells his fascinating origin story, complete with all the dizzying highs and the gutter lows you'd want from an LA street rat turned world famous rock star.
In Acid for the Children, Flea takes readers on a deeply personal and revealing tour of his formative years, spanning from Australia to the New York City suburbs to, finally, Los Angeles. Through hilarious anecdotes, poetical meditations, and occasional flights of fantasy, Flea deftly chronicles the experiences that forged him as an artist, a musician, and a young man. His dreamy, jazz-inflected prose makes the Los Angeles of the 1970s and 80s come to gritty, glorious life, including the potential for fun, danger, mayhem, or inspiration that lurked around every corner. It is here that young Flea, looking to escape a turbulent home, found family in a community of musicians, artists, and junkies who also lived on the fringe. He spent most of his time partying and committing petty crimes. But it was in music where he found a higher meaning, a place to channel his frustration, loneliness, and love. This left him open to the life-changing moment when he and his best friend, soul brother, and partner-in-mischief came up with the idea to start their own band, which became the Red Hot Chili Peppers.
Acid for the Children is the debut of a stunning new literary voice, whose prose is as witty, entertaining, and wildly unpredictable as the author himself. It's a tenderly evocative coming-of-age story and a raucous love letter to the power of music and creativity from one of the most renowned musicians of our time.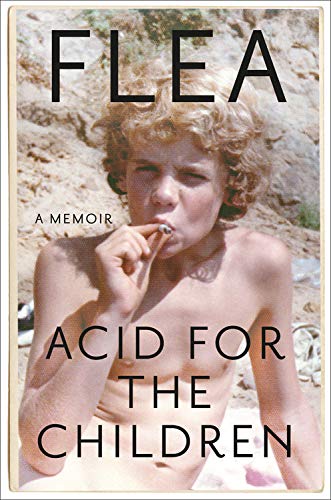 About FLEA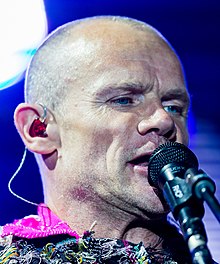 Michael Peter Balzary (born 16 October 1962), known professionally as Flea, is an Australian-American musician and actor. He is best known as a founding member and the bassist of the rock band Red Hot Chili Peppers and has appeared on every album released by the band. Flea briefly appeared as the bassist for such bands as What Is This?, Fear, and Jane's Addiction. He has performed with rock supergroups Atoms for Peace, Antemasque, Pigface, and Rocket Juice & the Moon, and collaborated with the Mars Volta, Johnny Cash, Tom Waits, Alanis Morissette, and Young MC. Flea also performed live with Nirvana in 1993 playing the trumpet.
Flea incorporates elements of funk (including slap bass), psychedelic, punk, and hard rock in his style of playing. In 2009, Rolling Stone readers ranked Flea the second best bassist of all time, behind only John Entwistle.[1] In 2012, he and the other members of Red Hot Chili Peppers were inducted into the Rock and Roll Hall of Fame.
Since 1984, Flea has acted in over 20 films and television series such as Suburbia, Back to the Future Part II and Part III, My Own Private Idaho, The Chase, Fear and Loathing in Las Vegas, Dudes, Son in Law, The Big Lebowski, Low Down, Baby Driver and Boy Erased, in addition to voicing the character Donnie Thornberry in The Wild Thornberrys animated television series and films.
Flea is also the co-founder of Silverlake Conservatory of Music, a non-profit music education organization founded in 2001 for underprivileged children. In 2019 Flea will release his memoir Acid for the Children which will detail his life prior to the formation of Red Hot Chili Peppers.
Editorial Reviews
"[An] electric, surprisingly moving memoir...Flea is an enlightened narrator, and this passionate, smart memoir will resonate with readers whether they're fans of the band or not." ―Publisher's Weekly, starred review
"A wild ride through the coming-of-age wilderness of the famed rock bassist...Relentlessly honest, untamed, and often revelatory."―Kirkus
"Flea is a surprisingly good writer...RHCP fans or not, readers will find a unique coming-of-age memoir that's also an ode to books, music, and performing."―Booklist
"[A] sensitive, well-written coming-of-age memoir. Readers will find much to relate to in Flea's life story and will hope that this isn't the only entry in his writing career."―Library Journal




VERY FINE GUARANTEED. The condition is of the highest quality without any discernible flaws. No bookplates attached or indication of any removed. Unread book with square and tight spine.
Publisher:

Headline Publishing Group

Edition:

Signed First Edition

Binding:

Hardcover with dust-jacket

Illustrator:

see product description

Dimensions:

6.4 x 1.6 x 9.4 inches

Signature Authenticity:

Lifetime Guarantee of Signature Authenticity. Personally signed by Flea directly into the book. The autographs are not facsimiles, stamps, or auto-pens.