Personally signed by both Paul Stanley and co-author Lynn Goldsmith directly into the book!

One of only 200 signed copies obtained from the Nov 3rd, 2017 book signing event, the only event planned. Very few of these will become available, making it a highly desirable KISS collectible from the world of Rock & Roll. This is without a doubt one of the nicest KISS collectible signed books in the market place today! A huge coffee table book and a very nice production.

KISS has sold over 100 Million records world-wide. They are in the Rock & Roll Hall of Fame. One of the most iconic bands of all time. This book has been personally signed by the legend himself Paul Stanley.

Rizzoli (October 10, 2017). Gene Simmons, Paul Stanley, Lynn Goldsmith "KISS: 1970-1980" Signed First Edition. Personally signed by both Paul Stanley and Lynn Goldsmith directly into the book. This book was obtained from the one and only official book tour for this release. ISBN-10: 0847860124. ISBN-13: 978-0847860128. 340 pages.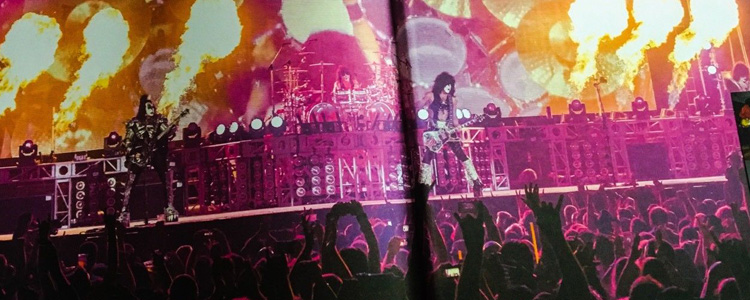 About the Book:
Published in conjunction with the band, KISS: 1977 – 1980 is the definitive photographic chronicle of KISS at the height of their popularity, showcasing the band on and off stage, in the photo studio, and in unguarded candid moments. From her archive, Goldsmith has compiled fan favorites as well as many never-before-seen photographs, all which perfectly capture the enduring phenomenon that is KISS. Chances are you've seen numerous iconic pictures by award-winning photographer Lynn Goldsmith, who has photographed every important rock musician and band of the late twentieth century: The Rolling Stones, Bruce Springsteen, The Police, Talking Heads, Frank Zappa, Bob Dylan, and Patti Smith, among many others.
KISS rose to meteoric prominence with their extravagant live performances featuring fire-breathing, blood spitting, guitars bursting into flames, shooting rockets, levitating drum kits, and pyrotechnic showpieces. With makeup and costumes, Paul Stanley, Gene Simmons, Peter Criss, and Ace Frehleycreated characters and origin stories similar to comic book characters: the Starchild, the Demon, the Space Ace, and the Catman. When put all together, it wasn't just a stadium rock concert, it was dynamic performance art that is still on the road today!
Goldsmith, Stanley, and Simmons have created this book as a thanks to the KISS Army, many of whom have been devoted to the band for more than 40 years and have brought their children and grandchildren into appreciating the music, as well as the spectacle of the band's live performances. With a simple matte white laminated padded cover that highlights the KISS logo and edged with gilding, the end result could be compared to a kind of bible, holding the relics that their supporters cherish.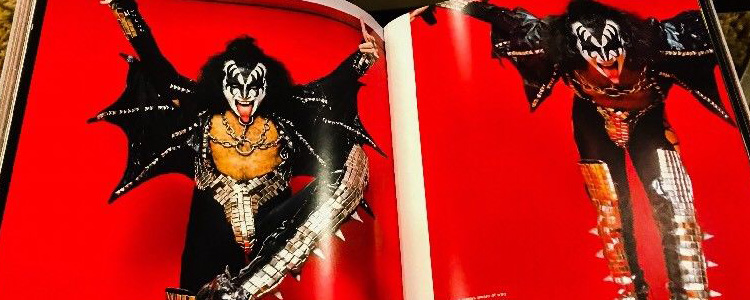 Review
"Get ready to rock and roll all night and party every day—again! In KISS: 1977-1980 (Rizzoli), renowned rock 'n' roll photojournalist Lynn Goldsmith presents the definite chronicle of the band in its fire-breathing, blood-spitting, kabuki-makeup, goth-stumed glory, with photos of Paul Stanley, Gene Simmons, Peter Criss and Ace Frehley on stage and off, in all their strut and splendor."
—Parade Magazine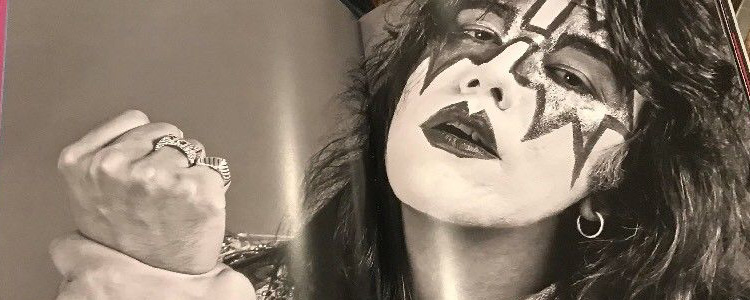 About the AuthorLynn Goldsmith's editorial work has appeared in every major publication world wide. Her fine art work is in numerous collections including The Smithsonian National Portrait Gallery, The Museum of Modern Art, The Chicago Museum of Contemporary Photography, The Rock and Roll Hall of Fame, The Polaroid Collection, The Kodak Collection, etc.

About the Band:
Kiss (often stylized as KISS) is an American rock band formed in New York City in January 1973. Well known for its members' black and white face paint and flamboyant stage outfits, the group rose to prominence in the mid to late 1970s with their elaborate live performances, which featured fire breathing, blood spitting, smoking guitars, shooting rockets, levitating drum kits and pyrotechnics. Counting the 1978 solo albums, Kiss has been awarded 28 gold albums to date, the most of any American rock band. The band has sold more than 40 million albums in the United States, of which 20 million have been certified by the RIAA and their worldwide sales exceeds 100 million records, making them one of world's best-selling bands of all time. The original 1973–'80 lineup consisted of Paul Stanley (vocals and rhythm guitar), Gene Simmons (vocals and bass guitar), Ace Frehley (lead guitar and vocals) and Peter Criss (drums and vocals).
With their makeup and costumes, they took on the personas of comic book-style characters: Starchild (Stanley), The Demon (Simmons), Spaceman or Space Ace (Frehley) and Catman (Criss). The band explains that the fans were the ones who ultimately chose their makeup designs. Stanley became the "Starchild" because of his tendency to be referred to as the "starry-eyed lover" and "hopeless romantic". The "Demon" makeup reflected Simmons' cynicism and dark sense of humor, as well as his affection for comic books. Frehley's "Spaceman" makeup was a reflection of his fondness for science fiction and his supposedly being from another planet. Criss' "Catman" makeup was in accordance with the belief that he had nine lives because of his rough childhood in Brooklyn. Because of creative differences, both Criss and Frehley were out of the group by 1982. The band's commercial fortunes had waned considerably by that point.
Buoyed by a wave of Kiss nostalgia in the 1990s, the band announced a reunion of the original lineup in 1996. The resulting Kiss Alive/Worldwide/Reunion Tour was the top-grossing act of 1996 and 1997. Criss and Frehley have since left Kiss again, but the band continues with Eric Singer and Tommy Thayer. Stanley and Simmons have remained the only two constant members. Kiss has been named in many "Top" lists. They include Number 10 on VH1's '100 Greatest Artists of Hard Rock', 9th on 'The Greatest Metal Bands' list by MTV, number one on Hit Paraders's "Top 100 Live Bands", 56th on VH1's "100 Greatest Artists Of All Time", and 26th on Gibson's "50 Greatest American Rock Bands". Kiss was nominated for the Rock and Roll Hall of Fame, ten years after becoming eligible.
About The Author
Lynn Goldsmith's imagery is in numerous collections: The Smithsonian, The Polaroid 
Collection, The Kodak Collection, The Museum of Modern Art, The Chicago Museum of 
Contemporary Photography, and the permanent collection of Museum Folkwang. She is a 
multi-awarded portrait photographer whose work has appeared on and between the covers of Life, Newsweek, Time, Rolling Stone, Sports Illustrated, People, Elle, Interview, The New Yorker, etc. 
Her subjects have varied from entertainment personalities to sports stars, from film directors to 
authors, from the extra-ordinary to the ordinary man on the street. Her forty years of photography 
have not only been an investigation into the nature of the human spirit, but also into the 
natural wonders of our planet.
Twelve books of her photography have been published. She has been on The New York Times Best Seller list as well as won two Art Direction awards for them: Titles include Rock and Roll Stories, The Police: 1978-1983, Bruce Springsteen- Access All Areas, 
The Police, New Kids, Circus Dreams, PhotoDiary, and 
Flower. Lynn's professional achievements are in no way limited to the world of 
photography. She is the youngest member ever to be accepted into the DGA (Director's 
Guild of America). In 1971, she was the director of Joshua Television, the first company 
to do video magnification for rock groups entertaining at large venues. In 1972, she was 
a director for the first rock show on network television: ABC's "In Concert". In 1973, Lynn 
directed "We're An American Band", the first music documentary to be released as a 
theatrical short. In the mid-seventies, Lynn stopped directing to concentrate 
fully on photography. 

She has been a consistent contributor to the highly acclaimed series of Day in the Life 
of books series as well as many other photography collections.
By the early 80's Lynn departed from the worlds of both photography and film, to 
become the first 'optic-music' artist. Using the a.k.a. Will Powers, she produced the album 
"Dancing For Mental Health" on Island Records. Lynn's written songs with recording 
artists Sting, Steve Winwood, Todd Rundgren and Nile Rodgers. Her debut 
album won critical acclaim and her single, Kissing With Confidence, reached #3 on the 
British charts. As was her plan, the videos from the album which she produced and 
directed became more than commercials for the record. They were used by the 
United States Department of Labor to inspire unemployed youths, and by the National 
Marriage Counsel in England. Will Powers' videos have also been used by Harvard 
University to help with language instruction, and by other schools throughout the United 
States for their individual teaching needs. The Museum of Modern Art in New York City 
has two Will Powers videos in their permanent collection as she was among the first to do 3-dimensional computer animation.
Though a Magna Cum Laude graduate from the University of Michigan, with a B.A. in 
both English and Psychology, Lynn considers herself a self-taught artist and 
entrepreneur. She was the founder of LGI Photo Agency, an organization which 
represented the work of over two hundred worldwide photographers. Established in 
1976, LGI was the first agency to specialize in servicing celebrity portraiture for 
editorial usage. LGI was sold in 1997 so that Lynn could more fully focus on creating images. 


The wide range of Lynn's talents, skills and achievements are products of a belief she 
holds constant: Creativity is based on breaking limiting thought patterns
, thus making anything possible.
Signature Authenticity
Lifetime Guarantee of Signature Authenticity
Personally signed by both Paul Stanley and Lynn Goldsmith directly into the book. The autographs are not facsimiles, stamps, or auto-pens.
learn more


VERY FINE GUARANTEED
As New. The condition is of the highest quality without any discernible flaws. No bookplates attached or indication of any removed. Unread book with square and tight spine.
LIMIT 1 PER CUSTOMER - VERY LIMITED AVAILABILITY
Publisher:

Simon and Schuster (2002)

Edition:

Simon and Schuster (2002)

Binding:

Hardcover

Illustrator:

Signed First Edition

Dimensions:

9.3 x 1.6 x 12.1 inches