Personally signed by Jimmy "Superfly" Snuka directly into the book.
Triumph Books 2012 by Jimmy Snuka, Jon Chattman "Superfly: The Jimmy Snuka Story" Signed First Edition, First Printing. This hardcover book was obtained in person on October 2012 (publication date) at the only book signing event for this title. It was personally signed by Jimmy Snuka onto the FFEP, First Free End Paper of the book. A rare collectible signed first edition from the wrestling sports world. A Very Fine signed copy. The dust-jacket is now protected in a brand new Mylar archival sleeve.
Forward by Rowdy Roddy Piper
Introduction by Mick Foley
ABOUT
Focusing on the superstar who single-handedly influenced the development of sports entertainment, this autobiography highlights the legacy of World Wrestling Entertainment (WWE) icon Jimmy Snuka. The wrestler's legendary top-rope maneuvers, innovative high-flying style, and unprecedented aerial ability made him the most popular competitor in WWE. This fascinating account relates how a native of the Fiji Islands was at the center of two of wrestling's most talked-about moments: the night Snuka leapt from the top of the 15-foot cage, only to miss his opponent and consequently lose the match, and the night Rowdy Roddy Piper smashed a coconut over Snuka's head during a segment of Piper's Pit in 1984. Exposing the amazing life of this WWE Hall of Fame member in detail, this record presents the ups and downs of a wrestler who grew to be a key figure in the expansion of the company and all professional wrestling.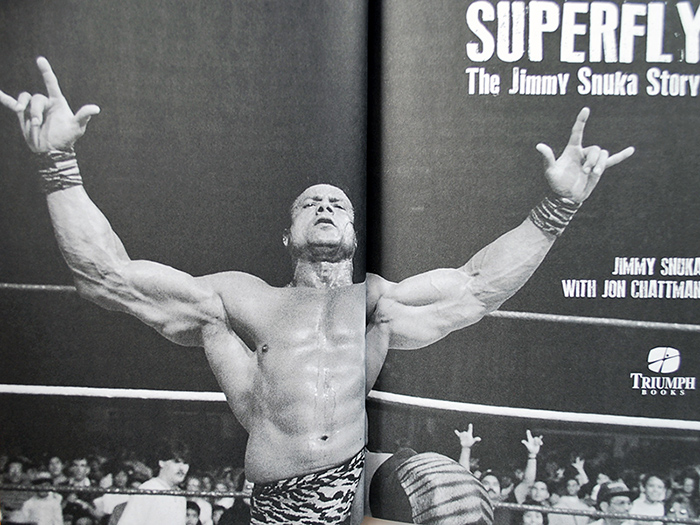 About the author
Jimmy Snuka is a semiretired Fijian professional wrestler and actor who competed for several promotions in the 1970s and 1980s. He is a two-time world heavyweight champion, having been a two-time, and becoming the very first ECW Heavyweight Champion. He lives in Atco, New Jersey. Jon Chattman is is the author of I Love the Red Sox/I Hate the Yankees, a regular contributor to HuffingtonPost.com, and the founder of the celebrity interview and music site thecheappop.com.
He has written for the New York Post, TV Guide, Ultimate Marvel Magazine, and Wizard. He lives in Mamaroneck, New York. Rowdy Roddy Piper was one of the World Wrestling Federation's biggest stars of the 1980s and 1990s and is a member of the WWE Hall of Fame. He later starred in World Championship Wrestling. He lives in Aloha, Oregon. Mick Foley is the author of the genre-defining New York Times bestsellers Foley Is Good: And the Real World Is Faker Than Wrestling and Have a Nice Day!: A Tale of Blood and Sweatsocks. He has wrestled professionally for more than 15 years, was a three-time World Wrestling Entertainment Champion, and currently wrestles on Total Nonstop Action (TNA). He lives on Long Island in New York.
VERY FINE GUARANTEED
A wonderful bright clean copy free of any markings, writings, or stamps. Sharp corners that are not bumped. Tight and square spine. Unread book. No attached bookplates or indication of any removed.
Publisher:

Triumph Books (October 2012)

Edition:

Triumph Books (October 2012)

Binding:

Hardcover with dust-jacket

Illustrator:

Signed First Edition, First Printing

Dimensions:

9.1"x6"x1"

Signature Authenticity:

Lifetime Guarantee of Signature Authenticity. Personally signed by the author directly into the book. The autograph is not a facsimile, stamp, or auto-pen.