Personally signed and dated by Joe Hill directly into the book

William Morrow (October 1, 2019). Joe Hill "Full Throttle" Signed First Edition, First Printing. This edition is personally signed by Joe Hill directly into the book and not on a publisher tipped-in page. Very Fine throughout and the dust-jacket will be protected in a brand new archival acid-free Mylar sleeve. Slipcased.

This special version of Full Throttle in the custom slipcase with the archival sleeve protection is only available from veryfinebooks and is not available for purchase anywhere else. Very limited availability. Place your order now while it lasts!
First Edition, First Printing with the full number line as required on the copyright page.


About the book

In this masterful collection of short fiction, Joe Hill dissects timeless human struggles in thirteen relentless tales of supernatural suspense, including "In The Tall Grass," one of two stories co-written with Stephen King, basis for the terrifying feature film from Netflix.



A little door that opens to a world of fairy tale wonders becomes the blood-drenched stomping ground for a gang of hunters in "Faun." A grief-stricken librarian climbs behind the wheel of an antique Bookmobile to deliver fresh reads to the dead in "Late Returns." In "By the Silver Water of Lake Champlain," soon to be an episode on Shudder TV's Creepshow, two young friends stumble on the corpse of a plesiosaur at the water's edge, a discovery that forces them to confront the inescapable truth of their own mortality . . . and other horrors that lurk in the water's shivery depths. And tension shimmers in the sweltering heat of the Nevada desert as a faceless trucker finds himself caught in a sinister dance with a tribe of motorcycle outlaws in "Throttle," co-written with Stephen King.
Replete with shocking chillers, including two previously unpublished stories written expressly for this volume ("Mums" and "Late Returns") and another appearing in print for the first time ("Dark Carousel"), Full Throttle is a darkly imagined odyssey through the complexities of the human psyche. Hypnotic and disquieting, it mines our tormented secrets, hidden vulnerabilities, and basest fears, and demonstrates this exceptional talent at his very best.



About the Author

Joe Hill is the #1 New York Times Bestselling Author of The Fireman, NOS4A2, Heart-Shaped Box, and Horns (which was made into a feature film starring Daniel Radcliffe). His book of short stories, 20th Century Ghosts, won the Bram Stoker Award and British Fantasy Award for Best Collection. He earned the Eisner Award for Best Writer for his long-running comic book series, Locke & Key, featuring the eye-popping art of Gabriel Rodriguez.

Joe is a past recipient of the Ray Bradbury Fellowship. His stories have appeared in a variety of journals and Year's Best collections. He calls New England home.
Joe Hill discusses Full Throttle
Review
"This collection cements Hill's reputation as a versatile master of scares both subtle and shocking." (Publishers Weekly [starred review])
"A four-pack of mayhem in this sparkling collection of short novels. . . .Worth waiting in line for, if you're a Hill fan. If you're not, this is the book to turn you into one." (Kirkus Reviews (starred review) on STRANGE WEATHER)
"[I]n times like these, when real-world terrors outstrip our night terrors, how can a novelist possibly compete? Joe Hill, the author of several terrifying bestsellers, rises to this challenge in Strange Weather." (Washington Post on STRANGE WEATHER)
"[A]nother must-read from a increasingly impressive storyteller [...] Strange Weather speaks to the versatility of Joe Hill's craft, telling deeply disturbing stories in which cataclysmic forces of nature seem like a gentle rain when set against the actions of villains who are all too human." (barnesandnoble.com on STRANGE WEATHER)
"The Weather quartet unleashes a perfect storm of styles, from a slow-burn thriller to ethereal sci-fi, all told with a consistently strong voice…. Hill whips up emotional moments in all four that strike like lightning and thunderously rumble your soul." (USA Today on STRANGE WEATHER)
"Original and gripping, a page-turner." (George R. R. Martin on THE FIREMAN)
"[The Fireman] reaffirms [Joe Hill's] gifts for riveting attention and pushing genre conventions to new extremes. " (New York Times Book Review on THE FIREMAN)
"[A] superb supernatural thriller . . . a tremendous, heartrending epic of bravery and love set in a fully realized and terrifying apocalyptic world, where hope lies in the simplest of gestures and the fullest of hearts." (Publishers Weekly (starred review) on THE FIREMAN)
"[An] undeniably readable work." (Booklist (starred review) on NOS4A2)
"A genuinely scary novel filled with people you care about; the kind of book that still stays in your mind after you've turned over the final page. I loved it unreservedly." (Neil Gaiman on HEART-SHAPED BOX)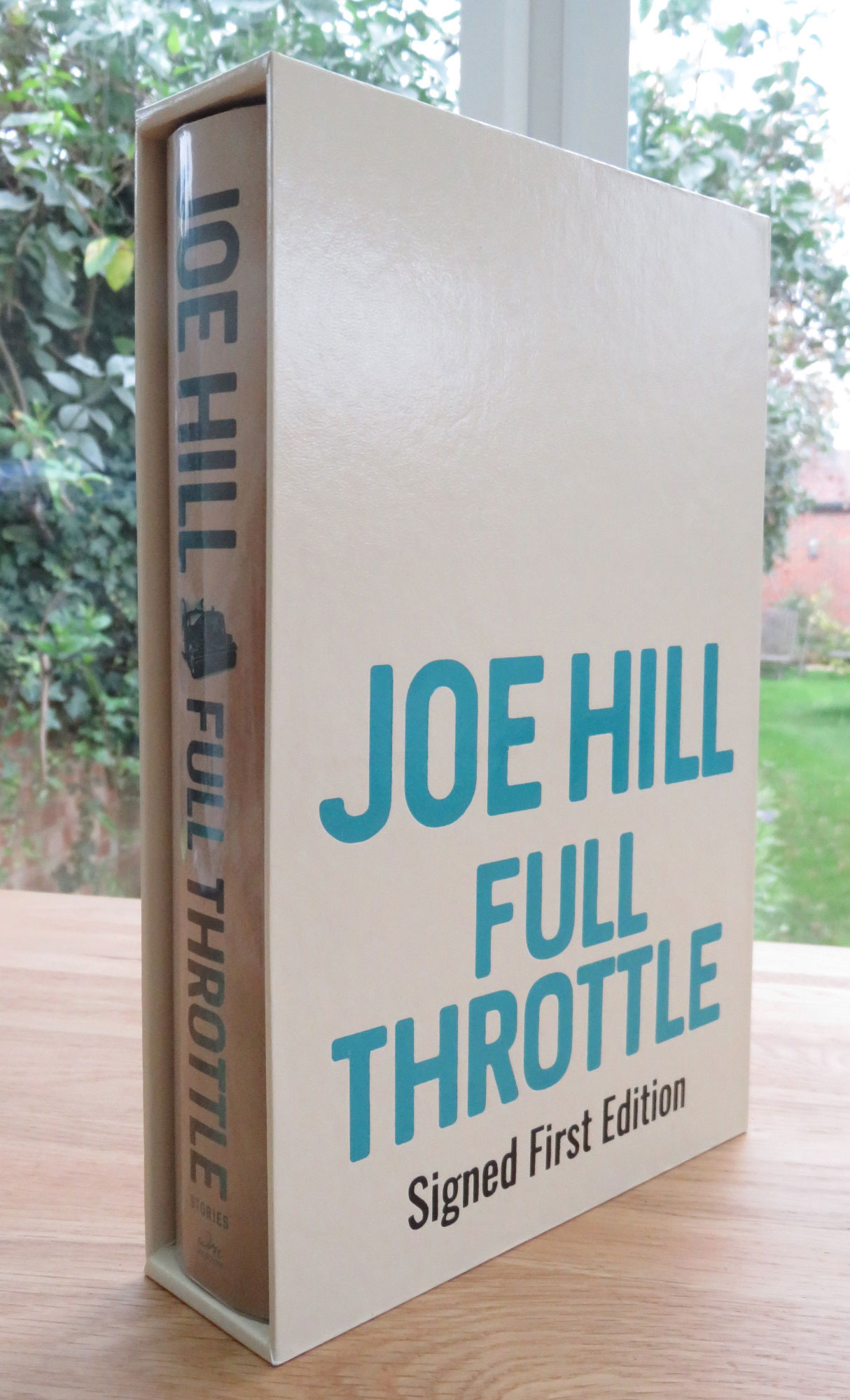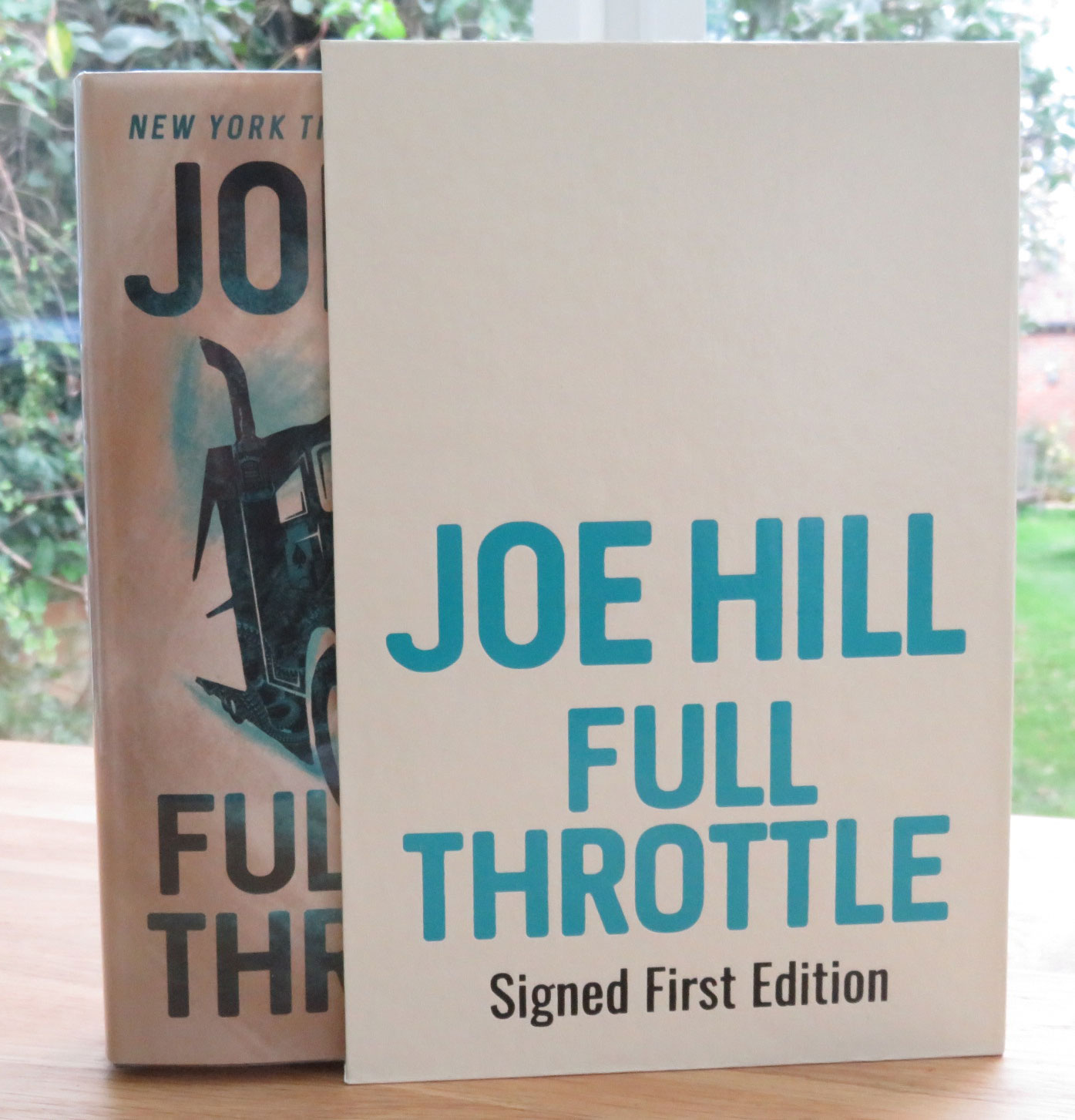 VERY FINE GUARANTEED - Very Fine book in a Very Fine dust-jacket. The condition is of the highest quality without any discernible flaws. Sharp corners all around and a square spine. Unread book without any marks, writing, or stamps. The dust-jacket is protected in a brand new archival Brodart sleeve.
Publisher:

William Morrow (October 1, 2019)

Edition:

Signed First Edition, First Printing

Binding:

Hardcover w/Jacket , Slipcased

Dimensions:

5.3" x 1.2" x 8"

Signature Authenticity:

Lifetime Guarantee of Signature Authenticity. Personally signed by Joe Hill directly onto the title page of the book. The autograph is not a facsimile, stamp, or auto-pen.

Author:

Joe Hill