"Science is magic that works."

Personally signed and dated by Vonnegut on his birthday (11/11/04) with a self-portrait sketch.


"One of Kurt Vonnegut's most continuously inventive and delightfully complex novels,"Cat's Cradle" makes a mockery of science, religion, patriotism, sex, everything; and it concludes in the only way it possibly can, with the End of the World" (Science Fiction 100 Best). Chosen by the Modern Library as one of the best 100 novels of the 20th century.

In 1971, the University of Chicago awarded Vonnegut his Master's degree in anthropology for Cat's Cradle.

Holt, Rinehart and Winston. New York, Chicago, San Francisco, 1963. VONNEGUT, Kurt. "Cat's Cradle". First Edition, First Printing. An Octavo with original half green cloth and first printing dust jacket. A desirable signed and dated copy with a self-portrait. Personally signed by Vonnegut in blue ink directly onto the title page with a self-portrait and dated "11/11/04". "First Edition" as required on the copyright page and a price of $3.95 still showing on the dust-jacket flap. Original green top-edge. Copyright by Kurt Vonnegut, Jr. 1963. Association copy. Housed in a custom hand-made Asahi linen clam-shell box with gilded red leather label and lined with custom hand-made marble paper.
This book was owned by the artist Joe Petro III and includes a signed COA from his company, Origami Express LLC,
Joe Petro III is a second-generation fine artist who works as a sculptor in bronze, clay and printmaking on silk-screen and handmade paper. He majored in Zoology at the University of Tennessee, Knoxville. He worked with Kurt Vonnegut Jr. in Vonnegut's later years on silk-screen prints of Vonnegut's artwork.




Condition: The book is in ideal Fine condition. A wonderful bright clean copy, unread with a tight spine, and free of any marks, writings or stamps. No attached bookplates or indication of any removed. Sharp corners that are not bumped. This book stands out as having had exemplary care.

The original first printing dust-jacket is in Near Fine condition with one short closed tear to top center of front cover and one to head of spine. Tiny chips to two extremities. The graphics are clear and not faded. The dust-jacket is now protected in a new Mylar sleeve. All photos of actual item.




About The Author
1922 - 2007.
Kurt Vonnegut
was one of the most influential writers of his generation. Known for his dark humor, pessimism and sharp edge, he was the author of 14 novels - notably Cat's Cradle, Slaughterhouse-Five and Breakfast of Champions - and other works of fiction and nonfiction.
His stories of human folly and cruelty have been assigned reading for at least two decades in college literature classes around the world! Most readers interested in the fantastic in literature are familiar with Kurt Vonnegut, particularly for his uses of science fiction. Many of his early short stories were wholly in the science fiction mode, and while its degree has varied, science fiction has never lost its place in his novels.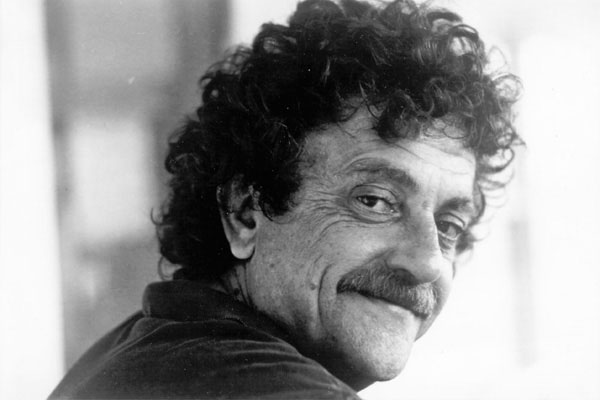 Fine/Near Fine. Read description for details.
Publisher:

Holt, Rinehart and Winston (1963)

Edition:

Holt, Rinehart and Winston (1963)

Binding:

dj/HC

Illustrator:

Signed First Edition/First Printing

Dimensions:

Fine/Near Fine

Signature Authenticity:

Lifetime Guarantee of Signature Authenticity. Personally signed and dated by Vonnegut on his birthday (11/11/04) with a self-portrait sketch. This item includes a COA from the bookseller.