The highly sought after Easton Press signed limited deluxe edition of Cat's Cradle,
personally signed by the author Kurt Vonnegut
on a special title page. Limited to only 500 signed and numbered copies.
A book that left an indelible mark on an entire generation of readers, Cat's Cradle is one of the twentieth century's most important works, and Vonnegut at his very best.
Easton Press, Norwalk CT. 2013. Signed Deluxe Limited Edition. "CAT'S CRADLE" written and personally signed by Kurt Vonnegut, Jr. New illustrations exclusively for this edition by Dennis Lyall. Sundance Natural Felt text by Neenah Paper, Neenah, Wisconsin. Genuine Saderra Leather by Cromwell Leather Group, Mamaroneck, New York. Lithography by Falcon Press, Nashville, Tennessee.
Custom slipcase by Dominion Carton, Bristol, Tennessee. Deluxe binding with multi-color stamping by Kingsport Book, Churchill, Tennessee. This edition is strictly limited to a quantity of only 500 copies.
Cat's Cradle, one of Vonnegut's most entertaining novels, is filled with scientists and G-men and even ordinary folks caught up in the game. These assorted characters chase each other around in search of the world's most important and dangerous substance, a new form of ice that freezes at room temperature. At one time, this novel could probably be found on the bookshelf of every college kid in America; it's still a fabulous read and a great place to start if you're young enough to have missed the first Vonnegut craze. --This text refers to an out of print or unavailable edition of this title.
From Publishers Weekly
Vonnegut's 1963 satirical science fiction novel still manages to pack a powerfully subversive punch. The new audio release offers listeners an excellent opportunity to connect, or reconnect, with a classic text whose thematic elements, nuclear terror, the complications of science, American imperialism, global capitalism and the role of religion in public life, are remarkably relevant to our 21st-century landscape. The story line centers on a young writer's quest to research the history of the atomic bomb, which leads to a bizarre political soap opera and apocalyptic showdown on the shores of a seedy banana republic in the Caribbean. Tony Roberts brings tremendous energy to his reading, projecting a sardonic tone perfectly suited to Vonnegut. His portrayals of the principal male figures sometimes take the form of interchangeable over-the-top carnival barkers, but given the essence of the material, such a unnuanced approach can be understood and appreciated. The audiobook includes a 2005 interview in which Vonnegut, who died April 11, 2007, discusses how his life shaped his literary craft. (Nov.)
Features
Unique to this special deluxe edition:
a special 3-color stamping
a fabric-covered slipcase
eight specially commissioned, full-color illustrations
hand-numbered Certificate of Authenticity
Includes the classic Easton Press qualities:
Premium Leather
Silk Moire Endleaves
Distinctive Cover Design
Hubbed Spine, Accented in Real 22KT Gold
Satin Ribbon Page Marker
Gilded Page Edges
Long-lasting, High Quality Acid-neutral Paper
Smyth-sewn Pages for Strength and Durability
Beautiful Illustrations
About The Author
1922 - 2007.
Kurt Vonnegut
was one of the most influential writers of his generation. Known for his dark humor, pessimism and sharp edge, he was the author of 14 novels - notably Cat's Cradle, Slaughterhouse-Five and Breakfast of Champions - and other works of fiction and nonfiction.
His stories of human folly and cruelty have been assigned reading for at least two decades in college literature classes around the world! Most readers interested in the fantastic in literature are familiar with Kurt Vonnegut, particularly for his uses of science fiction. Many of his early short stories were wholly in the science fiction mode, and while its degree has varied, science fiction has never lost its place in his novels.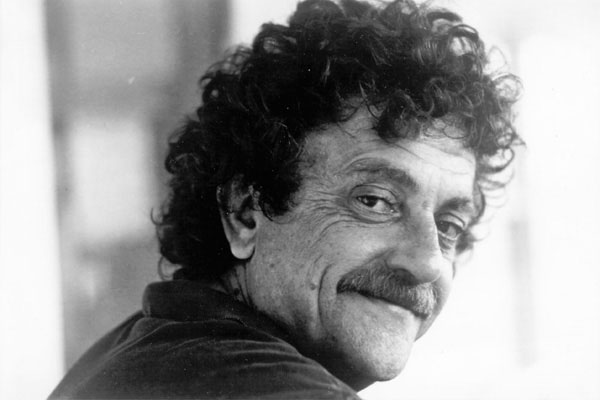 VERY FINE GUARANTEED. As New (Sealed). The condition is of the highest quality without any discernible flaws. Sharp corners that are not bumped.
Publisher:

Easton Press

Edition:

Signed Deluxe Edition of 500

Binding:

Full Genuine Leather

Author:

Kurt Vonnegut

Title:

Cat's Cradle