Personally signed by Kurt Vonnegut
Norwalk, CT. 2004. Kurt Vonnegut "Slapstick". Signed Limited Edition. Luxuriously bound with full genuine leather. No dust-jacket as issued. Certificate of Authenticity and Collector's Notes. Very Fine. Sealed.
Slapstick presents an apocalyptic vision seen through the eyes of the current King of Manhattan (and last President of the United States), a wickedly irreverent look at the all-too-possible results of today's follies. But even the end of life-as-we-know-it is transformed by Vonnegut's pen into hilarious farce--a final slapstick that may be the Almighty's joke on us all.
An irreverent romp that thematically tackles the wrenching pain of human loneliness, mocks organized religion, and meticulously criticizes marriage, love, patriotism, and the ruling class system. The humor, reflecting the book's title, is bold and never apologetic, keeping in line with Vonnegut's firmly established voice as the master of the apocalyptic comedy.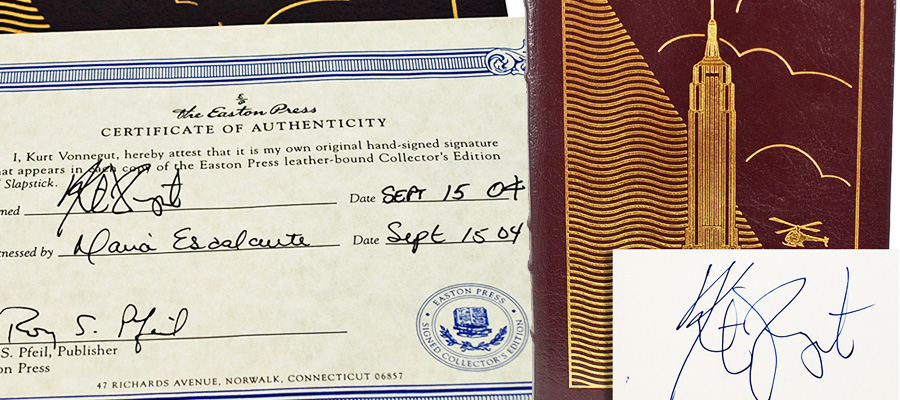 Features
Includes all the classic Easton Press qualities:

* Premium Leather
* Silk Moire Endleaves
* Distinctive Cover Design
* Hubbed Spine, Accented in Real 22KT Gold
* Satin Ribbon Page Marker
* Gilded Page Edges
* Long-lasting, High Quality Acid-neutral Paper
* Smyth-sewn Pages for Strength and Durability
* Beautiful Illustrations
About The Author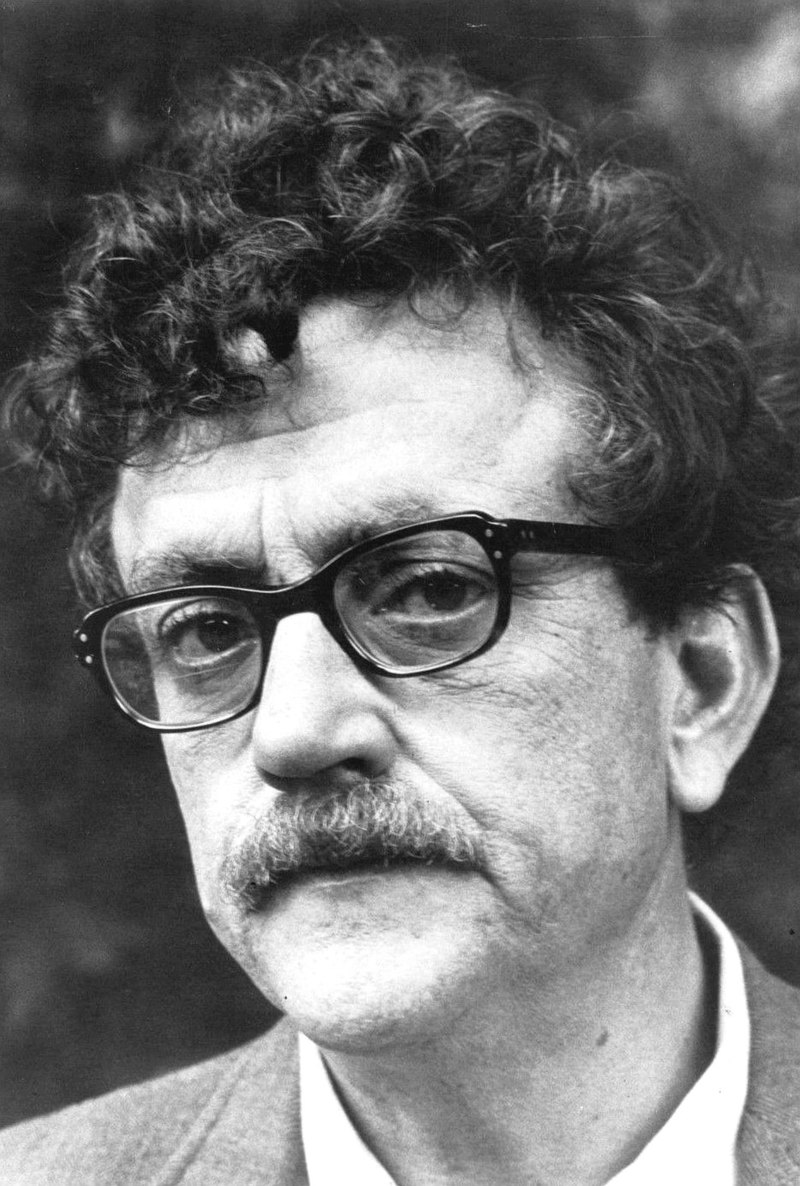 Kurt Vonnegut Jr. (November 11, 1922 – April 11, 2007) was an American writer. In a career spanning over 50 years, Vonnegut published 14 novels, three short story collections, five plays, and five works of non-fiction. He is most famous for his darkly satirical, best-selling novel Slaughterhouse-Five (1969).
Born and raised in Indianapolis, Indiana, Vonnegut attended Cornell University but dropped out in January 1943 and enlisted in the United States Army. As part of his training, he studied mechanical engineering at Carnegie Institute of Technology (now Carnegie Mellon University) and the University of Tennessee. He was then deployed to Europe to fight in World War II and was captured by the Germans during the Battle of the Bulge. He was interned in Dresden and survived the Allied bombing of the city by taking refuge in a meat locker of the slaughterhouse where he was imprisoned.
After the war, Vonnegut married Jane Marie Cox, with whom he had three children. He later adopted his sister's three sons, after she died of cancer and her husband was killed in a train accident.
VERY FINE GUARANTEED. Sealed. A wonderful bright clean copy free of any markings, writings, or stamps. Sharp corners that are not bumped. Tight and square spine. Unread book. No attached bookplates or indication of any removed.
Publisher:

Easton Press

Edition:

Signed Limited Edition w/COA

Binding:

Full Genuine Leather

Author:

Kurt Vonnegut

Title:

Slapstick