With an emphasis on music, this definitive, lavishly illustrated book celebrates beloved living legend Tony Bennett.
Personally signed by Tony Bennett directly into the book.
With only one book signing event for this release (on Oct 1st), a signed first edition of this title will become increasingly scarce. The book was signed in person at the Barnes N Noble event that was held in New York.
Tony Bennett, at the age of 92, continues to connect to people everywhere through the magic of his music. He's the quintessential interpreter of the Great American songbook, and recipient of numerous awards and honors, including 18 Grammys® and the Grammy Lifetime Achievement Award, two Emmys®, and the first interpretive singer to receive the Library of Congress Gershwin Prize. Here, Tony, along with radio host, jazz expert, and close friend Dick Golden, reflects on the most important themes, influences, and inspirations that have informed his lifelong creative work, with a focus on music.
This beautiful book—a follow-up to Tony Bennett: In the Studio (2007), which celebrated his prolific art career—features a foreword by award-winning singer Michael Bublé; a preface by Danny Bennett; more than 140 images, including photographs, personal memorabilia, album covers, notes, and artwork; as well as essays from celebrated friends and colleagues, making it an essential keepsake for all Bennett fans.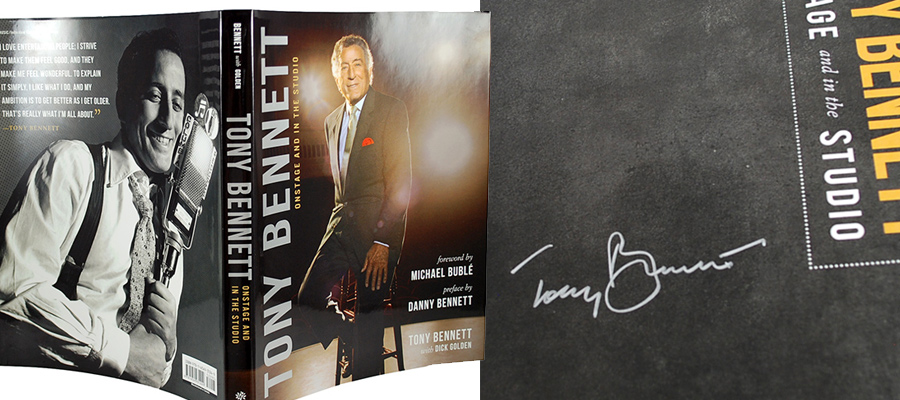 Features
Signed First Edition
About The Author
Michael Bublé is a multiple Grammy®–and Juno Award–winning singer-songwriter who has had a string of #1 hits globally since his debut album was released in 2003. His live performances are continually sold out, whether he's appearing in a stadium setting or intimate concert hall. Born in Canada, Michael Bublé has sold over 50 million albums, has embarked on five world concert tours, and has hosted five prime-time holiday specials on television.

Danny Bennett is a Grammy® – and Emmy® Award–winning music, film, and television producer as well as the son and manager of Tony Bennett and founder of RPM Productions. In addition, he is presently the CEO and President of the Verve Label Group, for the Universal Music Group.

Dick Golden hosts a weekly Sirius/XM radio program, GW Presents American Jazz, which now airs on WBGO-FM in Newark/New York and worldwide on WBGO.org. For the last 20 years he has also produced and hosted a weekly four-hour program, The American Songbook, for the Florida NPR affiliate WQCS radio. He has written numerous liner notes, including for the 2017 boxed set Tony Bennett: The Complete Collection. Golden is a member of the office of George Washington University's office of External Relations and lives in Washington, DC.
VERY FINE GUARANTEED. Very Fine without any flaws. As New. A wonderful bring clean copy without any other marks, writings , or stamps. Clean & straight boards. No attached bookplates or indication of any removed. A well-cared for book, protected from any potential damage. Unread with square and tight spine.
Publisher:

Sterling (September 14, 2018)

Edition:

Signed First Edition, First Printing

Binding:

Hardcover with dust jacket

Illustrator:

N/A

Dimensions:

9.5" x 1" x 11.2"

Signature Authenticity:

Lifetime Guarantee of Signature Authenticity. Personally signed by Tony Bennett directly into the book. The autograph is not a facsimile, stamp, or auto-pen.